9 Actionable Tips to Improve Your Writing Right Now!
— November 28, 2016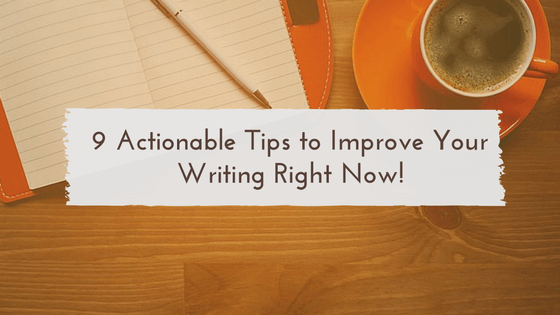 Do you think your writing skills are not good?
Is writing difficult for you, huh?
Do you wonder, how to write a piece of content which people want to read?
Well-written content makes you stand out among the thousand of blogs and articles (low quality).
Writing is an art, the art of expressing your views.
"Writing is the painting of the voice."
No matter, how bad (or good) your writing is, you can improve it right now!
I want to share 9 actionable tips that can actually improve your next piece of content.
And keep one thing in mind, if you are SERIOUS about your writing, implement these tips.
Remember the days, when you were a kid and learning bicycle. Your beautiful mum and dad taught you all the do's and don'ts. But you only learned it when you free yourself to the open road.
So, Go ahead start writing, start discovering your own style and your own technique. Let's go!
#1. Use contractions in your writing
In grammar and morphology, a contraction is a shortened form of a word or group of words, with the missing letters usually marked by an apostrophe. (Source)
Contractions make your writing seem more conversational and friendly.
The most common contractions are: I'm (I am), can't (can not), don't (do not), won't (will not), It's (It is) etc.
Do you wonder how contractions can make your writing sound more human?
Let's take an example:
Children should not walk to the store alone. We will go to the store later.
Sounds robotic?
Here's how this sentence would sound with contractions:
Children shouldn't walk to the store alone. We'll go to the store later.
#2. Write with simple language
You need to find the right words to express your idea and connect with readers.
Have you ever wondered what's the secret to engaging with your readers?
Pick the words your readers use! Make them feel you are talking with them.
Don't show off your intelligence by using the complicated words. Because your content isn't about you. It's about your readers.
Fancy and complex words may slow your reader down, he will just ignore the unfamiliar words.
According to a study done by the UCLA Anderson School of Management, "Making your writing easier to process and understand actually makes you seem more intelligent and capable."
#3. Use the active voice, not passive.
When you use the active voice, the subject of the sentence performs an action. Passive voice is when the subject is the receiver of the action.
Let's take this sentence:
My car was driven to work by me. (Passive)
The sentence is confusing, boring, and wordy.
Instead, you would say:
I drove my car to work. (Active)
Clear and concise sentence.
So, try to use the active voice for being more natural in your writing.
#4. Be clear and concise
The ultimate goal of your writing is-write the sentences that are clear, easier to read, and to the point.
Put the most important and interesting information where it can grab reader's attention immediately.
But the question is, what's the best place?
In case of article – Headline and first paragraph. And,
In case of email – Subject line.
If your content is lengthy, break it into subheadings, make short paragraphs, and use bullets points.
By being direct and clear in your writing, you avoid confusing your audience with unnecessary information.
#5. Use whitespace in your writing
As I said in the previous point, try to break up your long sentences and paragraphs to make it easier to read.
Let's take an example from a Quicksprout blog post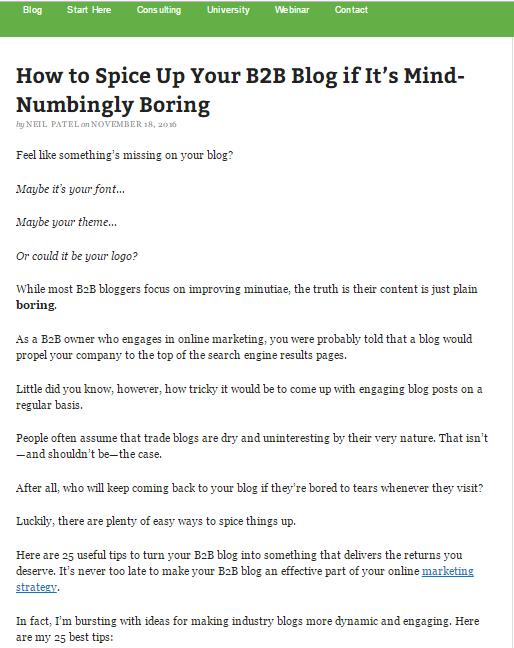 What do you see in this post?
Short paragraphs, and proper use of breaks which give your eyes a rest while reading this article.
Whitespace make your writing more engaging and pleasant to read.
Human Factors International found that using whitespace to highlight or emphasize important elements on a website increased visitor comprehension by almost 20%.
If you're still wondering, why you does it matter? Read this amazing Hubspot blog post.
#6. Cut out unnecessary words
"If it is possible to cut a word out, always cut it out." – George Orwell
Try to reduce the fluffy words such as 'very,' 'really,' 'actually,' 'just,' 'incredibly,' 'really', 'totally', 'quite', and 'in order to' – to make a good content copy.
These little words can make your sentence long, complex, and unclear your meaning. Hemingway editor can be your friend.
Check out this sentence:
Marketers are very anxious to change in order to actually connect with their customers before the next holiday season.
You can cut this down to:
Marketers are anxious to change to connect with their customers before the holiday season.
#7. Become more conversational
"If it sounds like writing, I rewrite it." – Elmore Leonard
Use the word, "you" and "your" in writing to sound more conversational. These words make your readers feel you're talking to them and you want to invite them into a discussion.
Conversational writing is engaging, simple, and easy to read. Don't write like an instruction manual.
Try to include questions in your content. It makes your readers feel you're having a conversation.
Have you noticed how I've included questions in this post?
This blog post from Copyblogger says,
"Conversational text is a lot tighter than spoken language. So, writing conversationally doesn't mean you write as you talk. Instead, edit your text so it doesn't sound like writing."
#8. Use quotes from influencers
Have you ever read something WOW in a book or a blog? You can use those words to support your writing.
Quotations can be powerful tools for your writing. Use the appropriate quotes from experts in your industry or you can also ask them for specific quotes for your post.
Quotes should be clear, natural, actionable, and memorable.
And, make sure the quotes you're using should include the name of the person or source.
#9. Edit your content
You have created the first draft of your content. Now, it's time to review and edit it.
Editing is fascinating! It makes your content more beautiful, engaging, and clear.
Editing takes at least three rounds before publishing.
First round can focus on fact checking and tone of the story. The second round could focus on grammatical errors and spelling mistakes (use Grammarly). And third round could be the final look to check everything seem good and it's ready to go live.
And there you have it—all the actionable tips you need to become an effective writer.
It's your turn- do you have any tips which you want to add to this list?
Share your views in the comment section below! I'd love to hear from you.
Happy Writing 🙂
Digital & Social Articles on Business 2 Community
(28)