Adobe Gives Content Creators Data On How Videos Perform
by Laurie Sullivan@lauriesullivan, November 2, 2016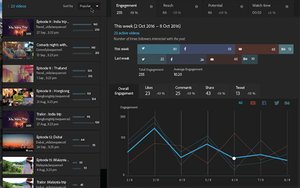 Adobe will add analytics tools from its Marketing Cloud, giving content creators access to data on how viewers interact with their content and what keeps their attention across platforms.
The move brings Adobe Analytics into the Social Publishing panel — a marketing tool that offers analytics to Premier Pro — which supports the ability to publish videos in social media.
The feature is being piloted with a limited number of users.
A new type of content creator continues to emerge, said Bronwyn Lewis, product manager for video editing at Adobe. "Most feel like creators and not social media analysts, so we felt this is something different we can offer."
Lewis describes the offering as an "integrated social publishing workflow" in Premier Pro to help online content creators take advantage of all the social media platforms in which they publish content.
Across desktop and mobile, digital video generated the greatest gains of any media format in the first half of 2016, according to numbers released Tuesday by the Interactive Advertising Bureau.
Total digital video — mobile and desktop — rose to $3.9 billion in in the first half of 2016, up 51% from $2.6 billion in HY 2015. Digital video on smartphones and tablets reached $1.6 billion in the first half of 2016 — up 178% from the same time period in 2015, per the IAB, the report conducted by PricewaterhouseCoopers.
Cisco Systems made predictions earlier this year. The company estimates that video will contribute to about 75% of all Internet traffic by 2019, and about 80% of all mobile data traffic by 2020.
Heidi Besik, group product marketing manager, Adobe Social, said the data will tell creators how the content performs, the best tools for engagement and how content creators can improve interactions across Facebook, YouTube, Twitter and others.
Marketers also will have the ability to see viewer retention rates, comments, shares, and reshares for specific social sites or across platforms. The data comes from the marketing cloud through a variety of APIs.
MediaPost.com: Search Marketing Daily
(8)