Amazon just gave Prime members 100M+ songs—with some catches
By Doug Aamoth
Amazon just tossed another whopper of a feature atop its $139-per-year Prime membership: free music.
The big hook here is that if you're a Prime member, you now have access to the same 100-plus-million song library as those of us who pay for Amazon Music Unlimited. People who pay for Spotify or Apple Music could even cancel them, saving themselves a few bucks a month.
So why are we dummies still paying for Unlimited? Well, there are a handful of catches with the Prime plan.
Prime membership
Obviously, to get the free Amazon Music Prime plan, you need to be a paying Amazon Prime member, which costs $139 per year. However, if you just want unlimited access to music without all the other benefits of Amazon Prime, you can pay for Amazon Music Unlimited for $10 a month as a non-Prime member.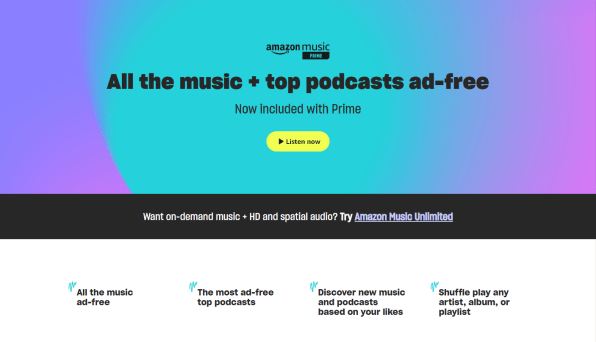 That works out to $120 a year—the idea ostensibly being that you might as well just pay an extra $19 and get a bunch more stuff with a full Prime membership.
Prime members can get Amazon Music Unlimited for $9 a month or $89 a year on top of their Amazon Prime membership.
How you can play your music
Here's where things get a bit interesting.
Yes, Music Prime members get access to the same songs as Music Unlimited members. However, Music Prime members can only shuffle play artists, albums, and playlists.
Music Unlimited members can play any song however they like and also have access to offline downloads and custom playlists.
Music Prime members have access to curated "All-Access" playlists, which can be downloaded and listened to offline, but stand-alone albums and songs can't be downloaded.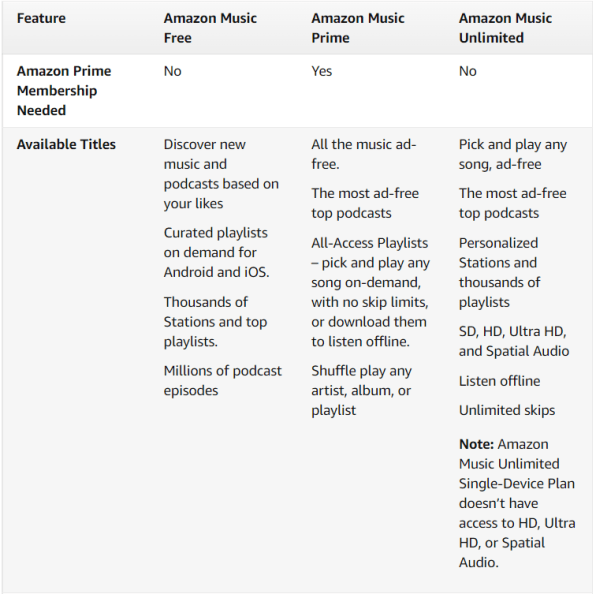 It's probably better to think of Music Prime as a Pandora-like service wherein you pick an artist or genre you like and let Amazon sort out which songs are going to be played for you.
The only catch there is that if you're streaming Music Prime to an Amazon Echo device—which we do non-stop around my house—it'll time out after an hour of inactivity. So if you're thinking of throwing a party and asking Alexa to spin up '80s music all night, you're going to have to keep asking every hour.
Audio quality
Another sticking point for some: Music Prime sound quality is available in "standard" definition, whereas Music Unlimited subscribers get access to "HD" and "Ultra HD" tracks depending on how each album is mastered.
Some Music Unlimited tracks can also be played in "spatial audio"—which is touted as "a multidimensional audio experience, adding space, clarity, and depth that is not achievable with traditional stereo music." Far out, man.
Other considerations
The differences outlined above are the main things to consider. Amazon has a handy comparison table and a stand-alone FAQ if you'd like to dig in a bit deeper.
(26)