AMD Ryzen 3 1200 Specs Listed by ASRock | Entry-Level Ryzen Chip to Come With 3.1 GHz Base Clock
AMD Ryzen 3 1200 Specs Listed by ASRock | Entry-Level Ryzen Chip to Come With 3.1 GHz Base Clock
In what appears to be a serious blunder by ASRock, the specs of the AMD Ryzen 3 1200, AMD's forthcoming entry-level Ryzen chip, has surfaced online. Note that AMD is yet to officially announce the Ryzen 3 series, although we expect to see these budget Ryzen chips in the coming months.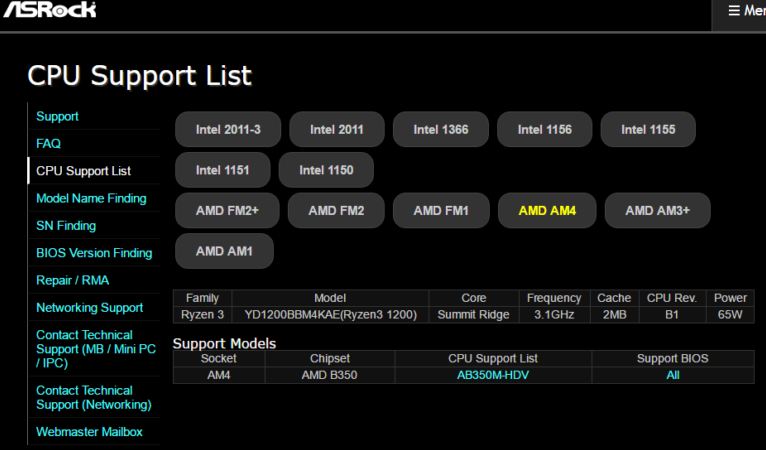 The specs sheet suggests that the processor will come with a 3100 MHz base clock and 65W TDP.
The model number of the Ryzen 3 1200 CPU in ASRock's listing was YD1200BBM4KAE. The "number 4" in the model number implies that it is going to be a quad-core processor. The listing puts the CPU alongside an AB350M-HDV B350 chipset based motherboard.
Whether or not the forthcoming chip will by hyper-threaded remains a matter of speculation — although, we are skeptical about the possibilities. As for the release date, the Ryzen 3 1200, along with other chips in the AMD Ryzen 3 series, is expected to hit store shelves sometime in the second half of this year.
AMD Ryzen 5 series releases next week
Meanwhile, in a related development, AMD is all set to release its mainstream Ryzen 5 series CPU in about a week's time — on April 11, 2017, to be more specific.
We have previously reported that the Ryzen 5 CPUs have been available at select few retailers since three weeks prior to the official release. Even before the official embargo is lifted on said day, benchmarks of at least one Ryzen 5 CPU, namely the Ryzen 5 1400 have been spotted online, thus allowing us a sneak peek into the chips gaming and overall performances.
Click the following link to learn more about the overclocking ability of the AMD Ryzen 5 1400.
[Via]
The post AMD Ryzen 3 1200 Specs Listed by ASRock | Entry-Level Ryzen Chip to Come With 3.1 GHz Base Clock appeared first on MobiPicker.
(9)