Cameo re-introduces live video calls in a bid to boost business
By KC Ifeanyi
Cameo is ready to go live again.
The platform that allows users to purchase personalized video messages from celebrities unveiled today Cameo Live, a new feature allowing 10-minute video calls for up to 10 fans.
Cameo Live is an extension of Cameo's past efforts to expand beyond pre-recorded videos. The company actually launched a version of Cameo Live in June 2020, which facilitated conversations with celebrities via Zoom; that iteration was nixed in April 2021. That same year, the company also rolled out Cameo Calls, which were two-minute sessions billed as virtual meet and greets.
"A live video component has always been part of our mission to offer the most authentic and personalized fan experiences on Earth, but we wanted to really perfect it," says Cameo CEO and cofounder Steven Galanis. "The team has previously experimented with other versions of live video calls and collected valuable insights from talent and fans to create [Cameo Live]."
With the new edition of Cameo Live, which will be hosted on Cameo and not through Zoom, users can include more people on the call (previously, only up to 4 fans were allowed—now it's up to 10). Users will also have more flexibility in scheduling a live call, with the ability to propose three different options for a date.
Cameo Live is part of what the company is calling Cameo 2.0—that is to say, the next chapter in their push to create a "full-service" platform fan experiences. It's a strategy undoubtedly aimed at reinvigorating the company's growth.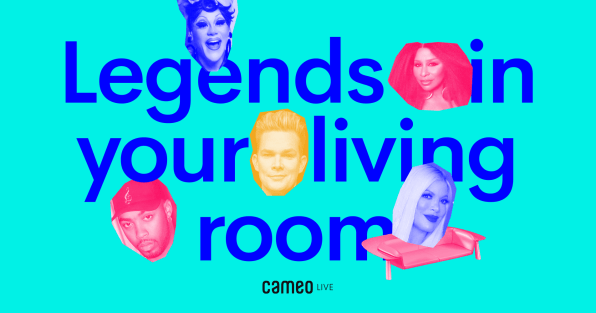 Cameo saw a major boom in business in 2020 as celebrities were looking for new streams of revenue during the pandemic and users were looking for fun ways to connect with loved ones remotely. However, back in May, The Information reported Cameo laid off 25% of its staff (around 80 employees). The move was precipitated by a slowdown in sales: Cameo pulled in about $100 million in transactions at the end of 2021—a far cry from Galanis's $200 to 300 million projection for the year.
Galanis sees Cameo Live as a way to take the surprise and delight factor the company so frequently touts with its core product to a higher level.
"Taking that a step further and making it a two-way experience is a massive opportunity for us," he says. "Thousands of talent and fans have already been incredibly receptive in the testing phase and with this launch, and the infinite number of ways to use the product, we expect bookings to grow the business."
(12)