Dell XPS 13 hands-on: A makeover inside and out
Dell's XPS 13 has been one of our favorite laptops for years, and with good reason. Its compact design, brilliant display, comfortable keyboard and long battery life make it a well-rounded device. Dell wasn't content to simply offer an incremental upgrade this year, though. It has given the XPS 13 a makeover, with narrower bezels, a new cooling system and a white option with a stain-resistant coating.
Click here to catch up on the latest news from CES 2018.
That sounds like a lot, but on the outside the XPS 13 doesn't appear to have changed much. At least, not when you're looking at the silver/grey version anyway. The rose gold/white edition, though, will catch your eye (for better or worse). While I'm not a fan of the new color, I appreciate that Dell found a way to keep it from yellowing or getting stained.
The white XPS 13 uses a glass fiber weave with coating to prevent discoloration, especially the areas where your palms rest. During a recent briefing, a Dell rep showed me how marks from a Sharpie were easily cleaned off a sample swatch. According to the company, this effectively repels most substances, but its kryptonite is mustard and sunscreen. So don't bring your laptop to the beach or a hotdog eating contest.
In addition to the new color, the XPS 13 also sports a thinner, lighter design, now weighing in at 2.67 pounds. That's practically featherweight, but then again the XPS 13 has always been easy to carry around. Still, we always appreciate carrying a lighter load.
While the new XPS 13 still has the same awkward webcam placement as its predecessor (at the bottom of the screen), it's been upgraded to an infrared sensor for Windows Hello support. With that, you can log into your computer with your face, or by using the fingerprint sensor embedded into the power button. I didn't get to test either of these authentication methods during my demo, though.
Inside, the XPS 13 packs a quad-core eighth-generation Intel processor that Dell says helps the new laptop render and encode videos in Adobe Premiere Pro twice as fast as the 2015 model. That's just one specific test to show how well the system should perform, of course — your experience may vary. There's also a new dual heat pipe and fan cooling system, as well as Gore Thermal insulation covering certain parts of the system like the processor and GPU to keep temperatures low.
I didn't get to push the XPS 13 enough to really test these performance and cooling claims during my briefing, so we'll have to wait till we get a review unit. I did like the XPS 13's screen, though. It's surrounded by the latest version of Dell's "InfinityEdge" bezel, which is now 23 percent narrower than the previous generation. The border, which was barely there before, now looks like it's almost gone — and the effect is a display that blends into what's behind it while still managing to look inviting and vibrant.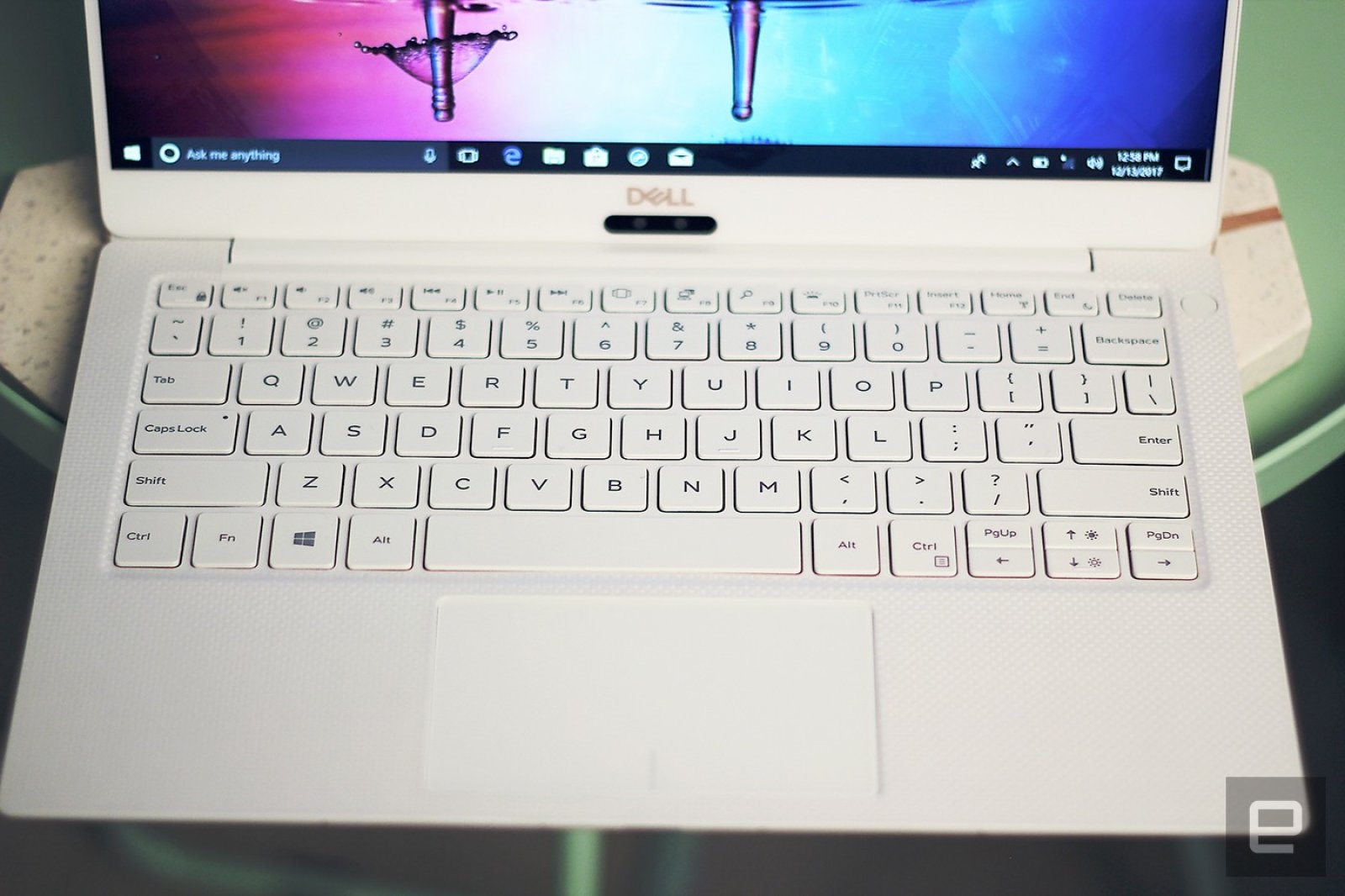 The screen is now available up to 4K and supports a new suite of technologies called Dell Cinema. This enables HDR playback, Waves Maxx audio enhancements for "studio-quality" sound, as well as streaming prioritization to minimize buffer lag. At my hands-on, videos that Dell showed did appear to have deeper blacks and higher contrast ratios with the Cinema enhancements applied. It was difficult to deduce the effect on the laptop's speaker sound quality and streaming speed in the demo environment, though.
All told, the new XPS 13 feels like a timely refresh, given the industry's pivot to 4K HDR in recent years. It's challenging to keep refining and improving an already successful product, but so far it appears Dell's latest has what it takes to live up to the excellent reputation it has established with the XPS series. It'll be available today starting at $1,000/£1,269, like its convertible brother.
(32)