Digitas Finds Voice A Potential Threat To Brands, Adding Screens Is A Plus
Digitas Finds Voice A Potential Threat To Brands, Adding Screens Is A Plus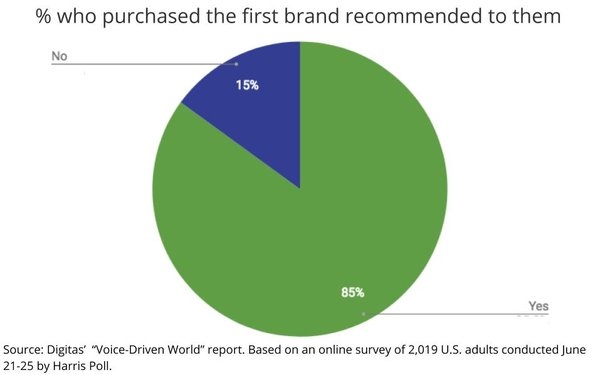 In March, comScore released findings of a study indicating that smart speakers represent a potential threat to branding, because in a screen-less environment, a significant number of consumers simply take the first product or service that an assistant recommends.
In the comScore research, 18% of consumers who have ordered products via a smart speaker said it offered a different brand than the one they usually use.
This week, Digitas released a new report, "A Brand's Guide To Taking Back Control in a Voice-Driven World," reinforcing the potential threat that virtual voice assistants represent to brands.
The study, based on a June 21-25 online Harris Poll survey of 2,019 U.S. consumers — 557 of whom made at least one purchase using a virtual voice assistant — found that 85% purchased the first option recommended to them on at least one occasion.
Interestingly, the same study found that if a visual screen is added to the interface, the likelihood that consumers will search for a preferred brand would go up dramatically.
Seventy-eight percent of the respondents said if they were purchasing a product using a virtual voice assistant with a screen, they would be likely to scroll through additional product options instead of purchasing the first option the voice assistant gives.
(5)