Facebook To Sell More Mobile Oculus In 2018
Facebook To Sell More Mobile Oculus In 2018
by Gavin O'Malley @mp_gavin, October 11, 2017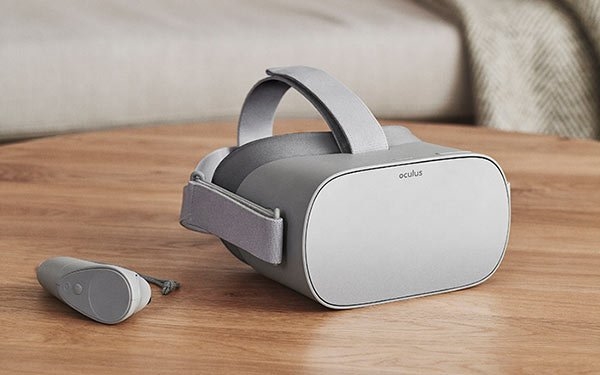 Still trying to turn consumers on to the possibilities of virtual reality, Facebook unveiled a cheaper, more mobile Oculus headset on Wednesday.
Slated to ship early next year, the new "Oculus Go" device will start at $199, Facebook founder Mark Zuckerberg announced at an Oculus Connect event.
The new "Go" is lighter than the Rift, while new fabric used for the facial interface is said to be soft and breathable.
Along with a "fast-switch" LCD screen, the Oculus Go should ship with integrated spatial audio, which is built into the headset. To be safe, the headset will also include a 3.5mm headphone jack for private listening.
Facebook is also dropping the price of its existing Oculus Rift headset from $599 down to $399, Zuckerberg said on Wednesday.
While Zuckerberg still believes in the promise of Oculus, the VR unit has struggled with setbacks over the past year. Over the summer, Facebook lost Eugene Wei, who had run Oculus since late 2015. Earlier this year, the tech titan decided to fold its Story Studio, the virtual reality film studio operated under the Oculus umbrella.
More broadly, the Oculus Rift VR headset isn't selling as well as expected. To stimulate sales, Facebook has tried several promotions — most recently dropping the cost of a VR headset and a pair of Touch controllers by $200, this past summer.
Facebook bet big on VR when it dropped $2 billion on Oculus VR in 2014.
More recently, Facebook launched Spaces — its virtual chat room, complete with cartoonish avatars, customizable environments and various multimedia offerings. First unveiled in 2016, Facebook announced the general availability of Spaces at its F8 Conference, earlier this year.
Naturally, avatars can be customized, then put to use at "parties" — where up to eight users can engage in virtual socializing — as well in more private "rooms."
MediaPost.com: Search Marketing Daily
(15)