Facebook's Saturation, Instagram's Growth And What It Means For Brands
— July 27, 2018
Facebook has been facing the aftermath of the Cambridge Analytica scandal since the news broke in March this year. The company posted its Q2 2018 earnings report (July 31, 2018) with its share price down by more than 20 percent.
While the company is still showing impressive growth in terms of ad revenue with a 42 percent year-on-year growth, its user growth seems to have stagnated. The company revealed its lowest quarter-to-quarter growth at 22 million new users since early 2011. Many experts are saying that the platform has reached saturation in developing world markets and is now declining.
However, the one good investment of Facebook that has remained unaffected by it all is Instagram. Instagram currently has 1 billion-plus monthly active users and is serving as Facebook's powerhouse for growth.
Solving Facebook's ad supply crunch
Over the last few years, Facebook's mature ad market has led to rising ad costs much to the dismay of advertisers. The growing popularity of Instagram is providing Facebook with a way to resolve this supply crunch.
The company introduced carousel ads a while ago that lets advertisers show up to 3 photos or videos in an ad. Instagram users also see ads within the Stories format. With the introduction of IGTV, advertisers are likely to have even more avenues to reach Instagram's growing audience.
Reaching a younger demographic
It's no secret that Facebook has been losing the interest of the younger demographic over the last few years. A recent study by Pew Research Center revealed YouTube, Instagram, and Snapchat among the 3 most popular online platforms.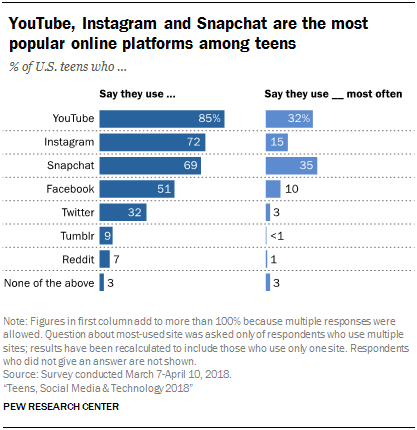 The nature of Instagram is such that most people don't just use it to follow their friends. In fact, 80% of Instagram users follow atleast 1 brand. The app's increasing usage is making it an ideal platform for brands to advertise. A lot of brands have already seen this opportunity and shifted their advertising dollars to Instagram. This has resulted in 177% growth in Instagram ad revenue over the last one year.
Not just big brands, even SMBs have realized the power of Instagram advertising with over 34.6% of SMBs allocating ad spend to the platform.
"Instagram has become an absolute monster in terms of user growth and engagement," Rich Greenfield, an analyst at BTIG, said in a research note this month.
Instagram is ticking all the boxes in terms of being a platform brands should invest in if they want to engage with their audience and grow. However, marketers must make sure that they approach the platform right, not just as a means to repurpose their ads from other channels but as a platform to shrink the distance between brands and customers and present their stories in a real, organic manner.
Digital & Social Articles on Business 2 Community
(4)