For Cupper Fans — Choose the Achedaway Cupper
For Cupper Fans — Choose the Achedaway Cupper
I was SO excited to get the Achedaway Cupper and couldn't wait to use it. I like to read all of the instructions on items before using them to get the best benefits. The Achedaway Cupper instructions are easy to understand with clear instructions and good images. If you get confused (you won't), there are a couple of good YouTube's about the Cupper.
Be Careful of the Bluebirds, Cupper Fans
Years ago (okay many years ago), when I was in High School — my boyfriend came over on a Saturday. My dad was home and called for my boyfriend to come into the kitchen, which he did. Dad was quite friendly, then all of a sudden, dad doubles down with an intense look, "Hey, I want to know what those bluebirds are on my daughter's neck?" What a bully and a horrible thing for my father to have done to my friend and me. I've PTSD'd (kidding) over that scenario for years.
Nonetheless — I warn you now — watch out for Bluebirds when you use the Achedaway Cupper (or any cupper, I've been told). Take a look at the pics on the Achedaway site. I've been told that every person in the universe knows about the bluebirds but me.
You'll love the curved cup design. It makes the cupper grab on to smaller spots, like a smaller woman's upper arm.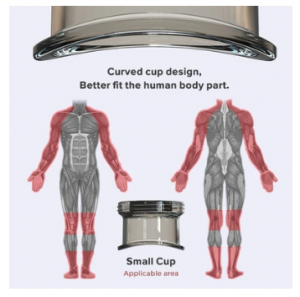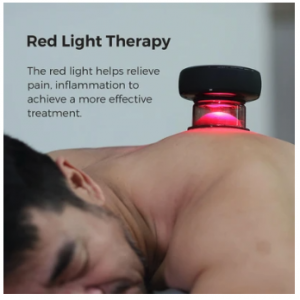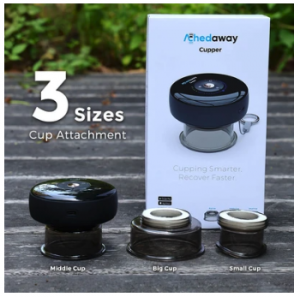 One of the greatest benefits of the Achedaway Cupper is that you can easily use these for self-care at home. Easy to use, easy to clean — and the pain is simply gone. It comes with 3 sizes of cup attachment. These are easy to clean and easy to change out sizes. In addition, you can run your Cupper from your phone.
I have sciatic pain (probably from sitting 8 hours a day working — just like you!). I used the Cupper in that spot for 5-8 minutes and remained pain-free for about four hours. Then I use it again at work and enjoy several more pain-free hours. Using the Cupper in this manner, I don't get the big red spots either.
The only drawback to taking your Cupper to work is that everyone will want to use your Cupper. Nonetheless, pain-free is pain-free and SO worth it.
Last week our designer came in with a pulled hamstring. She'd been on crutches for days and wasn't doing well. So I ran home and got the Cupper. She took it home that night, and with usage each day for a few minutes, she's back to work without crutches.
I've talked with many people about "what makes this product work?" Is it skin manipulation? Is it the red light that works the magic? Or is it how the Cupper stimulates additional blood flow to the site you are working on?
The Cupper come is a heavy-duty carrying case, easy to use and understand this product. Check out the Achedaway site some several other items you'll enjoy.
Whatever the process of the Cupper — the greatest is this — this is a product that works on pain.
The post For Cupper Fans — Choose the Achedaway Cupper appeared first on ReadWrite.
(28)