Google Location-Based Safety App Trusted Contacts Launches
by Laurie Sullivan@lauriesullivan, December 5, 2016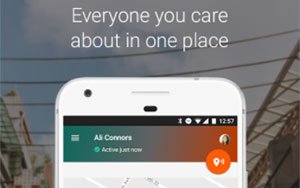 Google is using its expertise in location-based ad targeting to build out a personal safety mobile app that allows users to share their location with friends. The company envisions that the app, which launched Monday, will be used for emergency services rather than ad targeting. The company describes "Trusted Contacts" as a "personal safety app" for Android.
Many of the functions of the app already exist in Google Latitude, a contact location app built into Google Maps several years ago, which was later discontinued after introducing "Google+ Location Sharing." In the wake of Google's diminished focus on Google+ and increase in mobile apps, the new app allows friends and family to share their location with one click.
When signing up to use the app, the user designates friends and family in the address book as "trusted contacts" — allowing them to send or receive location information at any given time. The app doesn't share location by default, but people can see general information about the person's whereabouts.
When a user hits a bad cell service area or if the smartphone's battery is dead, the app releases the user's last known location when they were still online.

"If you find yourself in a situation where you feel unsafe, you can share your actual location with your trusted contacts," Minh T. Nguyen, software engineer at Google, writes in a blog post. "And if your trusted contacts are really worried about you, they can request to see your location. If everything's fine, you can deny the request. But if you're unable to respond within a reasonable timeframe, your location is shared automatically and your loved ones can determine the best way to help you out. Of course, you can stop sharing your location or change your trusted contacts whenever you want."

MediaPost.com: Search Marketing Daily
(19)