Google Opens Bard To Some, Says It's Not Search Replacement
Google Opens Bard To Some, Says It's Not Search Replacement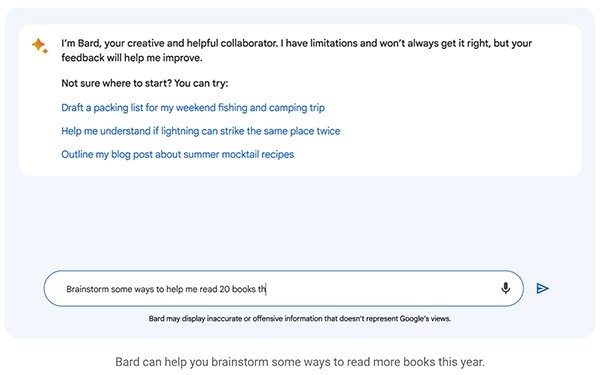 Google on Tuesday began allowing some users in the U.S. and U.K. to test its artificial intelligence (AI) chatbot Bard — but company executives cautioned that the tool is not a replacement for search.
"Bard is a direct interface to an LLM, and we think of it as a complementary experience to Google Search," Sissie Hsiao, vice president of product at Google and Eli Collins, vice president of research at Google, wrote in a blog post.
Calling it an "experiment" to support productivity, creativity and curiosity, the two acknowledged that Bard helped them write the post by providing an outline and suggesting edits.
When asking Bard questions to help write something, it will return a choice of a few different drafts of its response to pick the best starting point. The user can ask follow-up questions or see alternatives by asking Bard to try again.
"Like all LLM-based interfaces, it didn't always get things right," they wrote. "But even then, it made us laugh."
Google developers designed Bard so users can visit Google Search to check its responses or explore sources across the web. Clicking the "Google it" tab will allow users to see suggestions for queries, and Search will open in a new tab to find relevant results and dig deeper.
Bard is an interface to a large language model (LLM) that enables users to collaborate with generative AI to search for answers.
The technology is based on a lightweight and optimized version of Language Models for Dialogue Applications trained on a variety of data from publicly available sources. It is taught to learn, pick up on patterns in language and use them to predict the probable next word or words in a sequence.
Unlike Microsoft with its Bing chatbot, Google made no mention of how — or whether — the company will integrate advertising into the technology.
Still, tech companies are rushing to build generative AI bots and companies are rushing to incorporate the technology. It's easy to see how companies could license and integrate the Bard technology into their own chatbot on a website.
Last week, China's largest search engine Baidu demonstrated its AI chatbot Ernie — a rival to Microsoft's Bing chatbot running on OpenAI's ChatGPT-4 technology. During a livestreamed press conference held to show off its capabilities, it fell flat.
Microsoft released its Bing chatbot early on and this past week confirmed that the new Bing now runs on GPT-4 customized for search, and has been running for the past five weeks. Today, Microsoft announced the ability to generate images.
Users in the U.S. and U.K. can join a waitlist to access Google's AI chatbot Bard. Calling it an "experiment" to support productivity, creativity and curiosity, Google VP Product Sissie Hsiao and VP research Eli Collins wrote in a blog post: "We think of it as a complementary experience to Google Search.
\
(12)