Google Takes 28% Of Time Americans Spend With Platforms, Facebook Goes The 'Other Direction'
Google Takes 28% Of Time Americans Spend With Platforms, Facebook Goes The 'Other Direction'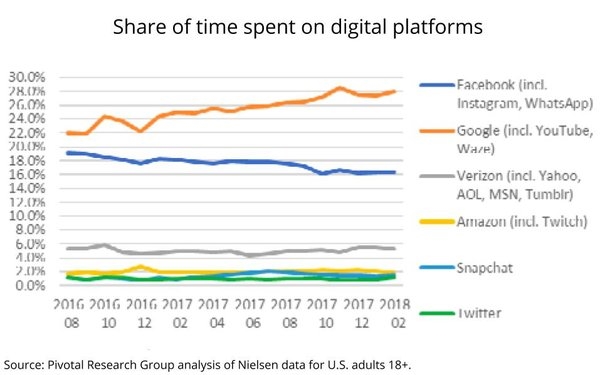 An analysis of Americans' time spent with the major digital platforms supports continued advertising investments in Google's properties (including YouTube, Waze, etc.), but may question the longer-term wisdom of the rapid expansion in Facebook's demand pool.
The analysis of Nielsen data on digital content consumption shows that overall usage for all platforms is up 13% this year, but not all platforms are performing equally, according to the analysis of Nielsen data by Pivotal Research Group.
Google's properties have soared to nearly 28% of the share of time Americans spend with digital platforms.
"Meanwhile, Facebook appears to be going the other direction," writes Pivotal's Brian Wieser, adding: "Core Facebook lost -5% in aggregated time spent despite a +5% increase in users, reflecting a -10% decline per person. Instagram, which only represents around 12% of the usage of the core Facebook property, performed much better with a gain of +31% more time on +25% more users for a +5% increase in time per user.
"To the extent that Facebook continues to hold a share of consumption at around 16%, we note that this is significantly below our forecast for Facebook's share of digital ad revenue, which we estimate will be around 23% in the United States this year (which is based on +14% growth in overall digital advertising during 2018, and which leads to our expectation for +31% domestic revenue growth for all of Facebook.)"
(7)