How 80 artists protested immigration abuses over July 4th weekend
By Elizabeth Segran
Immigrant detention centers have largely fallen out of the headlines over the past few months, but more than 200 of these sites exist all over the country. They're often invisible to the general public, which has no idea these centers are so close to where they live, work, and shop.
Over the Fourth of July weekend, a group of artists took part in a performance art project called In Plain Sight. They created messages that were written in the sky above 80 detention centers, immigrant courts, borders, sites of former internment camps, and other landmarks that highlight the nation's history of incarcerating immigrants.
Detainees have filed more than 20,000 grievances of abuse within the walls of immigration centers since President Trump took office. In recent months, there have been coronavirus outbreaks at these centers, and several migrants have died from the disease.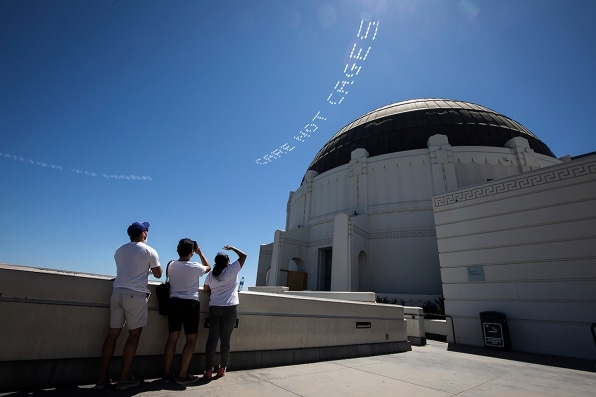 "There's a detention center close to an IKEA in New York," says Sam Van Aken, an artist who contributed to the project. "My friends and I often went to that store and had no idea it was there."
In Plain Sight is the brainchild of two artists: Cassils, whose work often focuses on violence against the LGBTQI+ communities, and Rafa Esparza, whose own family migrated to the United States from Mexico and whose four brothers have been incarcerated. Cassils and Esparza curated the 80 artists involved, all of whom are committed to abolishing immigrant detention and the United States' culture of incarceration. The artists chose words and phrases that were often connected to their larger body of work. Planes wrote them out using water vapor and a distinctive typography made up of giant dots, which could be read for miles.
Among the artists involved are Dread Scott, who chose "CARLOS ERNESTO ESCOBAR MEJIA," the first immigrant to die in detention from COVID-19, to be written above Ellis Island; Patrisse Cullors, a cofounder of Black Lives Matter, whose words "CARE NOT CAGES" appeared above the L.A. County Jail; and Emory Douglas, a graphic designer and minister of culture for the Black Panther Party, whose words "HEALTH IS WEALTH!" flew over the East Baton Rouge Jail.
The project also has a digital component. The messages all ended with the hashtag #XMAP, to drive people to the xmap.us website, which features an interactive map to identify detention centers in their vicinity, the story behind the project, and a list of ways to take action. There's also an augmented reality app, so people can continue viewing the art virtually.
Aken, who has worked with Cassils before, was immediately drawn to this project. In one of his most recent works, The Tree of 40 Fruit, Aken grafted 40 different types of stone fruit into a single tree to explore the concept of migration in the United States. "The fruit themselves originate from all over the world, and they have all made their way to this country," says Aken. "In my work, they all live on the same tree."
To offset the carbon footprint of the sky typing project, Aken will plant these special, grafted trees across the country in close proximity to detention facilities and incarceration sites.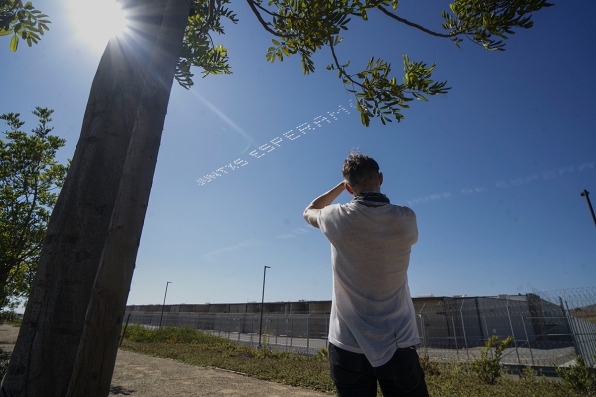 He spent a lot of time thinking about what he would type above a detention center, and came up with the words, "The Kingdom of Heaven" which is pulled from The Sermon on the Mount, in which Jesus talks about how God comforts those who mourn and blesses those who show mercy. "So many Christians in this country use the Bible to justify the detention of migrants, but they're overlooking entire sections that focus on kindness and mercy," says Aken.
Jackie Sumell, a New Orleans-based artist whose entire body of work has focused on abolishing prisons, believes that the timing of this project over the Fourth of July was incredibly important. "The juxtaposition of this holiday, which represents freedom, and America's history of incarcerating people, is so powerful," she says.
But Sumell points out that the world has recently been focused on systemic racism and white supremacy, and she's interested in connecting these issues to the imprisonment of migrants, who are also people of color. She chose to feature the words "ICE WILL MELT" over the New Orleans Field Office, which is located close to the Mississippi River, where many people arrived in the United States, often as slaves. "I love the idea of people looking up and seeing poetry written in the sky," she says.
(4)