Jailed For A Facebook Poem: The Fight Against Myanmar's Draconian Defamation Laws
By Christopher Zara
, July 13, 2017
It's a moody afternoon in late spring, and Maung Saungkha, the famous "penis poet" of Burma, is in a hurry to stay ahead of the next downpour. After a full morning of punishing rain that feels like we are under ambush by rocket-propelled water balloons, the skies are finally showing mercy, but Saungkha suspects the break won't last.
Here, in a small park in north central Yangon, he and other free-speech advocates are putting together a makeshift exhibition of political cartoons by Burmese artists. The park is flanked by blackened apartment buildings and obscured by the shadow of a concrete overpass, which is not ideal for an art showing. But Saungkha and his cohorts make resourceful use of the space, hanging brightly colored artwork on thin ropes strewn all along the periphery.
The cartoons are subversive and attention getting: A few depict goofy caricatures of people on smartphones, but many others incorporate some funny variation of Facebook's famous "F" logo. You know the one. In the West we associate it with social media, or maybe Silicon Valley's special brand of platform imperialism. But here in Myanmar, where the internet was scarce only a few years ago, it seems to symbolize something more urgent about, specifically, freedom of online speech.
Saungkha, 24, with a warm smile, feathered hair, and dark sideburns, politely asks me to give him a few more minutes to finish setting up. I return 20 minutes later and he tells me, through a translator, the wild story that set him down his current path of free-speech evangelism. He posted a satirical poem on Facebook two years ago that was deemed by a court to be an insult to the president of Myanmar. The poem named no names, but it colorfully implied that Saungkha has a tattoo of the president on his penis. He was arrested and hauled off to prison, where he served six months for criminal defamation.
"I was quite surprised," he tells me, because before that time, it would have been unusual for anyone in Myanmar to be prosecuted over a Facebook post.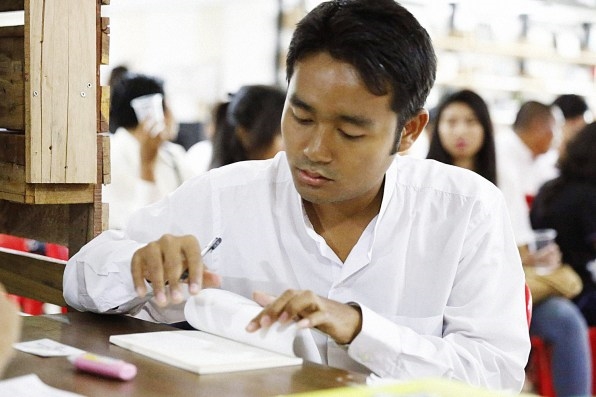 It's not so unusual anymore. Saungkha didn't know it at the time, but his arrest would mark the beginning of a wave of prosecutions under section 66(d) of Myanmar's telecommunications law, a criminal provision that restricts online speech. The law—so broadly worded it could include almost anything—carries a prison sentence of up to three years for "extorting, coercing, restraining wrongfully, defaming, disturbing, causing undue influence, or threatening any person using a telecommunications network." It was passed as part of a telecom reform bill in 2013, but did not attract much attention outside the country until two years later, with the arrest of Saungkha and two other people around the same time. All three were charged over Facebook posts.
Then came the historic Myanmar election of November 2015 and a sweeping victory for the National League for Democracy, the party led by Aung San Suu Kyi, the celebrated political reformer and Nobel peace laureate. Her victory brought fresh hope that Myanmar's first freely elected government in a half-century would finally allow online speech to flourish. In fact, the opposite has happened: Since the NLD came to power, defamation cases under section 66(d) have skyrocketed. The latest count from Saungkha and his research team puts the number of people charged at more than 70, up from only seven cases under the previous government. The dramatic increase has sparked an outcry from free speech and human rights groups, with some accusing Suu Kyi and her NLD government of turning their backs on the democratic principles that got them elected.
The specific instances of so-called defamation are sometimes so trivial that they border on the ridiculous, like the 25-year-old woman who served six months for sharing a meme that compared Suu Kyi's outfit to a military uniform (they both wore similar shades of mint green), or the man sentenced to nine months for calling the president of Myanmar an "idiot." Other examples are more serious, like the high-level media executives who were arrested in November over an editorial that accused a government minister of accepting a lavish gift from a convicted drug lord.
But whether silly or serious, the cases follow a retaliatory pattern that's hard to ignore. Often, the complaints are filed directly by government or military officials looking to punish someone who posted something perceived to be insulting or derogatory on social media, which makes section 66(d) seem less about defamation than intimidation, a shiny new weapon to be wielded by people in power who want to stamp out dissent.
"It can be used for revenge," says Zarchi Oo, a program manager at PEN Myanmar, one of the groups that helped organize the cartoon exhibition.
Meanwhile, word of mouth appears to be playing a role in the increase in arrests. Under section 66(d), anyone can file a complaint, which means a lot of defamation cases are filed not by the person who was the target of the offending speech, but by third parties—sometimes people who were just offended by something they'd seen on the internet. Wai Phyo Myint, an outreach manager for the Myanmar Centre for Responsible Business, says section 66(d) has caught on as press reports of prosecutions spread and people learn how simple it is to invoke the law for vengeful aims.
"It is so easy," she tells me. "You can just file to the police, and then the police will go and get that person and put him under arrest."
The chilling effect on speech is becoming more palpable, Myint says, because as fear of violating the law spreads, government officials are learning that all they have to do is threaten a lawsuit to muffle critical posts, even when they are clearly in the public interest.
"People are scared," Myint says. "If you post something against the government, or are a little bit critical of the government, now you might get sued."
At a time when the country is supposed to be embracing democratic ideals, section 66(d) has emerged as a convenient tool to stem a growing tide of free expression in a country that has had little experience with it. That's probably by design: The section of the law, a holdover from the military era, seems to be tailored for just the kind of retaliatory purposes it's being used for. "People who have decided they want to defend their reputation against anything that's said about them online are using this," says Phil Robertson, deputy director of Human Rights Watch's Asia division.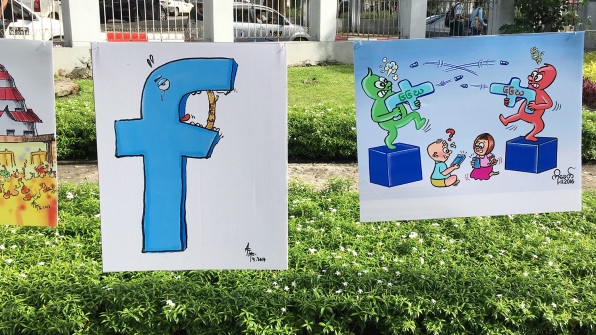 Trouble For Journalists
As you might suspect, section 66(d) is especially worrisome for Myanmar's fledgling free press, which was officially censored until just a few years ago.
At least 14 journalists have already been charged under the law, according to Saungkha's team. Last month, a reporter in Magway Region, in central Myanmar, was slapped with a charge after he wrote a Facebook post criticizing a local construction project. Two other journalists who commented on the post were also charged. And as we speak, the editor of the Voice, a leading Myanmar newspaper, is facing trial over posting a satirical article on Facebook that poked fun at the military.
It's hard not to notice that the military is another common thread in many of the cases, a detail that has raised concerns in the international community. "This has become the Burmese army's new favorite law," Robertson says. "We've seen an explosion of social media use in Burma, particularly on Facebook, and the army, as they're being criticized, are just taking pot shots at people using 66(d)."
Last month, Human Rights Watch was one of 61 organizations that signed an open letter to the Myanmar government urging it to repeal section 66(d), or at the very least, amend it. The law is out of step with international human rights standards, the groups say, because it classifies defamation as a criminal offense punishable by imprisonment, not a civil matter.
"[T]he purpose of laws covering defamation, libel, slander, and insult is to protect the rights and reputations of people," the groups wrote, "not to prevent criticism of the government or of individual officials."
So far, the response from the Myanmar government has been tepid and vague at best. The law's shortcomings have been acknowledged by some of the country's regulators, the attorney general's office, and some members of parliament, but getting an amendment through the legislature doesn't exactly appear to be a priority. In early June, a senior official of the country's information ministry promised a visiting delegation of the Committee to Protect Journalists (CPJ) that an amendment to the law would be introduced to the parliament, one that would at least remove section 66(d)'s criminal penalties. However, no actual timeline was offered.
"They just said, 'Soon,'" Steven Butler, CPJ's Asia program coordinator, told me. He added that a full repeal of the law would likely not be considered, so an amendment seems to be everyone's best hope.
A few days after CPJ's visit, a report in the Myanmar Times indicated that the amendment process, or lack thereof, was already being held up by political infighting and a general lack of urgency. "It is not an issue that will destroy the country," one official was quoted as saying. In the meantime, the arrests keep piling up.
Suu Kyi finally weighed in on the law at a press conference on July 6, promising that an amendment was under consideration, but she too was short on specifics. The next day, a draft amendment appeared on the parliament's website, but according to Myint, who sent me a rough English translation of the draft, "the major problematic points remain," as the amendment would not remove criminal penalties for defamation. Saungkha, who favors a repeal, told me in an email he is also unhappy with the draft.
Human Rights Watch has been sounding the alarm about section 66(d) for more than a year. When I spoke with Robertson recently, he expressed frustration about the Myanmar government's general unwillingness to acknowledge or respond to feedback from the organization, calling it "one of the least efficient governments" he's seen in 22 years of living and working in Southeast Asia. "And that's saying something," he adds.
Fast Company sent interview requests to Myanmar's communications ministry, the NLD party leadership, the attorney general's office, the president's office, and the president's chief spokesman, all of which received no reply.
The Technological Leapfrog
Until recently, less than 1% of Myanmar's population had access to the internet. The country formerly known as Burma had been stuck in the technological dark ages, under military rule for almost 50 years. Robertson has covered the region since the early '90s and recalls it being "like North Korea," with political discussions relegated to dark tea shops. People who craved news that wasn't state sanctioned risked prison time by listening to international radio broadcasts from outlets like Radio Free Asia. The internet was introduced around 2000, but what little there was of it remained heavily censored for years. My wife visited in 2005 and 2007 and remembers being required to fill out a special form just to use an internet cafe.
Things changed quickly after the military junta ceded power in 2011. Then-President Thein Sein assumed office and ushered in an era of progressive reforms, relaxing censorship rules and restrictions on the media and speech, and granting amnesty to political prisoners. Among those reforms was the 2013 telecommunications law, of which 66(d) is a only a small part. The broader purpose of the telecom law was meant to provide a regulatory framework that would foster growth in the sector and allow foreign companies to compete. The following year, internet connectivity skyrocketed with the entrance of the first two mobile giants, Norway's Telenor and Qatar's Ooredoo. Today, mobile penetration is estimated to be as high as 80% or more.
Myanmar basically went from zero to 60 in the blink of an eye, leapfrogging over the PC era and landing smack in the middle of the smartphone revolution. And people—especially young people—caught up quickly. Wander the streets of Yangon today, and you'll see no shortage of Burmese teens and twentysomethings fiddling with their Huawei or Samsung smartphones, whether they're texting on a dingy side street or craning their selfie sticks at the sacred Shwedagon Pagoda.
At the center of all this is Facebook, which is popular not just with everyday Burmese millennials, but also a cadre of high-ranking government officials who have amassed huge followings on their Facebook pages. Indeed, it's the rapid spread of Facebook in particular that is testing Myanmar's tolerance for the kind of unchecked open expression that goes along with social media. Facebook doesn't break out how many active users it has in Myanmar, but figures provided to Fast Company by Amara, a digital marketing agency based in Yangon, estimate incredible growth since the passage of the telecommunications law. Three years ago, Myanmar had about 1.8 million Facebook users, Amara says. Today that number is 16 million, or almost one-third of the population.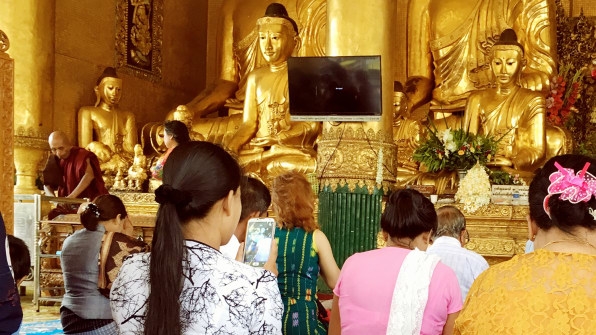 Lost In Translation
There are other aspects to 66(d) that make it a demonstrably bad law. Crucially, it's a non-bailable offense, meaning people charged under it can be detained for months, left to sit in prison as their cases await trial. That was the situation with Saungkha; by the time he was sentenced to six months, he had already served that time waiting to be tried. The specifics of Saungkha's case would be laughable if they didn't actually happen to someone. Read the English translation of the poem that landed him in jail and you will likely struggle to find anything remotely offensive:
On my manhood rests a tattooed
portrait of Mr. President
My beloved found that out after
we wed
She was utterly gutted,
Inconsolable.
Police showed up at his home soon after. The young poet spent some time on the run, and even defiantly continued to post new poems to his Facebook page, as reported by Coconuts Yangon, before authorities caught up with him. His trial and prosecution earned him international media attention, from the Daily Mirror to the New Yorker, with some headlines christening him the "penis poet," an unfair label, given that his verse never actually mentions the word.
Saungkha studied industrial chemistry at West Yangon University, graduating in 2013, and was already active in student protest movements before his arrest. He tells me he suspects the government already had its eye on him. Since his release last spring, he's emerged as one of the most visible critics of section 66(d), appearing on local TV shows, attending protests, collecting statistics, and organizing events like the cartoon exhibition.
When I asked him if he worries that his outspoken activities will land him in more legal trouble, he nodded. Of course he does. "I don't want to be in and out of jail," he says. "That's why I've been organizing and leading these kinds of campaigns, to raise awareness about this and fight against it."
The NLD's failure to address 66(d) with any sense of urgency is especially disheartening to its supporters. The party holds significant majorities in both houses of Myanmar's parliament, and Suu Kyi, its de facto leader, spent a lifetime outwardly fighting to bring democracy to the country, including during the 15 years she spent under house arrest. (Her official title is state counselor, thanks to a law that prevents her from serving as president.) Suu Kyi campaigned on a platform that emphasized, among other things, the importance of press freedom and the need to reform Myanmar's outdated laws.
But since her NLD party assumed office in 2016, it has been dogged by inertia and inaction. This isn't just about section 66(d) and the 2013 telecommunications law, but an entire litany of legislation held over from the military era. As Human Rights Watch said in a detailed report on Myanmar last summer, those include newer laws dealing with peaceful assembly, publishing, and the news media—each one a "double-edged sword" that can be also used by the government to punish people who speak out. To make things even messier, those laws are layered over a thicket of even more regressive colonial-era legislation, such as the Unlawful Association Act of 1908, under which three Myanmar journalists were recently charged for simply covering an event hosted by armed militia.
The NLD's foot dragging on section 66(d) is not surprising to those who have been paying attention. "There seems to be a lack of political will in the current Burma government to take on problematic legislation," Robertson says.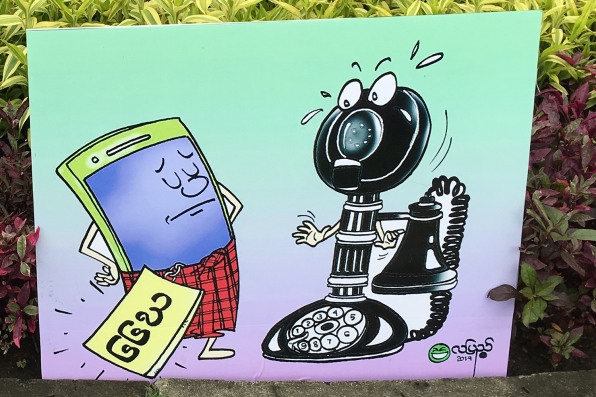 Old Versus New
At the art exhibition with Saungkha, I can see the cartoons are working. It's less than 30 minutes into the show, and curious passersby have begun to shuffle into the tiny park. They look at the drawings, chuckle, and inevitably snap photos with their smartphones, perhaps missing the irony that they are documenting their source of amusement with the same device that has sparked such an urgent need to hold the event in the first place.
Saungkha takes the microphone and starts riling up the crowd in Burmese. He appears both fearless and vulnerable, hiply dressed in a T-shirt, sandals, and a dark grey longyi. In the end, it's not a very big crowd—maybe two dozen people or so—but then an event like this, openly critical of government policy, would have been broken up instantly a few years ago. Now not even the punishing rain, which returns with a vengeance about two hours in, can keep attendees away.
After circling the park a few times, I think I've picked out my favorite cartoon. It depicts an anthropomorphic smartphone staring down an anthropomorphic 1920s-era telephone, an apt metaphor for the clash between old and new. Saungkha summed up this clash nicely in a statement he made to the press on the day he was released from prison. "Even though we have a democratically elected government, the verdict was like from the old days," he said.
His disappointment is echoed by increasing numbers of young Burmese voters who say that Aung San Suu Kyi and her NLD government are letting them down. This was supposed to be "the people's government," Myint tells me, the "one we can truly call." But a year and a half of inaction, dysfunction, and a willingness to look the other way has made it clear that their calls are going unanswered.
"This is really sad and disappointing to us," she says. "We voted for them."
More and more Burmese citizens are being arrested and imprisoned over social media posts. Why is the newly democratic government allowing it?
It's a moody afternoon in late spring, and Maung Saungkha, the famous "penis poet" of Burma, is in a hurry to stay ahead of the next downpour. After a full morning of punishing rain that feels like we are under ambush by rocket-propelled water balloons, the skies are finally showing mercy, but Saungkha suspects the break won't last.
Fast Company , Read Full Story
(50)