Judge Sides With Google, Blocks Canadian Takedown Order
Judge Sides With Google, Blocks Canadian Takedown Order
by Wendy Davis @wendyndavis, November 3, 2017
Siding with Google, a federal judge has granted the company's request to block enforcement of a takedown order issued by Canada's highest court.
The Canadian court's order "threatens free speech on the global internet," U.S. District Court Judge Edward Davila in San Jose, California wrote in a decision issued Thursday.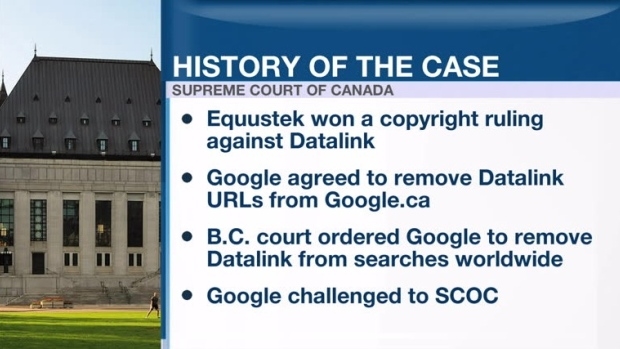 The order stems from a battle dating to 2011, when the technology company Equustek brought a suit in Canada against Datalink Technologies, which allegedly stole trade secrets and engaged in counterfeiting. Datalink defaulted in the case, resulting in a judgment in favor of Equustek.
Equustek then asked a British Columbia judge to order Google to remove search results for Datalink Technologies. The Canadian judge granted that request and issued a worldwide injunction prohibiting Google from displaying search results for Datalink. That order was upheld earlier this year by Canada's Supreme Court.
In July, Google asked a U.S. court to declare the Canadian order invalid and to issue an injunction against its enforcement. On Thursday, Davila entered a preliminary injunction blocking the order.
Davila said that Section 230 of the Communications Decency Act immunized Google from liability for displaying content created by outside companies like Datalink. "The Canadian order would eliminate Section 230 immunity for service providers that link to third-party websites," Davila wrote.
He also said that an injunction serves the public interest by preserving free speech online. "Congress recognized that free speech on the internet would be severely restricted if websites were to face tort liability for hosting user-generated content," he wrote.
MediaPost.com: Search Marketing Daily
(12)