Just Dance World Cup Returns for a Third Year
Just Dance World Cup Returns for a Third Year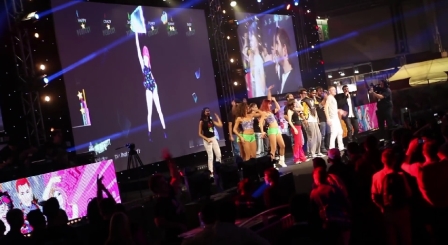 Players eager to show off their dancin' feet can qualify in one of two ways; they can compete in a live event or they can tally top marks on the online leaderboards. The live events include Brazil Game Show in São Paulo (9/1-9/5), Paris Games Week (10/27-10/31), and TubeCon 2016 in Oberhausen, Germany (11/20). If you choose to earn your spot online, you'll need to play the online multiplayer mode of Just Dance 2017 between November 6 and January 8, 2017, to compete for a top slot on your country's leaderboards. For more information on the Just Dance World Cup and eligibility information, visit the Just Dance World Cup official page.
Just Dance 2017 is set to release on October 27 on Wii U, Wii, Xbox One, Xbox 360, PlayStation 4, PlayStation 3, and PC. For more news on Just Dance 2017 and information on how to download the free demo, check out the UbiBlog coverage below:
Just Dance 2017 "Sorry" Demo Out Now, New Songs Announced
Just Dance VR Prototype Debuts at E3 2016
Just Dance 2017 Coming to Consoles and PC This Fall, Confirmed for NX
The post Just Dance World Cup Returns for a Third Year appeared first on UbiBlog – Ubisoft®.
(6)