Mutant Ape Yacht Club Hits 32 ETH All Time High Price Floor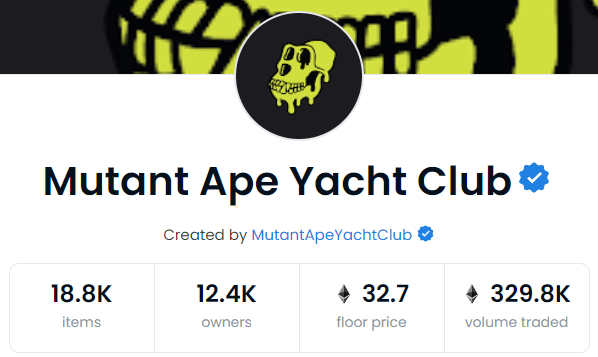 MAYC NFTs have risen in floor price to a new ATH of 32.7 ETH (making each NFT worth around $ 100,000 USD or more). How high can the Mutant Apes go?
MAYC and other NFTs hit new highs
The NFT market is currently booming, more so than the crypto market.
Bitcoin holding stable above $ 40,000 and Ethereum above $ 3,000 will have helped improved investor confidence in NFTs, but the two largest cryptos are yet to make new all-time highs since late 2021.
Several of the largest blue chip NFT collections have recently put in new peaks though – this week the Bored Ape Yacht club hit a new ATH floor price of almost 125 ETH on Opensea.
BAYC and MAYC are ranked the top #1 and #2 NFTs by floor cap (market cap) on NFT price tracking websites such as NFTPriceFloor and Coingecko.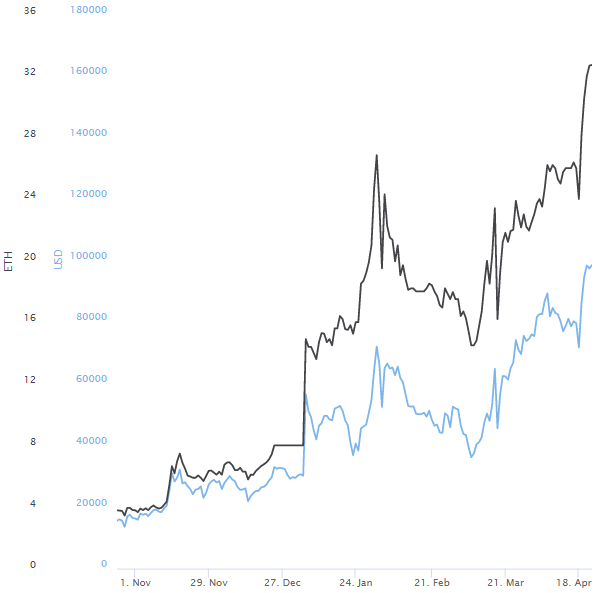 New MAYC ATH floor price of 32.7 ETH
The two flagship collections of Yuga Labs, along with the price of ApeCoin (APE) pumped in response to rumors of a Genesis drop of virtual land plots in the Otherside metaverse.
Azuki NFTs also had a 100% pump last month in the run-up to a mystery NFT airdrop.
Then there's the Moonbirds, a new collection run by one of the most high-powered teams of NFT creators on the market, the PROOF Collective.
Their expertise has brought in such high investor interest that the Moonbirds floor price flipped Azuki, then even overtook MAYC, currently at 33.5 ETH.
The Mutant Apes still have a higher market cap however, based on their higher total supply.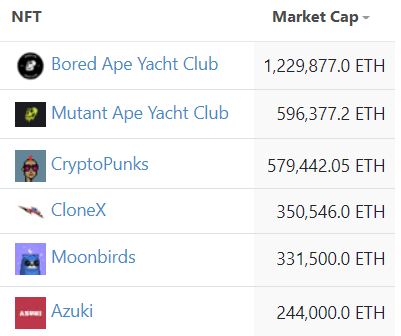 April 2022 NFT rankings by market cap
There can be a maximum of 20,000 Mutant Apes created by exposing an existing Bored Ape to a vial of Mutant Serum.
MAYC today has a market capitalization of 596,000 ETH, slightly more than the CryptoPunks (also recently acquired by Yuga Labs) and eclipsed only by BAYC's 1.2 million ETH.
Some rare Mutant Apes have sold for over a million dollars, upwards of 300 ETH.
Moonbirds are the fastest growing NFTs in terms of trading volume and their market cap is not far behind at 331,000 ETH. They may soon also flip CloneX in market cap.
Cryptoassets are a highly volatile unregulated investment product.
The post Mutant Ape Yacht Club Hits 32 ETH All Time High Price Floor appeared first on Business 2 Community.
(7)