Swipe Right For Friendship With This New Friend-Making App
In the market for a new squad? There's a Tinder-like app for that.
By now, most singles have tried—or at least heard of—swiping right for love, with various degrees of success—but what about doing the same for friendship? That's the idea behind Hey! VINA, a new Tinder-esque app launching today that applies the Tinder approach to matchmaking platonic relationships between women.
"It's super easy to find a date on the Internet, but why isn't it as easy to find a new friend?" pondered Olivia June Poole, cofounder and CEO of Hey! VINA. "We built this app to solve for our own needs as women who have moved, traveled, changed careers, and shifted lifestyles and life stages. Through our adult lives we go a lot of places that our existing friendships don't always support and it becomes time to expand our circles."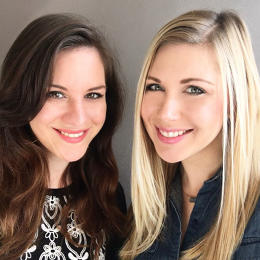 The idea came to Poole after she moved to San Francisco, where she knew no one, seven years ago. She signed up for OkCupid, where she found the algorithm great for pairing her with people she would like to be friends with, but not so great at predicting chemistry for potential romances. She tried reversing the tables, looking at women with whom the site paired her. She messaged a few, and while some messages were met with awkward replies, she also encountered several women on the site who had tried doing the same thing she was doing on the platform.
Flash-forward to 2012, when Poole cofounded a women's social networking series called Ladies Who Vino (Fast Company senior writer Chrissy Farr is also a cofounder of the event). The group brings together roughly 100 women per month, and proved to Poole that there is a need for a safe, easy way for women to meet potential new friends. The networking group's name was part of the naming inspiration for the VINA app.
When you first sign up for the app, you're required to connect your Facebook account—something that not only confirms your identity, but also confirms that you're female. Once you're connected, you are asked to fill out a quick six-question quiz detailing some of your personality traits, like whether you're introverted or extroverted, or prefer coffee or wine.
"It's required to use the app, and it gives every user a common point of context," said Poole.
Down the line, she says, the app will release optional fun quizzes users can take, as well. Think BuzzFeed-style quizzes such as "Who's your sitcom BFF?" Your responses to the new quizzes can be shared with your existing friends, and used within the app to pair you with potential new ones.
There's also a profile section in Hey! VINA where you can detail what you're looking for in a potential buddy. As you swipe through your matches, you'll be able to read those profiles and determine if someone is a good potential addition to your squad. Right now matches are limited by your existing friend circle. You'll only be shown those who exist within one degree of separation from your mutual Facebook friends, adding a bit a familiarity into the mix.
If you both swipe right, just like Tinder, a chat connection will open up, enabling you to get to know each other virtually via text and potentially plan a meetup. When you're paired based on a mutual interest, the app might even make a suggestion on what your first activity as new friends might be. For instance, when two women who love wine are matched, the app might suggest a wine bar to meet up at that is convenient for both parties.
"We hope women find their new best friends, traveling partners, brunch dates, wing girls, mommy friends, workout partners, etc. on the platform," says Poole. "The goal is for the app to work as an introduction tool, an easy way to step into a new place or new part of your life and easily find new friends who are similar to you."
As for whether or not we'll ultimately see a version of the app for men, Poole says that there's nothing to announce on that front yet. She says that ultimately a male-centered friend-making app would involve different match criteria, and likely a more "activity-oriented experience."
Hey! VINA is available in San Francisco and New York starting today, with support for more cities expected to be added soon. Currently iOS only, you can download the app from the App Store now.
[Images: courtesy of Hey! VINA]
Fast Company , Read Full Story
(14)