The best multiroom wireless speaker system
By Chris Heinonen
This post was done in partnership with The Wirecutter, a buyer's guide to the best technology. When readers choose to buy The Wirecutter's independently chosen editorial picks, it may earn affiliate commissions that support its work. Read the full article here.
We've spent hundreds of hours over several years testing multiroom wireless speaker systems in every possible room—even outside—and Sonos remains the best option for most homes. It supports the widest variety of streaming services, offers excellent sound quality across its lineup at varying prices, and its apps offer unparalleled ease of use. The competition is catching up, but Sonos still offers the most complete and reliable package overall.
Who should get this
Multiroom wireless speaker systems are for people who want to be able to play music throughout their home and easily control it from their phone, tablet, or computer. These systems let you play different tracks on each speaker, or group them together to play the same tracks. They support both local media libraries and streaming services, allowing you to access music from almost any source. They make it easy to expand your system by just adding another speaker or zone.
If you have already invested in a different multiroom wireless speaker system and it has access to all the services you need, there really is no reason to upgrade. And if you care only about music in a single room, or don't care about multiple sources, other options will work for less money, such as Bluetooth or AirPlay speakers.
How we picked and tested
Over the years we've looked at 15 different whole-home audio systems and performed long-term, hands-on testing on nine of them by listening to local files and a handful of streaming services. In the case of soundbars, we watched movies and TV as well.
Since we first started testing, what makes for an ideal system has changed a bit. These days, we evaluate each system based on how many online streaming music services it offers, whether it streams directly from the source or through your phone or computer, how easy it was to control the system via an app or voice control, and whether it offered Bluetooth or Airplay as a fallback solution for when your preferred streaming service isn't supported.
We particularly like flexible systems that allow you to group speakers together to stream the same music or to combine speakers in stereo pairs. We also prioritized systems that have a wide selection of products at a wide range of prices, and make it easy to add more speakers or zones on your own. Finally, we preferred systems with dual-band Wi-Fi support for situations where interference occurs from other devices on the 2.4 GHz spectrum.
Our pick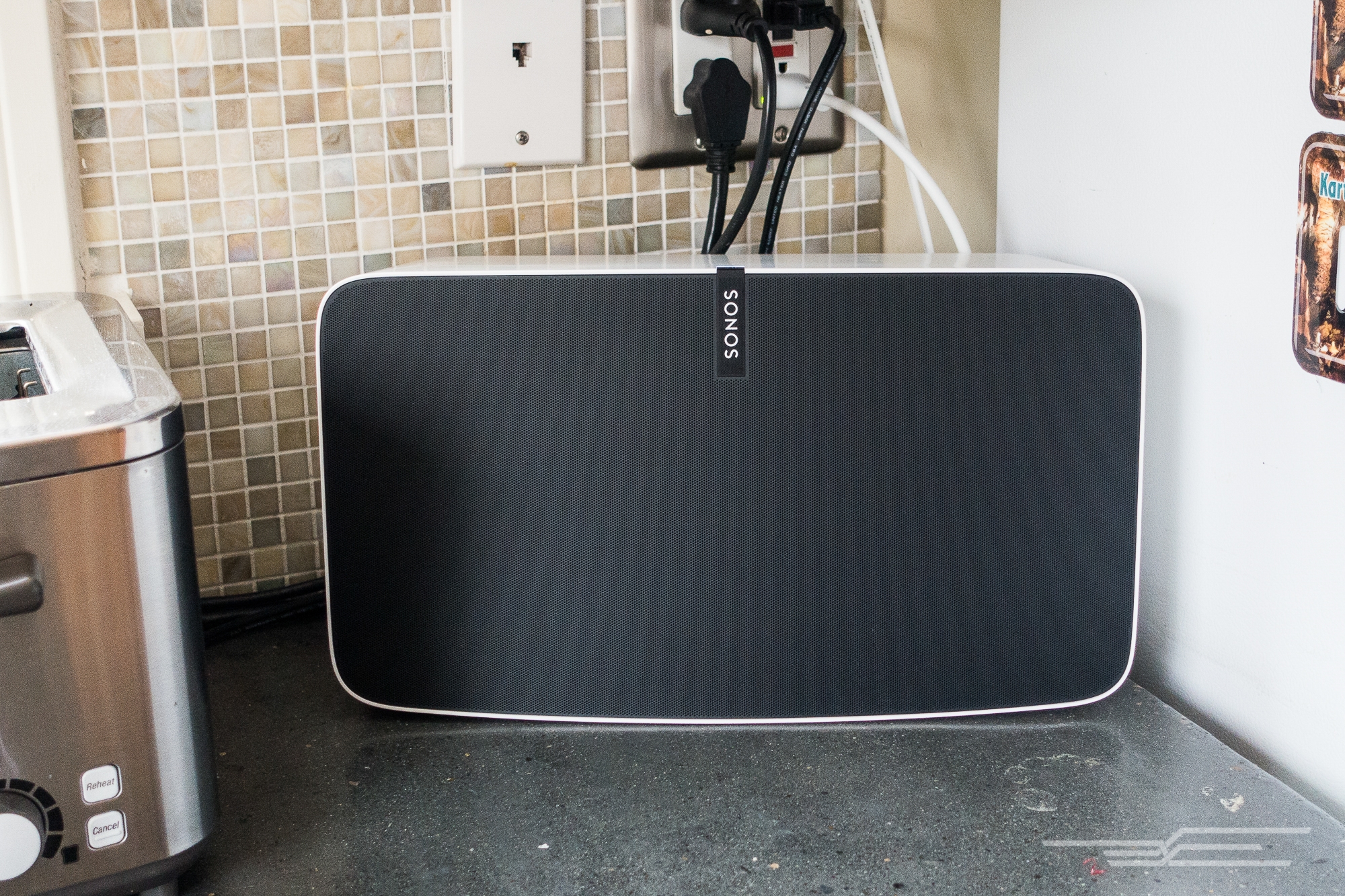 Sonos offers many innovative features such as Trueplay, which helped tune this Play:5's sound to make up for its corner placement. Photo: Chris Heinonen
The Sonos system is the best multiroom wireless speaker system because it supports the most services, has a wide selection of great-sounding speakers, is easy to search, and has a well-organized app that runs on almost all major platforms. Sonos currently offers support for 49 streaming services, as well as playback for your local music library and podcasts, and adds new services all the time. It also keeps its platform up to date by introducing new features like Trueplay room-correction technology.
Sonos sells a range of speakers, starting at the low end with the Play:1 and extending up to the Play:5s. If you already own speakers, a turntable, or a Bluetooth receiver and simply want to integrate it with your Sonos system, you can use the Connect, or the Connect:Amp if they're passive speakers. And for your TV, Sonos offers the Playbar and Playbase soundbars, as well as the Sub.
The Sonos app is well-designed and runs on iOS, Android, Windows, and macOS. From the app you can control all of the speakers or zones, group them in any combination, adjust the volume of each individual speaker (even if they're grouped), search for music on any of your streaming services, create playlists, mark your favorites, and more. The speakers themselves offer very few controls, only volume and a play/pause button in most cases. The app handles the rest. It also makes it very easy to set up and expand a system no matter how technically inclined you are.
Flaws but not dealbreakers
Currently, no Sonos device offers Bluetooth or AirPlay support, which mean if your favorite streaming service is missing, it is hard to get it onto a Sonos device. We would also like to see a cheaper way to get line-in for hooking up a Bluetooth receiver, record player, or other device. Currently, your only options are the $350 Connect or the $500 Play:5.
Also, Sonos products are stuck on the standard 2.4 GHz band unless you buy the company's optional bridge that creates its own Wi-Fi network. This can be a problem if you live in an apartment or condo building with a large number of 2.4 Ghz routers causing interference.
More affordable, with voice control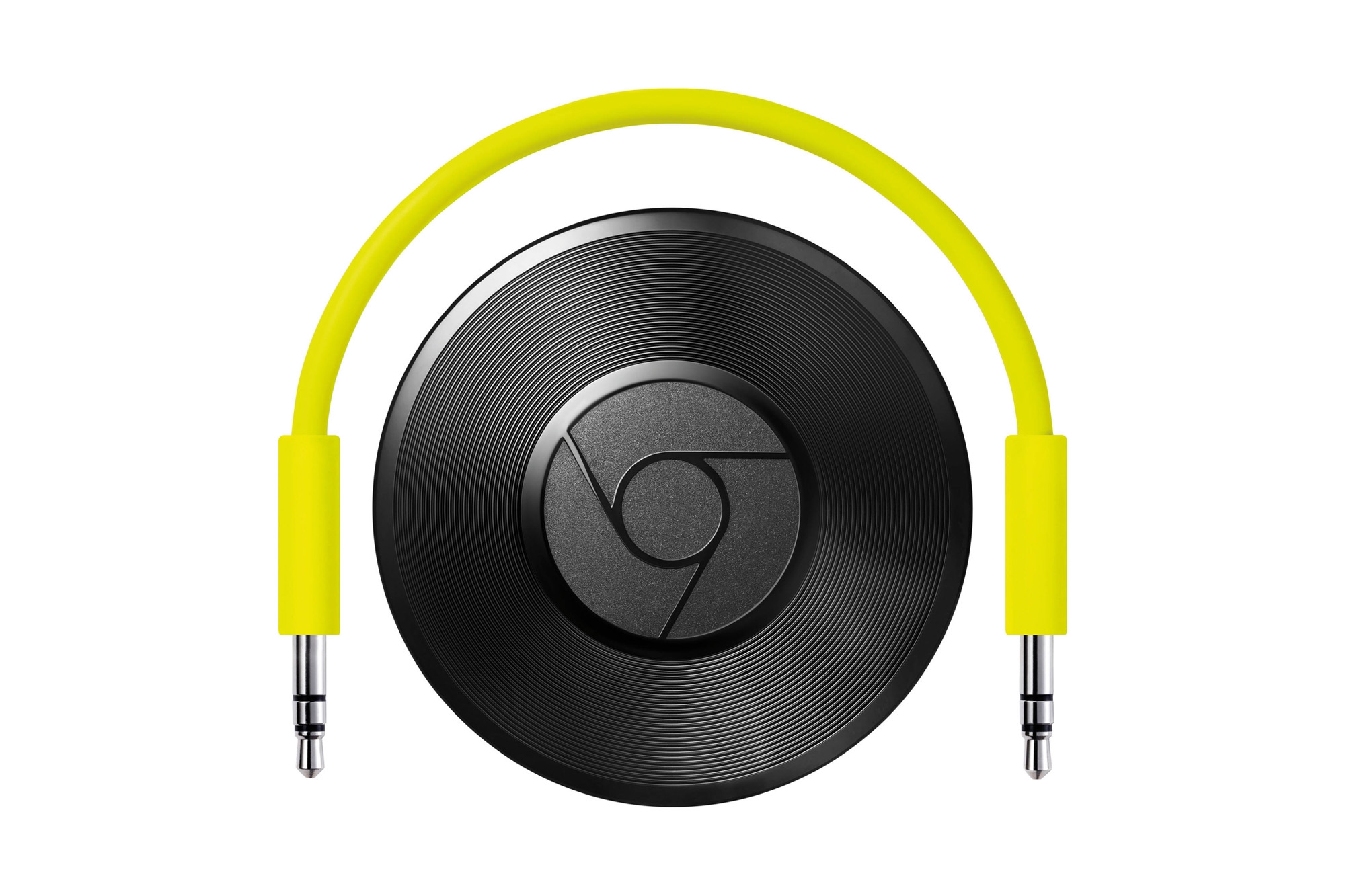 If you aren't ready to invest a few hundred dollars into a Sonos system, the Google Chromecast Audio platform offers an affordable and compelling alternative. Like Sonos, Chromecast-equipped devices play music via Wi-Fi directly from many of the same streaming services, and can group speakers into zones. However, it doesn't have a universal app to control playback and there's no way to search across all your services at once. As a cheap way to get into wireless multiroom audio streaming that you can expand at any time, the Chromecast Audio is almost impossible to beat, but it behaves more like a feature you add-on to a product rather than a controlled ecosystem.
The main advantage of Chromecast Audio is that it's an open platform that can be built into any Wi-Fi–connected audio product or added to virtually any audio product with a 3.5 mm headphone jack (or an optical output with an optional cable) via the cheap Chromecast Audio dongle. This flexibility is Chromecast's main strength and gives manufacturers a lot of room to experiment with different feature sets, but it does have a downside–there's a lack of control over who supports what and an inability to enforce quality standards.
Ironically, Google Chromecast's search features are lacking compared with Sonos's. There's no unified Chromecast app, so instead it relies on each individual service's app for finding content and controlling playback. However, not every app and service supports Chromecast—Apple and Amazon's offerings are notable absentees—though this is less of an issue if you buy Chromecast-enabled speakers that also have Bluetooth or AirPlay. You also cannot currently form a stereo pair of speakers, though that is supposed to roll out in a future update in 2017. Though it lacks the controlled ecosystem and user-friendliness of Sonos, the cheaper price, flexibility, and rapid expansion of Chromecast Audio make it an attractive option, and we can see it becoming the top pick in the future if the flaws are corrected.
This guide may have been updated by The Wirecutter. To see the current recommendation, please go here.
Note from The Wirecutter: When readers choose to buy our independently chosen editorial picks, we may earn affiliate commissions that support our work.
(25)