Traeger Timberline 850 review: BBQ goes high tech
Billy Steele/Engadget
Good barbecue is a slow process. And I'm not talking about grilling. I'm talking about real BBQ — the "low and slow" smoking of beef, chicken, pork and a whole host of other foods. Walk into any reputable barbecue restaurant and the pitmaster will tell you that to do it right takes time, usually half a day or more. Manning a pit can also be backbreaking work. Between chopping or hauling wood, shoveling coals and moving around large cuts of meat, it can be exhausting. But a little technology can help ease the relentless grind. One example of that is Traeger's Timberline Series, a pair of wood-fired grills that take a lot of the hassle out of the process.
Because some cooks need more space than others, there are two sizes to choose from: the Timberline 1300 and the Timberline 850, each with three racks to accommodate food. Those numbers indicate the amount of cooking space in square inches. I never maxed it out, but Traeger says the smaller of the two can hold nine chickens, eight racks of ribs or six pork butts at once. Or, if you're not trying to feed a small army or meal-prep for a month, you can cook both meats and side dishes at the same time. There's also a cutting board on top of the pellet box so you can do any prep or final cuts right on the grill.
The setup process is similar to that of any other "smart" appliance. Once you download the app and scroll through the grill's built-in menu to connect it to your WiFi network, you're good to go. The whole process takes less than five minutes. The only time I had an issue getting the grill and the mobile app to sync up was after a two-week period in which I hadn't fired it up. A quick call to customer service fixed the issue in about 15 minutes.
For someone who loves to cook, Traeger's app is a treasure trove of recipes. It's like Pinterest for grilling. Recipes are divided up by protein, with additional categories for veggies, pizza, baked goods, wild game and cocktails. There's also a section for top-rated and a favorites feed where you can quickly access the items you've been eyeing. Of course, you can bypass all of that and manually search if that's more your style. Once you find what you're looking for, there's a handy Cook Now button at the bottom of each recipe. With a tap, you can send the cook time and temperature details to the Timberline without getting up off the sofa. The app is well organized and easy to navigate. And, perhaps most important, there's no delay between making adjustments on your phone and the changes hitting the grill.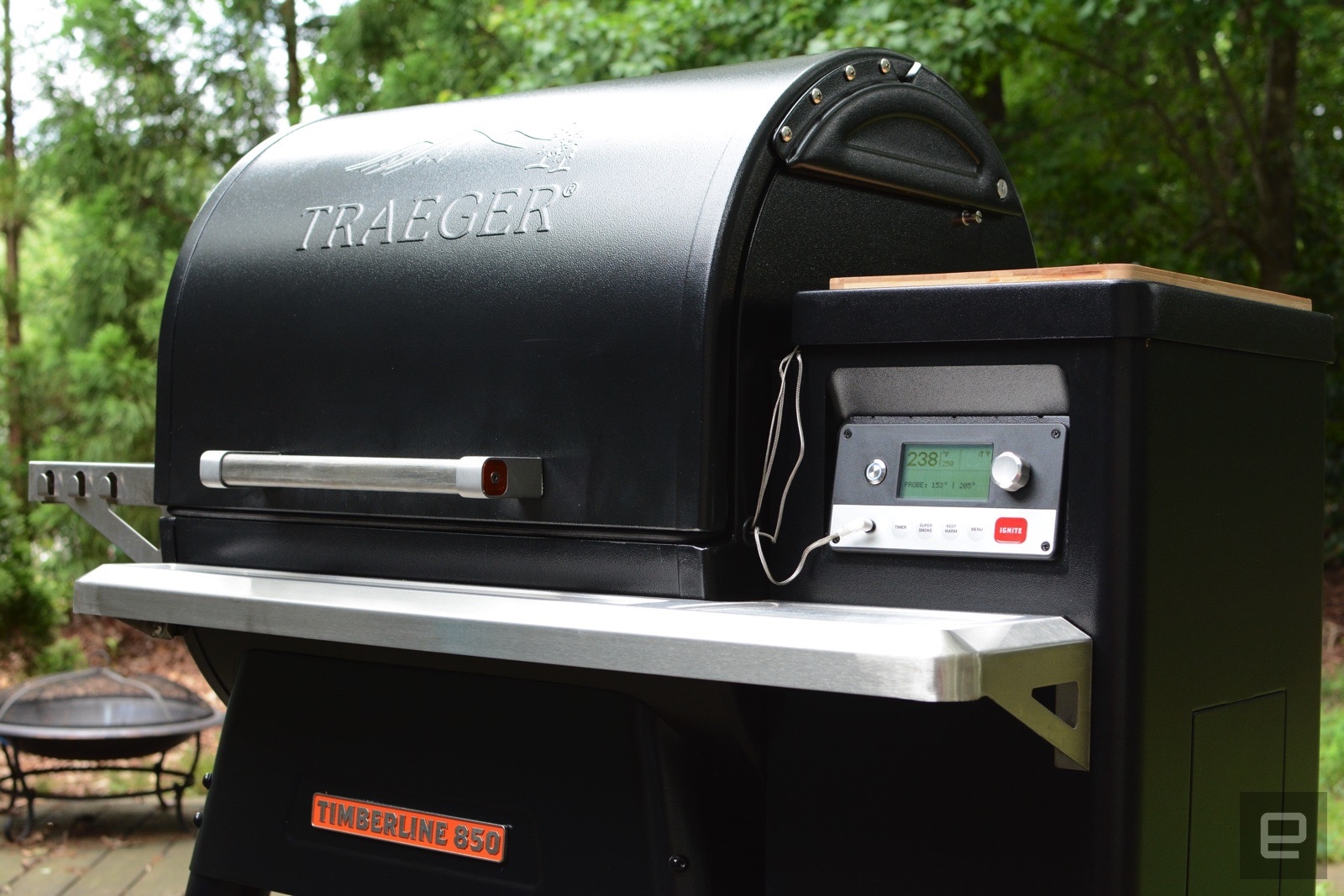 A seemingly endless supply of recipes is nice, but it's in the remote control that the Traeger app and the Timberline really shine. In addition to remote starts, you can receive real-time temperature info from the grill and adjust the temp as needed without having to run outside. Like other Traeger grills, the Timberline features a built-in meat probe, and that info is also beamed to the app, where the final temp and current temp are displayed side by side. The mobile software also features a timer, a sauce timer and controls for the Super Smoke and Keep Warm settings. Super Smoke, a mode for more intense smoke, is available only at 225 degrees and under, though, so you have to be strategic about how you use it.
(19)