Acer First To Market Laptops That Understand Alexa
technology
Acer First To Market Laptops That Understand Alexa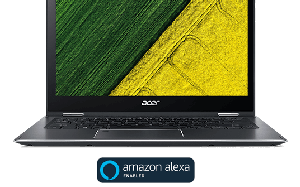 Alexa, find a company whose PCs will work with you.
Got it!
Several of Acer's Windows 10 notebooks are the first to offer Amazon's voice assistant, Alexa, pre-installed on models now on sale, with plans to add them across all of Acer's PCs.
Models with Alexa include the Acer Spin 3 and Spin 5 out of the gate, with Select1, Aspire, Switch and Swift notebooks to come. The Acer Nitro 5 gaming notebook gets Alexa inside next month.
An Acer spokesperson tells Marketing Daily, "We do have a marketing campaign with Amazon and we will be promoting our systems with Alexa on Amazon's site." As of today though, product descriptions for Acer products don't yet mention Alexa.
The Acer-Alexa hookup was around since at least January, when Acer, HP and Asus brands all announced at the Consumer Electronics Show that they'd be adding the Amazon voice sometime during 2018. So Acer's advantage has a limited window.
It's been tough sledding for the PC market, which has endured a worldwide flat market last year but has been on a slight uptick this year, according to International Data Corporation. But Gartner, a competing data and analysis firm, says altogether the traditional PC market will topple 5.8% this year, and notebooks worst of all, down 6.8%. But ultramobiles like Microsoft's Surface Pro and others, are hot sellers. Acer's Aspire models and others seem to fit in that category.
Users of pre-Alexa units soon will be able to update through the brand's care center. Updates for the Acer Spin 5 become available tomorrow and for the Spin 3 convertible on Saturday.
Windows 10-equipped units already have Microsoft's voice assistant Cortana. Windows 10 can't connect you to Alexa, but through Acer, now a user could have both. Microsoft and Amazon said last summer they were working on letting the digital assistants work together but it hasn't happened. Though they are both digital assistants, they have very different strengths. How they'll work together is a relationship the tech industry will be watching.
(7)