AdStage launches Google Sheets add-on for cross-channel campaign data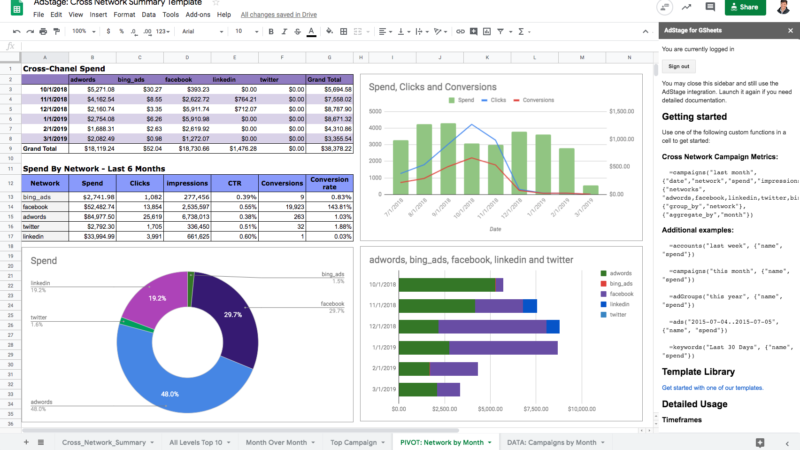 Now AdStage, a cross-channel campaign analytics and optimization platform, is getting in the add-on game with a new data connector for Google Sheets.
What is it? AdStage for Google Sheets, which launched Thursday, is an add-on that lets users import their paid search campaigns, social campaigns and analytics data from AdStage into Google Sheets with one query. AdStage supports paid search and social networks, including Google, Bing, LinkedIn, Facebook, Twitter and Google Analytics.
AdStage for Google Sheets has been in beta for about six months. The product pricing is based on media spend and starts at $29 per month, undercutting Supermetrics – the dominant leader in this space. The license includes unlimited users and unlimited accounts, which again challenges Supermetrics' comparable offering.
How does it work? AdStage for Google Sheets is available from the Add-ons menu in Google Sheets. Once installed, you'll see a sidebar in your Google Sheet. The low price means the sidebar interface isn't fancy, and is designed for somewhat technical marketers who already know how, or are willing to learn, to build queries. The query structure is straightforward, with several query templates already available to get you started. There's also a video training series and support portal built out for it.
Why we should care. The key is getting blended data calls to pull in data from across multiple channels with just one query. You can then build reporting dashboards in Google Sheets, like the example shown above. Or, you could bring it in to Google Data Studio. AdStage for Google Sheets uses the same API as the rest of the platform, so any data you can access in AdStage should be accessible in Google Sheets with a query.
"We are using AdStage for Google Sheets to combine cost and campaign performance data for the entire company to consume and work with. Without any integration work, we were able to aggregate all of our publisher accounts and blend complex cross-channel data into a single sheet," said beta user Arndt Voges, head of growth at space rental company Peerspace, in a statement.
Digital agency 3Q Digital, another beta user, has already created a workbook in Google Sheets to help track and visualize cross-channel budget pacing, demographics performance and more.
This story first appeared on MarTech Today. For more on marketing technology, click here.
https://martechtoday.com/adstage-launches-google-sheets-add-on-for-cross-channel-campaign-data-232728
---
Marketing Land – Internet Marketing News, Strategies & Tips
(6)