Amarey A900 Smart Robot Vacuum Cleaner: Connected, Navigational, and Versatile
Amarey A900 Smart Robot Vacuum Cleaner: Connected, Navigational, and Versatile
There are more robot vacuums now available to help you automate this household chore that no one seems to enjoy doing. I have to admit in our house; no one willingly volunteers to push around a manual vacuum cleaner. That's why I decided that, with pets and kids, an easier cleaning option might be to pick up a robot vacuum cleaner that continues to work day in, day out without any complaints.
After some initial research, I opted for the Amarey A900 Intelligent Robot Vacuum. Here's my review of this robot vacuum.
About the Smart Navigating Robot Vacuum Cleaner
Amarey is the company behind this robot vacuum cleaner. Their parent company is Shanghai-based Ankobot, which has specialized in AI technologies since 2016. They combine neuroscience, computer vision, and robotics to create products and platforms that help consumers and businesses.
Features and Technology
This smart vacuum is Wi-Fi Connected and works with Alexa and Google Assistant. That means I can turn it on and off or change it just by using my voice assistant rather than manually doing so.
Its visual mapping technology is a standout feature that offers efficiency and accuracy. It has a 145°navigation sensor and VSLAM technology. This camera mapping capability allows the A900 robot vacuum to map your home and determine the optimal cleaning path. This level of accuracy means it is cleaner and gets it done much more quickly than fumbling around hitting furniture until it gets all the clear spaces.
Other features include self-charging capability. That means it will automatically return to the charging dock when it needs to recharge. And, if it didn't finish cleaning before it needed to recharge, it knows where it left off and will return to that location after it is done charging.

I use the mobile app to control the vacuum from my smartphone so that I could change the cleaning schedule for different days of the week and time as well as alter the cleaning modes when away from home. The app also allows me to adjust the suction or see the map display of its cleaning route. The robot vacuum's smart sensor knows where I set a boundary strip so that it stays away from those areas.
I can also control these cleaning boundary areas through the app. Besides the mobile app, there is also a remote control device that comes with the robot vacuum. There are a few cleaning modes to choose from. These include spot cleaning, which focuses on a specific area.
The edge cleaning mode cleans along walls and furniture legs. Auto clean mode adjusts the suction for different floor types.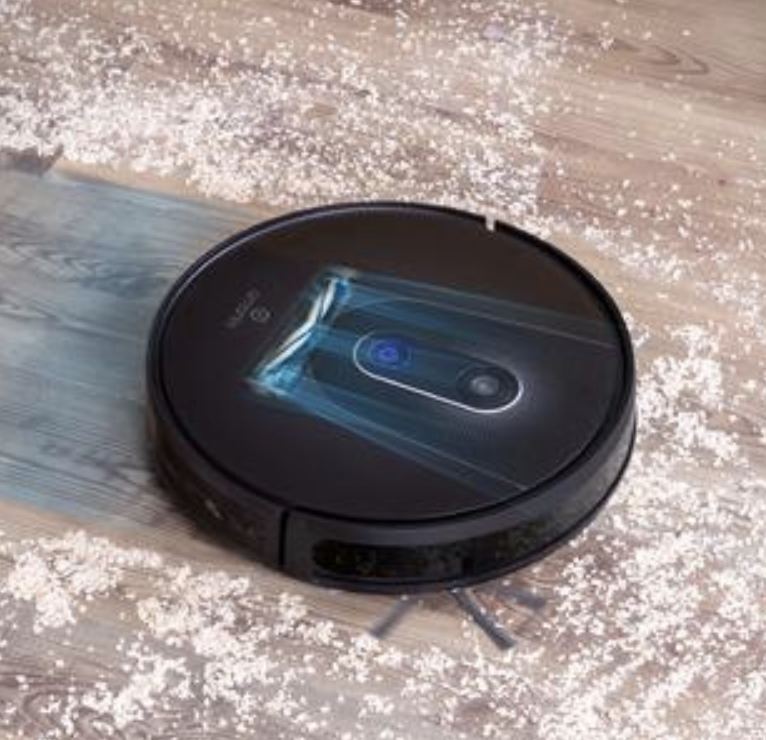 What I Like
This robot vacuum had strong suction and worked well at removing all pet hair, which was previously a daily chore. It's also versatile, working well across all types of floors — from our hard floors that have wood veneers and tile to carpet. The robot vacuum also seems to cover a large area before having to recharge, which has made my house look cleaner than it ever has before.
Also, it is very quiet, and I barely notice it's there compared to the upright vacuum we used to use. I can even still watch television while it's working in the same room. I also like its compact size, at just over one foot long and just under three inches tall. Yet, this small size doesn't diminish its power or cleaning capability.
What I Would Improve
Although I think it's a reasonably good value for the money, it is considerably more than the other robot vacuum cleaners I researched. Many cheaper options are somewhat similar but may not have the same level of technology.
What's in the Box?
The robot vacuum comes in one color: black. In the box, you'll get the robot vacuum, charging station, remote control device, and instructions.
Where to Buy
The robot vacuum is available on Amazon for $ 369.99. There is currently an option to click a box and save $ 20 with the available online coupon. Free one-day shipping is available for Amazon Prime members.
Overall Impressions
Overall, I'm happy I bought the Amarey A900 intelligent robot vacuum. It has significantly decreased pet hair, dust, and particulate matter around our house. The air seems cleaner thanks to this efficient, powerful, and convenient robot vacuum. Plus, there are no family disagreements about whose turn it is to vacuum. That alone is worth the investment.
The post Amarey A900 Smart Robot Vacuum Cleaner: Connected, Navigational, and Versatile appeared first on ReadWrite.
(39)