An elegy for Car2Go, the smarter Zipcar rival that lost its way
By Rob Pegoraro
The first mainstream smartphone-optimized car-sharing service will soon roll into the junkyard. Car2Go announced Wednesday that it would exit North America Feb. 29.
The Daimler-owned company, which was in the midst of rebranding itself as Share Now after a minority investment by BMW, vaguely blamed the move on "the volatile state of the global mobility landscape." It also cited "rising infrastructure complexities facing North American transportation." (Read: Higher operating expenses and not enough electric-car charging stations, the latter problem having propelled its 2016 exit from San Diego).
The move will erase a convenient option for point-to-point travel in Car2Go's remaining U.S. and Canadian cities: Chicago, New York, Seattle, and Washington, plus Montreal and Vancouver. It had backed out of Austin, Portland, Denver, and Calgary at the end of October.
Its fleet of Smart Fortwo and Mercedes GLA and CLA sedans, per-minute or per-hour pricing, and street parking prepaid by the firm have made around-town trips easy and cheap. You open its app to find a nearby car, walk to the vehicle and unlock it with the app, strap in and drive, pay about 40 cents a minute, and then park the car almost wherever.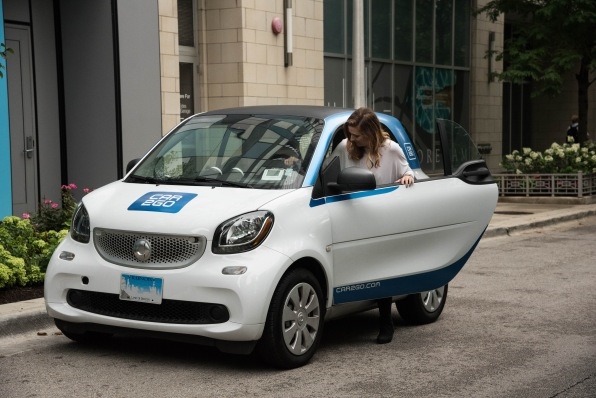 The first time I rented a Smart Fortwo in D.C. for a drive from Georgetown to Nationals Park, I felt like I'd stolen the vehicle as I ditched it at a metered spot a few blocks from the ballpark without paying.
Not having to return the car to where you picked it up—unlike such older options as Zipcar, which launched before the the arrival of the iPhone and even the Palm Treo—have made Car2Go a great choice for such scenarios as needing to haul something one way or getting to an event with free-flowing booze.
The service isn't necessarily cheaper than a non-surge-priced Uber or Lyft—but it is free of the nagging uncertainty that you're underwriting an exploitative business model.
Why didn't it work?
The fragility of Car2Go's business comes as a bit of a surprise. In January, the company touted a "successful financial year 2018," citing a 20% increase in U.S. memberships to 1.2 million users. The service has no minimum monthly or annual fees, so that must be read as a soft metric. It did not reveal revenue numbers.
The vague explanation in Wednesday's announcement has left onlookers guessing. Daimler itself, however, has been facing obvious overarching pressure as a business, having announced 10,000 layoffs—3% of its workforce—in November.
"Car sharing has two big hurdles: other forms of mobility taking a bite out of adoption rates, and startup and infrastructure costs," wrote Akshay Anand, an executive analyst with Kelley Blue Book. "Car2Go may be the latest to exit the U.S. market, but don't be surprised if others follow."
Car2Go had begun tilting away from its original mission of short-distance drives."
Anand's comments came in an email sent from another analyst working for KBB's parent company—Mark Schirmer, a director at Cox Automotive, who came to a different conclusion.
"For the car sharing to work, the vehicles have to remain in heavy circulation," he said. "Someone will get the user-experience right eventually."
My own usage might make me part of Car2Go's problem. I never relied on it often enough to have more than a couple of charges on my credit card a month. One of my more recent rentals in Washington, D.C., only had me drive a Smart Fortwo a few feet—to open up room behind it in which to park my own car.
I've continued to find Car2Go more useful out of town, where I don't have my own vehicle and my Capital Bikeshare membership does me no good. For example, it's been a fixture of my trips to Austin each spring for SXSW; two years ago, I rented one for two hours to drive around the city to interview witnesses to 2018's package bombings.
An observer of D.C. transportation trends commented that Car2Go had begun tilting away from its original mission of short-distance drives.
"You could see point-to-point car-sharing evolving toward longer trips (often ending up at the edges of the District), and their marketing became more focused on those longer errands and two-way trips," emailed Matt Caywood, CEO of TransitScreen, a Washington firm that synthesizes data about transportation services. "Which are a smaller slice of the overall market and has to compete with ridehailing for customer mindshare."
His advice to cities hoping to hold onto such newer point-to-point car-sharing services as Free2Move: rethink how much you charge them.
"It was never a level playing field since some cities were charging high permit fees to carshare (which research says reduces parking demand) but almost no one is charging ride-hailing vehicles," he added.
This is personal to Caywood. Saying he's been a Car2Go member since 2011, he commented that he "took one to Rock Creek Park with my girlfriend, now wife, the day we got engaged—I'll be very sad to see it go."
(19)