Apple AirTags could enable domestic abuse in terrifying ways
By Mark Wilson
The connection between surveillance and abuse
Surveillance devices can be a serious issue for survivors of domestic abuse. A woman in Houston was followed constantly by her ex before she realized the culprit was a locater that had been placed in her car. As NNDEV explains, it's now standard procedure for halfway houses to talk through the technology a person is carrying or left behind. Smartphones are the most obvious tracker, and staff will check that these devices have options such as Find My iPhone turned off. Often, they'll even search the bags of survivors, hunting down potential trackers. "There are many instances, in doing that, they have discovered a tracker in a bag, or a stuffed animal a little kid brought," says Olsen.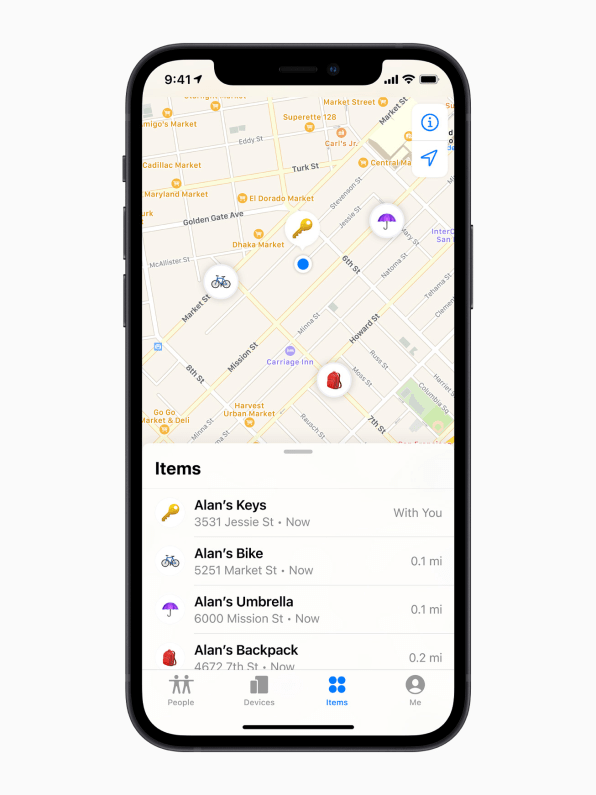 AirTags are not the first mass-market surveillance tool by any means, nor are they the first tracking fob. NNDEV has published several white papers on the dangers of technology for domestic abuse survivors. One of the biggest problems for survivors is that they typically can't afford to escape a dangerous situation without technologies such as their phone or laptop, because these connect them to friends, family, and all sorts of basic information and services.
In developing a tracker, Apple is following the path of companies such as Tile, which produced the original, popular fob tracker. But AirTags are being launched at a scale, and a level of platform control, that only Apple can achieve. Tile uses Bluetooth and an app to locate other Tile devices—and 35 million Tiles have sold to date. Meanwhile, AirTags leverage the worldwide network of nearly a billion Apple iPhones and Macs to spot AirTags on Apple's own encrypted network. Every Apple user is a piece of Apple's AirTag-hunting web and is passively complicit in the massive AirTag infrastructure, unless they opt out of the Find My network.
Apple has built some protections into this system. If you are an iPhone user, for instance, and someone has placed an AirTag on your person, your phone will eventually alert you that an AirTag that isn't yours has been found "moving with you." Apple didn't clarify how quickly or often this alert will arrive, but it did share that it will occur when you arrive at your home (the address stored in your Apple "Me" card) or at certain other locations that your phone has learned you frequent over time. Apple declined to disclose further specifics, citing the interest of public safety.
If you are an Android user—note that Android made up 87% of the worldwide smartphone market share as of 2019—you don't have the protection of Apple's network notifications. Instead, an AirTag that has not paired locally with its iPhone in three days will emit a sound. So if you are an Android user who has had an AirTag placed on you, you will know in 72 hours. (Apple told Fast Company last week that it could lengthen or shorten that time span in the future, and it reiterated that point for this article.) If you are an Android user living with an iPhone abuser, however, a hidden AirTag could be pairing far more often.
(2)