Bing, Google Up Their Fitness Game
by Laurie Sullivan@lauriesullivan, January 5, 2017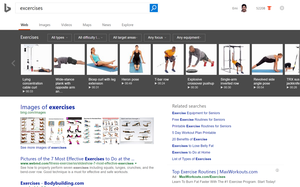 Internet-connected health devices like the popular smartwear Fitbit or the stationary bike from Peloton, which allows riders to link into live streaming cycling classes, have grown in popularity, but the hub of health data will come from Web sites and devices linked with search engines.< ?XML:NAMESPACE PREFIX = "O" />< ?xml:namespace prefix = "o" />
In an effort to help people find health and fitness information from a variety of Internet-connected devices, Bing released updates for health-minded consumers searching on Bing and in its app for videos, recipes, workouts, exercises and foods to help them maintain healthy habits and lifestyle in 2017.
The wearables market in 2017, including other health and fitness devices like hearables and smartwatches, is forecast by the folks at the Consumer Electronics Show (CES) to reach 48 million unit sales. All those devices will need data. Some will come from search engine APIs.
Making healthy choices requires having the correct information. Since a large part of keeping healthy and fit relates to food, Microsoft made it easy for Bing app users to find healthy recipes and nutrition information. Searching on "low fat recipes" for example, also returns the ability to get nutritional information such as calories, carbs and fat.
Google also offers information on calories and fat, but on Thursday it began to allow users of its Goals in Google Calendar feature to connect with Google Fit and Apple Health to monitor fitness goals in Google Calendar. The tool allows users to set a goal such as workout three times per week and the platform automatically finds the time to stick with it.
MediaPost.com: Search Marketing Daily
(12)