Cowin vs Beats: Can Feature Marketing Beat Bigger Brands
It's no secret that more and more people consume digital content — music in particular. This trend has influenced the market size of headphones which is predicted to have a compound annual growth rate of 3.9% from 2020 to 2025. Currently, the revenue amounts to $ 15,149 million US dollars.
When it comes to headphone brands, one can immediately think of the legendary Beats. A household name, Beats was acquired at $ 3 billion by Apple — that considers music as "such an important part of its DNA."
This made Beats even more popular among Apple users.
Here lies an intriguing question: Can new entrants beat established brands like Beats? Is there a chance to stand out in a competitive market?
Feature Marketing – A Secret Weapon of Cowin
If you're often scouting for headphones on Amazon, there's a good chance you've come across Cowin. Based in China, Cowin prides itself on being known as the best-seller of audio products on Amazon for the past 3 years.
Try to search for "wireless headphones" on Amazon, and you will see Cowin on the first page of search results. Here's what's interesting: Their customer reviews for Cowin E7 headphones surpass Beats' Solo 3 Wireless — 32,958 reviews versus 2,240 reviews.

Cowin must be doing something right.
After doing a deep dive, I realized that Cowin leverages a key strategy that entices new buyers and repeat customers alike. This strategy is called feature marketing.
Feature marketing, as the term implies, is a technique in which a business focuses on adding new features to a product. Next, they magnify those features when marketing that product, making it ten times more attractive to its target consumers.
Dominating Amazon using feature marketing, Cowin provides lots of details on how their headphones meet a user's needs. What's more, they anticipate customer objections in their copy.
Feature marketing lets smaller brands overcome competition in the following ways:
New product features provide opportunities to target additional keywords that your product can rank for.
An important task in feature marketing is understanding the needs of customers. What are their struggles? Pain points? Goals? When you do careful research and apply those insights in your product, you create satisfied and loyal customers.
Feature marketing encourages word-of-mouth (WOM) and referrals. The more satisfied your users are, the more likely they'll refer you to their friends. This helps brands lower their expenses on acquiring new customers.
Product Descriptions
Since Amazon product descriptions are where features are found, let's take a look at how Beats and Cowin do theirs.
At a glance, you'll quickly see the difference: Cowin provides more details about their product than Beats.
One feature that Cowin emphasizes is its Active Noise-Cancelling Technology. Reducing unwanted ambient sounds is something that avid music listeners want in a headphone without having to turn the volume up.
Plus, Cowin helps their audience appreciate this feature even more by presenting different scenarios where they can use it — in a place, the midst of city traffic, and a busy office.
Considering that Cowin's E7 model is way cheaper than Beats' Solo 3 Wireless which lacks the noise-canceling feature, this is a pretty big deal.
Another noticeable difference: While Beats has a longer battery life of 40 hours than Cowin's (which has 30 hours), Cowin provides more detail by mentioning their "built-in 600mAh battery." They add that a user "doesn't need to worry about power shortage."
It all boils down to being able to optimize your product descriptions. It's one of the best eCommerce strategies for selling online. Like Cowin, identify your best product features and highlight them in the description.
Customer Reviews
Positive reviews make customers trust a business even more. Not only does Cowin have over 32,000 reviews (versus Beats which garnered only 2,240 ratings), but the first few reviews at the top are directed towards Cowin's promising product features.
For example, a user described Cowin's noise-canceling feature as "pretty decent," adding that "it's plenty powerful to muffle a mower, vacuum or grinder."
Beats' recent reviews showed a complaint in which a user expressed that his Beats had to be adjusted often to keep it from falling off his head while working out. This conveys an important lesson in feature marketing: Setting the right expectation in your product description.
The bottom line: Describe your product based on what it actually is and what it's capable (or not capable of). This is an essential strategy for boosting your Amazon performance.
Product Images
One might assume that images don't matter in feature marketing, but they do. In Cowin's case, they use visuals that convey the impact of their headphones' features in real life.
If you check their E7's product images, they include a mix of human subjects and the actual product. Plus, most of the images are accompanied by text overlays that highlight important features.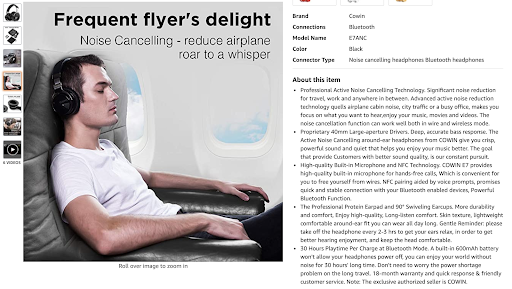 On the other hand, Beats uses plain product images that show their headphones from different angles.
Feature Marketing Over Branding
Take it from Cowin. They do a great job at promoting their features on the world's largest online retailer — Amazon. Established brands such as Beats rely on brand superiority, which can make it difficult for smaller brands to compete. This is where feature marketing becomes extremely beneficial.
Digital & Social Articles on Business 2 Community
(3)