Craigslist Revenue Slides 27%, Marks First Significant Erosion Ever
Craigslist Revenue Slides 27%, Marks First Significant Erosion Ever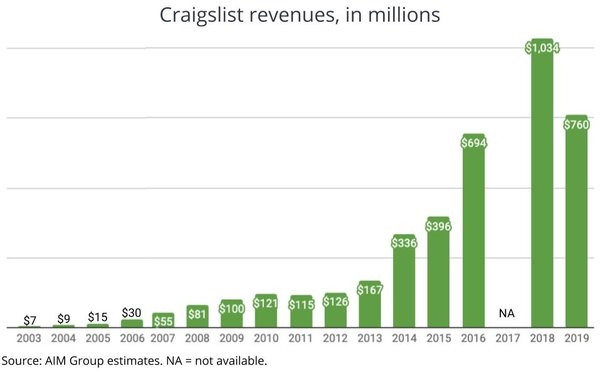 Craigslist, the digital classifieds platform that disrupted the newspaper classified advertising business, appears to be going through some disruption itself. Revenues fell 27% last year, the most significant year-over-year decline since it has been tracked, according to a special report published by the AIM Group this week.
The totals, which are AIM's estimates, are only the second time Craigslist's revenues have declined — they fell marginally in 2011 — and the 2019 decline likely reflects the rise of alternative classified advertising platforms, as well as steady erosion in Craigslist's traffic (see below).
"Craigslist is still the dominant horizontal classified advertising site in the U.S.," AIM analyst Greg Spencer writes in the report, noting: "With 384 million monthly visitors as of December, it still rates as the No. 1 retail/commerce site in the U.S. and the No. 15 overall.
"And because the company achieves this with a payroll of about 50 people, we reckon more than 90% of its revenue is profit. So the owners of Craigslist, founder Craig Newmark and company CEO Jim Buckmaster, are still raking in money."
That said, Spencer describes 2019's slide as "remarkable."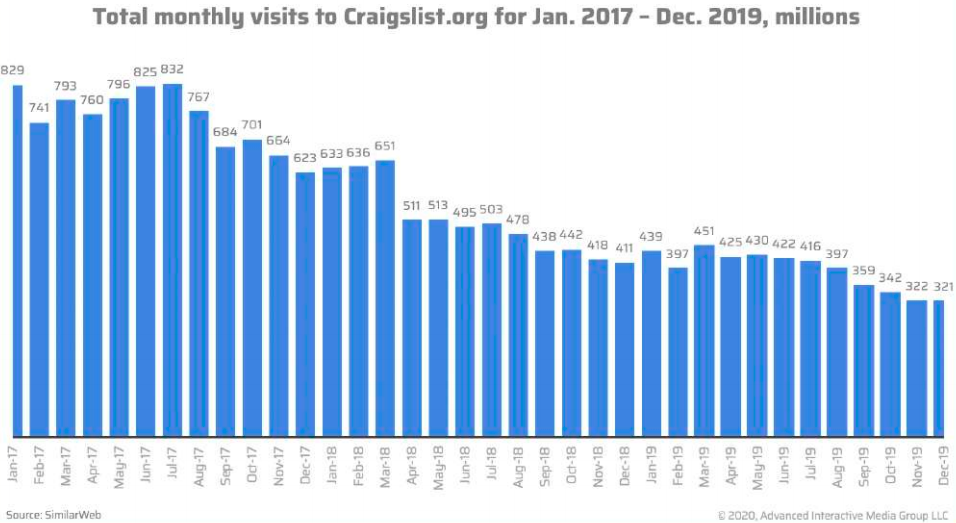 (2)