Crypto.com Will Make Sure You Know Its Name, Now Comes the Hard Part
Crypto.com Will Make Sure You Know Its Name, Now Comes the Hard Part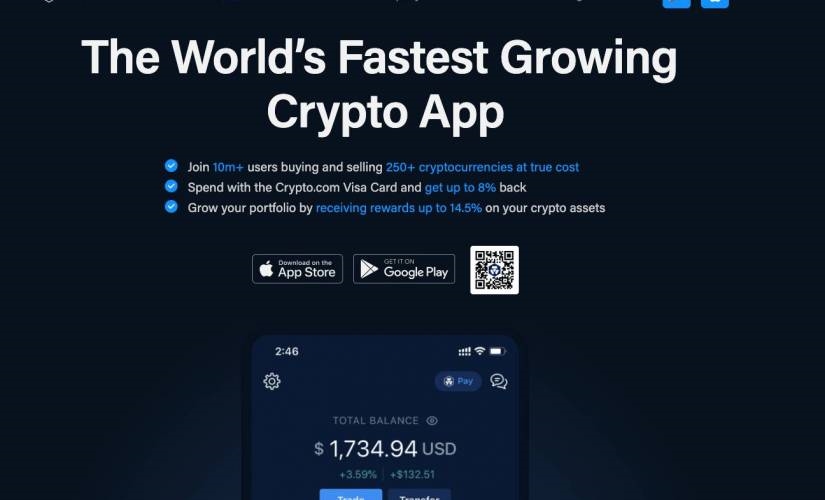 The company is going to market its message heavily, the question is whether it can execute
If this is a crypto winter, then spring may have come early for Crypto.com coin (CRO-USD). After taking a tumble in the last month of 2021, the CRO token has stabilized in the first six weeks of 2022.
This must be welcome news for investors in the cryptocurrency exchange. For much of 2021, the token was lagging other cryptocurrencies. However, that all changed at the end of October. That's when Crypto.com launched a marketing campaign and Cypto.com coin went "to the moon" as the saying goes.
Crypto.com, along with Coinbase (NASDAQ:COIN), is one of the most well-known cryptocurrency exchanges. However, whereas Coinbase is a stand-alone entity, Crypto.com has its native token, CRO-USD, which is coincidentally listed on Coinbase. As of this writing, CRO is the 16th largest crypto by market capitalization. That puts it two places behind Shiba Inu (SHIB-USD).
I find that interesting because the two coins are taking different approaches to drive mass adoption of crypto. For my money, I find Crypto.com's approach more investable, but after it gets its message out the real work begins.
Crypto.com Coin is Moving Fintech Forward
There are times when simple is better. One concern I have about the proliferation of altcoins and tokens in the crypto universe is that many lack a unique selling proposition. I'm sure many coins believe they have one, and maybe they do. But, I believe the cryptocurrencies that will gain mass adoption are the ones that have a simple proposition that is executed well.
I believe that could be the case for Crypto.com. The company has three product verticals: payment, trading, and financial services. On the coin's whitepaper, the strategy is "to leverage payment solutions as the primary tool for driving adoption and user acquisition, while building trading and financial services solutions as the major sources of revenue."
I recently about Matterport (NASDAQ:MTTR) and commented that one reason I was bullish about the company was that it had a nice elevator pitch. That means the company can give investors a reason to invest that is easily digestible in about 30 seconds.
Execution Will Be the Key
So Crypto.com meets my first objective, they have a simple proposition. That is, the coin is not trying to be all things to all people. Now, can it execute?
The company launched a massive marketing campaign that sent the price of the coin as high as 90 cents. However, that wasn't enough to keep CRO-USD from being swept up in the broader sell-off in crypto.
But the company continues to lend its name and resources to promoting the mass adoption of cryptocurrency. The latest example, is the company's partnership with the LeBron James Family Foundation to "support educational and workforce development opportunities focused on Web3." One specific initiative will be in teaching 1,600 kids the technology behind cryptocurrencies as a vehicle to promote the students choosing blockchain initiatives as a career.
With all this attention, the company is sure to draw criticism, and it already has. I'm less concerned about the individuals who view crypto as a ponzi scheme. I'm more concerned about those who suggest that Crypto.com is spending money on partnerships rather than improving the user experience of its site.
Look For the Marketing Blitz to Continue
By the time you read this article, millions of current and prospective investors will have seen the company's initial Super Bowl ad. Considering that the big game is being played in a stadium that has sold the naming rights to SoFi Technologies (NASDAQ:SOFI), crypto is likely to be front and center. Speaking of which, I think that SoFi is taking a similar approach in trying to be a disruptive presence in the fintech sector.
And all this focus on cryptocurrency will likely be a harbinger of growth for Crypto.com. If it is, then that will make the CRO token more valuable. If not, then no amount of marketing spend will be able to help the coin.
As I always do when I write about crypto, I will simply remind you that these currencies still carry a significant amount of risk. If you do decide to invest in CRO-USD, or any other digital currency for that matter, you should do so understand the risks involved.
Crypto.com Will Make Sure You Know Its Name, Now Comes the Hard Part originally appeared on InvestorPlace and was written by Chris Markoch.
The post Crypto.com Will Make Sure You Know Its Name, Now Comes the Hard Part appeared first on ReadWrite.
(30)