Disneyland's Home City Rolls Out Multiyear Campaign With Cast Of Characters
Disneyland's Home City Rolls Out Multiyear Campaign With Cast Of Characters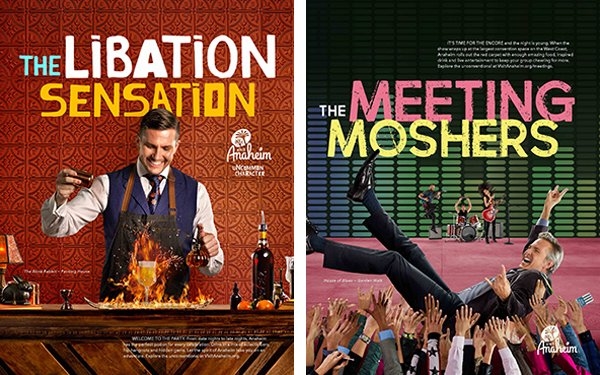 Visit Anaheim, a nonprofit tourism bureau aimed at promoting the city's places to visit and explore, has launched a branded campaign it calls Uncommon Characters.
The campaign, which began rolling out this week, gives a nod to Disney and Disneyland located in Anaheim, Calif., which plays off the term "uncommon characters" to illustrate new energy and innovative characters bringing change to the city's dynamics.
Designed by Greenhaus, a San Diego-based advertising agency, the multiyear campaign reveals hot spots, trendy culinary and craft beer experiences, and revamped neighborhood spaces. It invites visitors to experience a new side of Anaheim.
"There are a lot of stories to tell about the people and places visitors can experience," said Charles Harris, senior vice president of marketing, Visit Anaheim.
The campaign, which took about 18 months to develop, will be supported by digital ads across a number of ad networks. The first phase that launched Monday targets two types of visitors — those who come to Anaheim for business, and visitors who come to the city for leisure.
Search, video, online sponsored posts, websites and activations will make up the bulk of the advertising. About 90% of the advertising and marketing budget aimed at reaching leisure visitors will be spent online. About 70% will go toward print and 30% toward digital when reaching out to those who make the decisions around meetings and conventions.
Greenhaus, the agency, worked with local businesses to craft a cast of uncommon characters to attract both types of visitors, such as Captain Brew Beard, Pho Fan Girl, the Libation Sensation and the Crushers of Convention, to name a few.
For example, Captain Brew Beard takes a tour through Anaheim's emerging craft beer scene. The cinemograph includes Greg Nagel, an Anaheim local and beer expert depicted at Barbeer, Center Street Promenade's barbershop and beer bar.
To attract leisure travelers, the campaign will run in regional markets such as San Francisco, Phoenix and Seattle to attract visitors who are willing to stay several days at a time.
For the meetings and convention audience, digital and print activations will go live this month across a variety of national trade outlets.
As Anaheim continues to grow, develop and add character to its city infrastructure with new luxury hotels, innovative businesses and theme park developments, visitors will meet new characters during the coming years that represent ways to have experiences at new destinations.
There are plans to run the campaign internationally. Next month, the international travel industry conference, IPW, is being held in Denver, but Anaheim will follow in 2019. The campaign will roll out on the last day of the event to promote the following year's conference.
(0)