Faraday Future to test autonomous cars in Michigan
Faraday Future to test autonomous cars in Michigan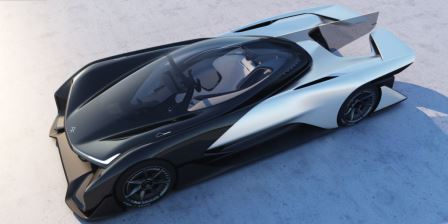 Autonomous startup Faraday Future wants to begin testing its prototype car in Michigan, in addition to testing its vehicles in California and another undisclosed city.
The application was confirmed by the director of Michigan's Department of Transportation, Kirk Steudle, who told Detroit News that the San Francisco-based firm asked for guidance on how to apply for plates in January, and has since applied for three plates.
See also: Volvo wants autonomous car on road by 2020
A representative from Faraday Future did not confirm if the tests were for autonomous cars.
"The plates will be used to help test various FF-vehicle prototypes and features," said Faraday in a statement. "We cannot comment on the specifics of those tests at this time."
Manufacturer plates are required to test cars, both autonomous and regular, in Michigan. Automakers can use plates from other states, though most obtain plates directly from the transportation department.

Faraday Future debuted at CES this January
Faraday Future made its debut at the Consumer Electronics Show (CES) earlier this year, revealing a futuristic autonomous, electric car that shared design similarities with the Batmobile. Sadly, the concept car appears to be just that — a concept — and one that Faraday is not planning to introduce to the market anytime soon.
The company has been ramping up its workforce since, with 700 employees and in April purchased a $ 1 billion, 3 million square foot facility in Las Vegas to begin manufacturing. It is rumored to be looking at a second facility in Vallejo, a city in California.
All of this is paid for by LeEco founder Jia Yueting, who owns significant stock in Faraday Future. Yueting's company is also working on its own autonomous, electric car, which he unveiled at a conference last month.
Faraday Future appears to be speeding ahead, but questions surround the secretive company, including the company's finances, roadmap, and the name of its anonymous CEO.
The post Faraday Future to test autonomous cars in Michigan appeared first on ReadWrite.
(10)