Fitness Equipment Brands: Time To Rethink Campaigns As Gyms Re-Open
Fitness Equipment Brands: Time To Rethink Campaigns As Gyms Re-Open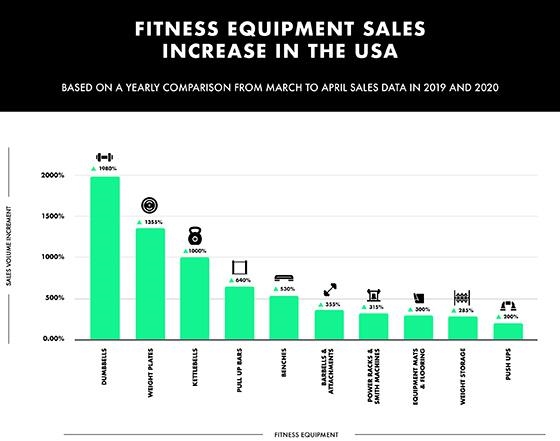 From dumbbells to kettlebells and storage for all, the sale of at-home fitness equipment rose by thousands of percentage points during the COVID-19 lockdown compared with 2019, according to eBay sales data.
Many residents across the United States bought exercise equipment between March and April 2020 to build out their in-home gyms.
eBay saw the highest increase from residents in New Hampshire, where sales jumped by 90%, followed by Colorado at 75%, South Dakota at 70%, Connecticut at 70%, and Nevada at 70%. California rolled in with a 65% increase, with Rhode Island, D.C., Delaware and Virginia also at 65%.
Of the 50 states in the U.S., Iowa became the only one with a decline in at-home fitness sales at eBay, declining by 67% in March and April 2020 compared with the year-ago month.
eBay's data analyzed more than 3 million sales in the United States also shows the most popular items during the lockdown, with dumbbells and activity trackers ranking among the most popular.
Sales of dumbbells this year in March and April rose by 1,980%, compared with the same time period in 2019.
The sales of weight plates increased 1,355%, followed by kettlebells at 1,000%, pull-up bars at 640%, benches at 530%, barbells and attachments at 355%, power racks and smith machines at 315%, equipment mats and flooring at 300%, weight storage at 285%, and push-up stands at 200%.
Last week The New York Timesreported a kettlebell shortage as COVID-19 lockdowns lingered in the big city, forcing exercise enthusiasts to remain inside.
One exercise equipment store in Syracuse, New York, told the NYT that sales skyrocketed more than 600% in a couple of days, but that some online retailers like eBay, Amazon and Walmart are allowing equipment markups of as much as 150%.
"Although we expect a share of the customers who have opted to buy their home fitness equipment on eBay to continue to count on us for future purchases, we also assume the demand will return to pre-lockdown levels once gyms across the country open again," an eBay spokesperson told Inside Performance.
Will consumers keep buying to stock their home fitness rooms when gyms reopen? One advertising executive shared his most recent purchase, a bicycle, on Facebook and said that for him, gyms could become a thing of the past.
Goldman Sachs analysts report seeing slowdowns in ecommerce app downloads, which grew on average of 77% year-over-year in the most recent week compared with growth of between 82% and 93% in the prior two weeks.
Wayfair led the growth at 131%, but eBay held its own with 111% growth YoY.
Tonal Sr. Manager of Growth Marketing Sichia Bell said that during COVID-19, the company went from being a startup with aggressive growth and branding goals to facing inventory shortages during the COVID-19 pandemic as consumers tried to find exercise equipment to fill their lost time at the gym.
The company had to pivot quickly to change its messaging across social, TV, OTT and other media. "Being a startup where you're sitting pretty scrappy and moving quickly helped," she said. "We updated about 300 ads within two days."
Video on sites like YouTube also will likely become a major media buy this year for at-home exercise brands, only because it gives marketers an opportunity to show consumers how to use their products.
(15)