GoDaddy Runs Seven-Part Branded Video Series, Creates Content
GoDaddy Runs Seven-Part Branded Video Series, Creates Content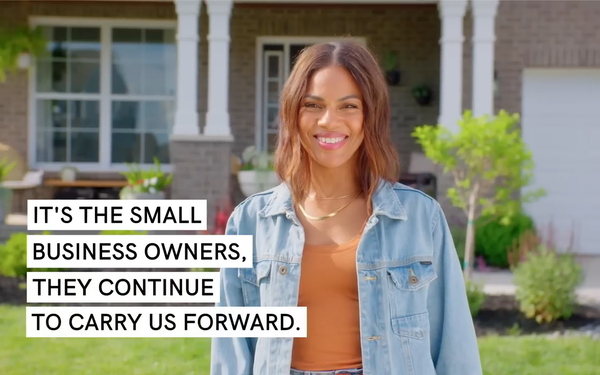 Adam Palmer, director of creative production ops and storyteller at GoDaddy, has spearheaded the launch of a seven-part branded video series, Icons.
GoDaddy employs an in-house brand team — which, according to Palmer, creates original long-form content and consists of showrunners, producers, directors, photographers, videographers, editors and copywriters — and works with talented videographers outside the organization as well. Palmer did not disclose the costs associated with these.
"GoDaddy has no plans to create a news organization," he said. "As part of our mission to empower entrepreneurs everywhere, we will continue to create content that inspires everyday entrepreneurs and showcases their importance to local communities."
The latest series highlights the stories of several entrepreneurs based in Cincinnati. From the pandemic to difficult economic times, small business owners have faced massive headwinds during the past few years.
The Icons episodes on the GoDaddy YouTube channel are about 4 to 6 minutes long. New content will run through August.
"We use YouTube Shorts to show special behind-the-scenes footage and unique how-to videos to encourage our audience to check out the full video and learn more about the businesses," Palmer said.
The content shines a light on small business owners making a difference in their communities — spotlighting businesses such as Jane Malone, owner of Cursed Drawings and a neurodivergent and autistic business owner and artist selling shirts, tote bags and other goods. She took characters and sketches created for her own personal mental health and turned them into something that connects with local and global communities.
Kristen Bailey and Anton Gaffney, restaurant and food truck owners of Sweets & Meats, sell smoked meats, homemade sides and desserts made fresh daily using family recipes. The owners overcame the effects of the pandemic with the help of the business community.
Rebecca Gibson started her business two years ago after working as a nurse for 20 years, with a side job of braiding hair. When the salon she worked at told her they were closing, her husband found an available location for her to set up shop.
She formed Empire Beauty Bar. Throughout the years, Rebecca mentored nearly 90 women, helping them to become entrepreneurs. She credits her success with her business, customers, employees and mentees to her 20 years of experience in health care and to an empathetic and nurturing approach, according to a local Cincinnati media outlet.
Adam Palmer, director of creative production ops and storyteller at GoDaddy, spearheaded the latest the launch of a seven-part branded video series, Icons.
(28)