Google News Showcase Launches For Publishers With $1 Billion Investment
Google News Showcase In Search Launches For Publishers With $1 Billion Investment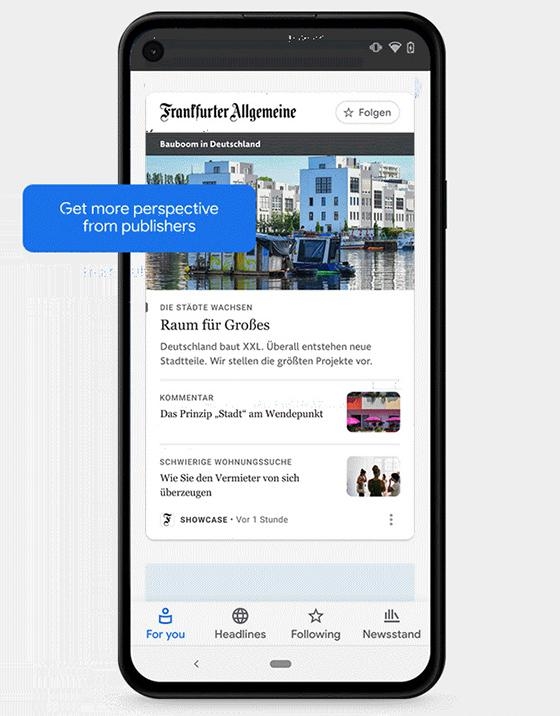 Google on Thursday unveiled its latest effort in news publishing with the launch of Google News Showcase. The move aims to help those searching for content in Google Search results and Google Discover, as much as it does help publishers surface the news in front of those searching.
The company plans to pay $1 billion to news publishers in licensing fees "to create and curate high-quality content for a different kind of online news experience" from queries in Google Search and in Google Discovery, Sundar Pichai, CEO of Alphabet and Google, wrote in a blog post.
The Google News Showcase and the financial investment will extend beyond the initial three years.
The project will feature editorial curation from award-winning newsrooms to give those searching for information greater insight on articles. The goal, Pichai says, is to help publishers develop deeper relationships with their audiences.
The project initially will start with Android devices and eventually serve up on Google News on iOS, as well as Google Discover and Search.
These panels give participating publishers the ability to package the stories that appear within Google's news products to provide a way to deliver additional context on topics through features such as timelines, bullets and related articles. Video, audio and daily briefings will follow.
The feature starts rolling out today to readers in Brazil and Germany, and will expand to other countries in the coming months where local frameworks support these partnerships.
Pichai said Google has signed partnerships for News Showcase with nearly 200 publications across Germany, Brazil, Argentina, Canada, the U.K., and Australia. The publications include award-winning national titles like Der Spiegel, Stern, Die Zeit, Folha de S.Paulo, Band and Infobae alongside regionally and locally significant publications such as El Litoral, GZH, WAZ and SooToday.
The number of news publications will grow as the company works to expand News Showcase to other countries including India, Belgium and the Netherlands.
News Showcase builds on Google's existing news licensing program that already has paying publishers, and other news-related efforts including Subscribe with Google, Web Stories and audio news.
The idea is to give readers more context and perspective on important stories in the news and drive high-value traffic to a publisher's site.
(12)