Google Ups Price Of YouTube Premium Family Plan
Google Ups Price Of YouTube Premium Family Plan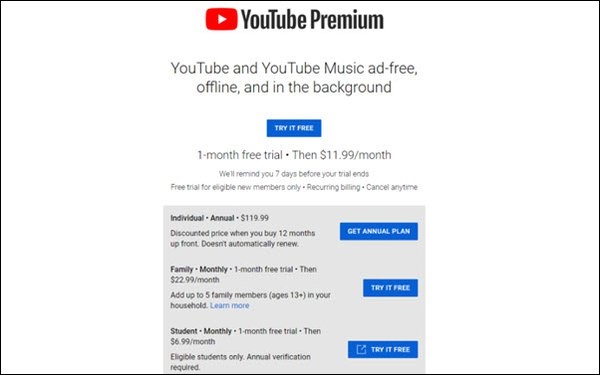 Google is implementing its first major YouTube Premium price hike.
In the U.S., Canada and U.K. and Japan, the hike is, at least for now, limited to those on the family plan that allows up to five people to access ad-free videos, downloads for offline viewing and background play on the same subscription. Individual accounts in the U.S. are still priced at $11.99.
In the U.S., the family plan price is being raised from $17.99 to $22.99 per month — a $5 or 28% hike — and to $29.99 per month for those who subscribe through the Apple App Store. The Canadian family price is being raised from CA$17.99 to CA$22.99, the U.K. price from £17.99 to £19.99, and the price in Japan from ¥1,780 ($11.83) per month to ¥2,280 ($15.16) per month, according to TechCrunch.
In Turkey, both the family and student plans are seeing hikes–from TRY 29.99 ($1.61) per month to TRY 59.99 per month, and from TRY 9.99 ($0.54) per month to TRY 19.49 ($1.05) per month, respectively.
Argentina is getting the biggest hits. There, the individual plan is rising from ARS 119 ($0.78) per month to ARS 389 ($2.53), and the family plan from ARS 179 ($1.17) to ARS 699 ($4.55) — hikes of about 220% and 290%, respectively.
The new prices take effect on Nov. 21 for current subscribers, and immediately for new subscribers.
YouTube Premium hasn't seen a price hike since 2018.
In its email in the U.S., Google wrote in part: "We created YouTube Premium to provide an uninterrupted YouTube experience, so you can get closer to the videos, creators, and music artists that you love. To continue delivering great service and features, we will be increasing your Premium family plan price from $17.99/month to $22.99/month."
Earlier this week, YouTube cancelled a limited test in which it required free users to subscribe to Premium in order to access 4K resolution. All YouTube videos have been in 4K since 2010, notes 9to5 Google.
The 28% hike in the U.S. is the first since 2018. In most markets, the individual account price is stable for now .
(27)