Here's why the Baltimore Ravens took Amtrak to their games against New York's teams
By Nate Berg
When the Baltimore Ravens football team set out for its October 16 game against the New York Giants in East Rutherford, New Jersey, the team packed up thousands of pounds of luggage, gathered its 53-man roster and more than 120 other coaches, support staff, and assistants, and headed to the Amtrak station.
Like a Senate-era Joe Biden, the Ravens commuted to work on the train.
The day before the game, around noon, 179 people from the Ravens organization flooded into Baltimore's Penn Station and boarded a six-car chartered Amtrak train. It was actually the team's second Amtrak commute of the season, after a September 11 trip to New Jersey to play the New York Jets. Head coach John Harbaugh could be seen walking down the stairs to the train platform, Dunkin' coffee cup in hand. Linebacker Patrick Queen, nearly as tall as the train, tugged along his rolling luggage before clambering on board. Inside, in the fully booked train, players and team representatives wandered about and gazed out the windows like school kids on a field trip. About two hours later, the team arrived in Newark, not far from their hotel and a quick ride to the stadium.
For a professional football team, traveling by train to a game is a somewhat rare, but increasingly appealing, option. Most team travel happens by charter plane at commercial airports, largely due to the great distances between stadiums sprinkled around the country. But for those games that happen to take place only a few hundred miles from home—games between the Philadelphia Eagles and Washington Commanders, or between the New York Jets and the New England Patriots, for example—train travel is a less complicated, less costly, and less environmentally damaging alternative.
"The train's always one of the easier trips because you don't have to do airport screening, and it's easier to get everybody on and off," says Simon Gelan, Ravens vice president of operations. "We're moving 180 to 200 people per trip, so there's a lot of maneuvering."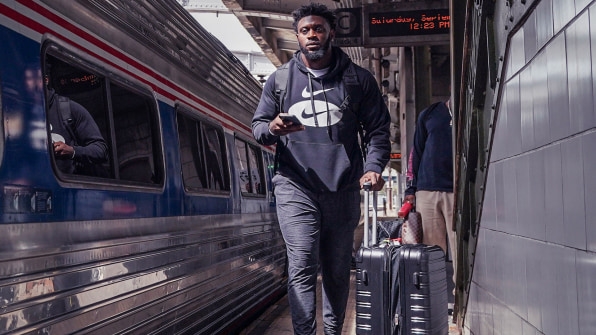 Team travel involves months of planning, from chartering planes or trains to booking blocks of hotel rooms and meeting spaces before fans or wedding parties snatch them up. And though teams typically have a sense for where they'll be going each season, it's not until the official schedule is released in May that tickets can get booked and departure times can be locked down. "Once the schedule drops it's all hands on deck," Gelan says.
Leading that planning is Joan Fennekohl, vice president of team travel. She says plans for the Ravens train trip to Newark involved several walk-throughs at Baltimore's train station, coordination with the team's security detail, and determining how much space the team would need to carry its bulky equipment—and even bulkier players.
"We make sure everybody's got an open seat next to them. That's the biggest thing to do. We're not packed in there. We get extra cars. I think there's 300 seats that we had and we had 179 people on the train. That's what you have to do, especially with these big guys," says Fennekohl.
Trip planning even involves mapping out where each member of the organization would be seated. "We want the coaches or the quarterbacks to be near each other," Fennekohl says, noting that seating considerations are also made for the larger dimensions of many NFL players. "You want to give [defensive lineman] Calais Campbell a bigger space because he's 6'8?. You have to make sure it all fits, and you have the right people in the right areas and the right spaces."
The equipment required by a professional football team—everything from shoulder pads and helmets to audio headsets and first aid—gets trucked separately.
Booking out an entire train, which Amtrak offers through its charter service, affords the space for this kind of flexibility. The Ravens declined to lay out the financials of team travel, but with prices starting at $30,000 to charter an Amtrak train, it's a more affordable option than chartering a plane through a commercial airline, which can start at $40,000. Taking the train to a game is also a less carbon intensive option, compared to airplane travel—a reality that recently put the French soccer team Paris-Saint Germain in hot water when its head coach and star player laughed off a question about taking a private jet to a game that could have easily been reached via train. But while an environmentally conscious train ride might seem like good PR, it wasn't really a deciding factor for the Ravens. "It's something that's thought about, however it's really more important to get the team where it needs to be on time," Fennekohl says.
The most environmentally friendly mode of transportation isn't always the most expedient, or even available. "Remember that trains don't go everywhere. It's only efficient to certain cities, and one of them is New York," Fennekohl says. The teams the Ravens play most often—AFC North division competitors Cincinnati Bengals, Cleveland Browns, and Pittsburgh Steelers—aren't easily reached via Amtrak from Baltimore. Due to the scheduling quirks of the NFL's non-divisional games, teams like the Ravens sometimes only get a few train-accessible games per decade. "The last time we were on a train was six years ago," Fennekohl says, also against the New York Jets, on October 23, 2016.
But that's more of a matter of scheduling than preference. Both Gelan and Fennekohl say train travel is great when they can get it. "The bus is not as comfortable for the players. The plane is very comfortable, but there's a lot more to do with the plane because of screening and TSA and all that stuff. So there's a lot more involved," Fennekohl says. "I think everybody likes that they can get on the train and just move about. You've got Wi-Fi. It's a nice way to get around."
(15)