How a Hitchcock movie inspired Netflix's 'The Circle,' its new social media game show
By KC Ifeanyi
Showrunner and producer Tim Harcout had an idea that he couldn't quite shake: he was fascinated by the themes of isolation and inference in Alfred Hitchcock's 1954 classic Rear Window and wondered how (or if) it would fit into the framework of a game show or reality TV.
"I had a vision of James Stewart bed bound and looking out upon life out of his back window, and all this life is being lived in these different apartments," Harcourt says. "People are living but never really coming in contact with each other."
He didn't know what to do with his idea until the U.K. network Channel 4 came knocking. Harcourt premiered the popular dating game show Naked Attraction in 2016 on Channel 4, and the network was interested in following its success with another competition show centered on social media.
Suddenly, it all clicked.
"Of course! We could do a show about people who don't meet face to face and all live in the same place and connect through a social media platform," Harcourt says.
With that The Circle was created, which premiered on Channel 4 in the U.K. last year and is getting its U.S. run on Netflix in January, as well as upcoming Brazilian and French versions through the streamer as well.
The Circle puts eight strangers in an apartment building with each other. They don't get to meet face to face. The only means of communication is The Circle, a voice-command social platform that allows contestants to send messages, update their status, and check out pics and profiles of who's in the building—or at least who they think is in the building. Everyone has the option either to be themselves or create an identity of someone who they think is likable. Contestants get to rank each other throughout the competition. The ones with the highest ranks gain "influencer" status, which gives them the power to block (i.e., eliminate) someone from The Circle. Whoever is the most popular at the end of the game wins $100,000.
"What is a lot of social media about? It's about appealing to other people," Harcourt says. "So we came up with an overarching game about making yourself the most appealing or most popular you can be."
There's a lot you could read into a show like The Circle. For one, it directly addresses the alarming capacity we have to make snap judgments of strangers based on next to no information. Or how the singular focus of social media seems to be an endless need for validation. Or, for Harcourt, it's also something a little less sinister.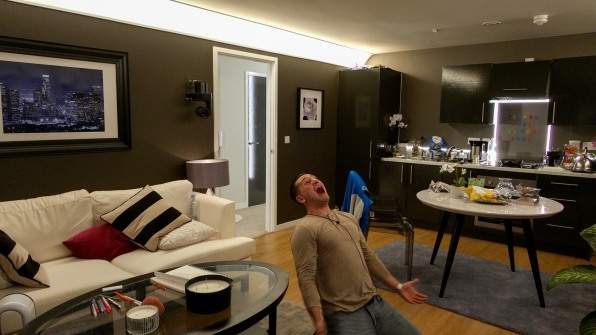 "The people who do really well at it are brilliant communicators," Harcourt says. "At its heart, it taps into a really basic pre-industrial skill and that is the art of communication."
But what really excites Harcourt about The Circle is that fact that the show injects a sense of humor into the competitive game show genre. In addition to a sometimes too colorful cast of contestants, The Circle U.S. is hosted by comedian Michelle Buteau, who, throughout each episode, is an omnipresent voice narrating the action and playfully roasting contestants in the meantime.
"We've seen lots of shows about high conflict. Obviously you need drama for a competition," Harcourt says. "But I think what's often missing from many competitions is humor. And what we have in The Circle is an absolutely brilliant way to get humor out of people."
The Circle U.S. premieres on Netflix January 1.
Fast Company , Read Full Story
(4)