How Brands Handle Negative Comments on Social Media?
How Brands Handle Negative Comments on Social Media?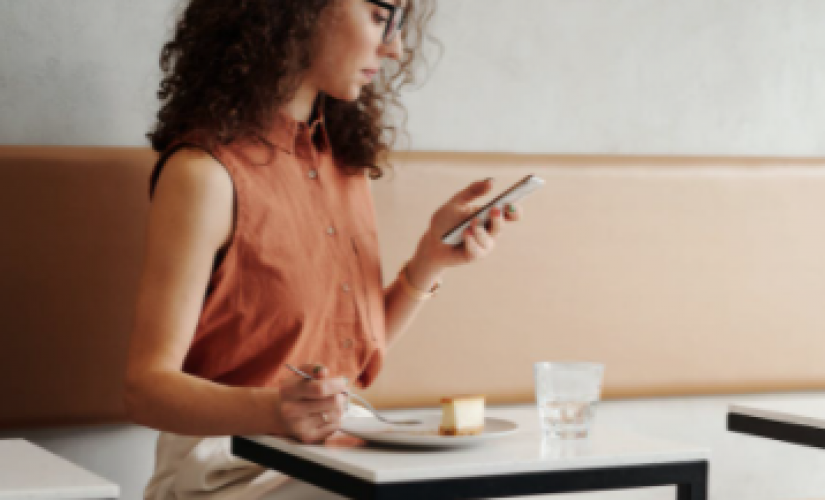 Handle Negative Comments on Social Media:- The dynamics of the business world have drastically changed in this digital era. Social media has disrupted the way businesses market themselves. Even with this, the customer is still the king, and every business revolves around them.
For this reason, many brands rely on customer feedback programs, online CRM, and social media marketing. Undoubtedly, these are excellent means of generating buzz around products and making a solid online foothold for brands. However, there is a dark side to these as well- the brutal negative comments on social media.
Online media is one of the best ways to showcase social proof of your brand. Comments, good and bad, both adversely influence customer loyalty. Positive reviews motivate and keep up your brand's spirit to continue producing quality products and services.
On the other hand, negative reviews and unwarranted internet trolls can have disastrous results and compromise your brand loyalty.
But are negative comments always detrimental to your growth?
The answer is NO.
As Bill Gates, founder of Microsoft Corporation, once said,
"Your most unhappy customers are your greatest source of learning."
Acting positively upon receiving a negative review is the first step towards mending your mistakes and rising through challenges. You can take cues from renowned companies and learn the art of handling criticism in the social media space.
This article sums up some of the innovative ways brands have used to handle social media policing. But first, let us understand why you must leverage digital media to grow your brand loyalty and use criticism for your good.
Social Media-Boon or Bane?
As per a study, at the beginning of 2021, there were around 4.33 billion active social media users globally. In addition, about 54% of millennials use social media for product research- they go through the customer reviews and observe how brands react to them.
Therefore, if your brand needs to build a trustworthy image among prospective customers, you must seriously consider your social media strategy.
How you verse your brand-building tactics online decides if social media is a boon or bane for your growth.
Anyone intrigued by your products is most likely to check your brand online. They weigh the quality you offer based on your interaction with your customers and the testimonials you have. Therefore, the last thing you need is a social media profile infested with spammy tweets, irrelevant posts, and poor comments from customers.
It is where social media can become a bane to your growth. As you expose yourself to the 4.33 billion users, negativity is something you cannot avoid.
You need to constantly check your social media comments and be proactive in handling such untoward situations.
But the question is how?
Monitor your Social Media comments – Always
Numerous tools help you keep watchful eyes over comments to your posts or if anyone has tagged you in a post or comment. Google Alerts, HootSuite are some of the easiest tools you can try.
These tools send you a notification the moment anyone comments regarding your company (direct and indirect). Basic keyword search and your company name generate the desired alerts.
By searching your own company name — you never miss any possibility of social media interaction and keep yourself abreast of what customers are saying about your products and services.
While retrospecting comments, you may find some genuine ones and some which are fake ones.
Therefore to deal with each of those, you need to understand various types of negative comments you may encounter on Social Media.
So why not discuss them before we give you tried and tested tips to handle the negativity?
Types of Negative Comments on Social Media
Every customer utilizes the open-online platform to share their views and experiences with your brand in different ways. Here are three of the most common negative comments you can find on social media platforms.
Genuine Complaints
Not everyone is perfect, and neither are you. Even with the best customer experience strategies, you may find customers using the online public platform to share their dissatisfaction.
It could be due to poor customer service or a misunderstanding, or issues with quality.
Maybe you overpromised and failed to deliver the expected results. The reasons could be many.
The comments are from a legitimate profile of an organization or an individual. These complaints help you understand the loopholes in your business and give you the chance to work through your weaknesses.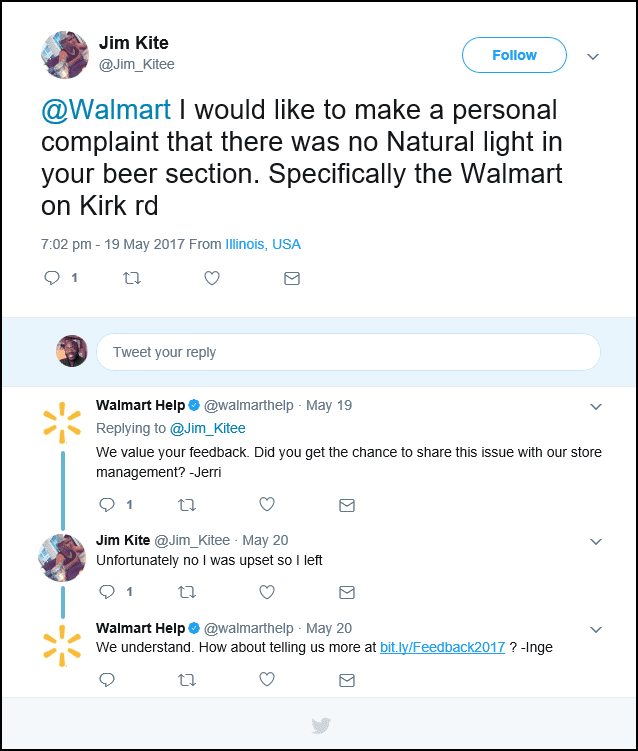 Image Credit: Provided by the author. desdreckettdotcom. Thank you!
Queries
Keeping your online eyes open to answer customer queries is a great way to induce fruitful customer interaction. Queries from confused customers may not be an ideal negative comment. However, it does reflect weak and unresponsive customer support if not answered promptly.
Imagine someone asked you how to unlock an app code, and you respond after a week. It would be useless to reply after a long gap.
Also, some of the questions raised on social media are accusatory and have a harsh tone. Even in these cases, you need to gather up your patience and answer their questions. It builds a strong customer relationship and is a testimony of your trustworthiness.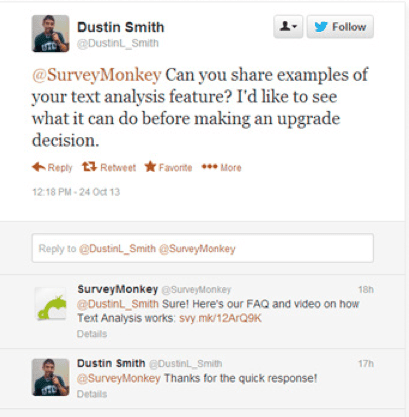 Image Credit: Provided by the author. surveymonkeydotcome. Thank you!
Internet Trolls and Hate comments
Internet trolls and hate comments can bring you down more than anything else. These are usually comments from fake accounts that find solace in disgracing brands without any genuine issues. Such trolls and comments are typically termed cyberbullying.
Remember the time when Nike received unwanted flack for introducing plus-size clothing? Such
Trolls never have a genuine complaint and vomit hate on your posts just to spread spite and garner attention.
It is always a wise idea to ignore such comments. However, the sad part is that these comments and trolls often go viral and have the potential to stain your brand image.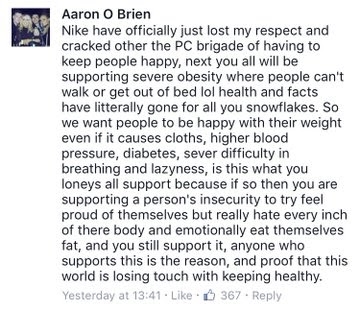 Image Credit: Provided by the author. fashionmagizinedotcom. Thank you! Source
Ways Brands handle negative comments on social media
Listen and Act
Brands have mastered the art of listening and used their calmness and patience to beat the negativity in and around their social media handles.
An angry customer is most likely to mention your brand on various social media sites to seek your attention. You need to make sure you never miss any of those. Use the social media monitoring tools to track all mentions of your brand and hashtags, URLs related to your brand.
For this, brands leverage social media listening. Here, social media tools track all the conversations and interactions with their customers. You need to invest in such strategies to be able to take appropriate actions.
Be wise and creative, and ensure your words and actions do not instigate them to create unwanted traction on your online profile.
Timely Action
Speed matters a lot!
Yes, even in the social media space, customers expect a fast response from you.
And this is why brands are proactive in responding to genuine complaints and queries. Timely action is the best way to resolve a customer's resentment towards your brand.
At least 37% of customers want a response within 30 minutes of posting their complaints. Another survey also indicates that Facebook users expect a response within 6 hours and Twitter within 1.
You need to take timely action and clear their queries or acknowledge their dissatisfaction. Once you do that, you must make appropriate decisions with your team and look into their issue as soon as possible.
Respond publicly, and then move to DMs
Focus on how rather than why!
Customers are least bothered about why something went wrong. Instead, they want legitimate and actionable decisions that acknowledge the complaints and clear their misunderstandings.
If you do not have an immediate solution, you can just acknowledge and start an open inquiry about the same. You can ask them to send personal messages to your inbox stating their issues.
This way, you can resolve the negativity without creating a public fuss about an issue. And for significant grievances, it is always a great option to resolve issues privately over direct messages or emails or phone calls.
Always remember- Public response first!
Sincerely Apologize
The customer is always right- even when the customer is unreasonable.
You need to understand you have to prioritize your customer's POV even if you disagree with it. You must apologize and be sincere about it. Because no matter what, customers are the fuel that runs your business.
A sincere public apology for accepting your mistake will only add credibility and transparency to your brand's value. Your apology could be from a representative or the CEO itself, depending on the depth of the allegations you are facing.
Even if you disagree with the customer's point of view, you should still say "sorry." Those words seem to be the first step to resolving the conflict. Make sure your apology looks genuine and not just a general message.
87% of customers feel good about a brand connecting to them with personalized messages and not generic robotic ones. A personalized message has the customer's name, summarizes the issue, includes sincere apologies, and puts forth measures to resolve them.
Remember how Myntra had to change its logo when one of the users felt it offensive against women? While many disagreed with the user's point of view, Myntra went ahead and made the changes.
When a big brand like Unilever announced that they would get off online platforms with harmful content, everyone was surprised. Moreover, it spotlight a serious issue that is often overlooked – Internet trolls and inappropriate hate speech.
While complaints and queries help you connect with your customers more and grow your credibility, some experiences leave a trail of backlash and trolls. These are usually toxic and contain inappropriate content from fake social media pages.
They may not even have been one of your users but just linger around your comment section to tarnish your brand image. While social media platforms ensure online safety with strict guidelines, you can not ignore hate speech, cyberbullying, and harassment.
The key is to identify such fake profiles and report them. Then, you can ignore such malicious activities or choose to confront some of them with truth and bring them to the public's notice.
Never Argue with Customers
Be polite with your words!
Nothing breaks a relationship worse than the choice of wrong words. The same is true for your relationship with your customers. While dealing with negativity, you need to be emotionally stable. Unfortunately, you may get instigated by some allegations and try to prove your point.
While you must explain your part where it is due, never overdo it. Be wary of the words you use; it must not sound offensive.
If you follow brands, you must have noticed that they have a sober reply without any swear words even for the worst feedback. When customers see you are polite to your customers, they are likely to build a positive image for your brand.
To summarize
Customers are the driving force of your business. Social media is the bridge between you and your customers. It is a place where customers connect with you based on their experience with your brand.
You'll receive positive reviews praising your products and services, but you have to make peace with negativity as well.
You cannot and must not ignore negative comments that come from genuine profiles with legitimate issues. Unfortunately, Internet trolls and hatred are another part of the same story these days.
Negative comments are inevitable and can let your brand image down if not handled properly. You need to focus on a strategic plan to learn from the feedback and make positivity out of negativity at every stage of your social media journey.
Inner Post Images Credit: provided by the author; Thank you!
Top Image Credit: Edmond Dantés; Pexels; Thank you!
The post How Brands Handle Negative Comments on Social Media? appeared first on ReadWrite.
(10)