How Google Uses Artificial Intelligence To Predict Traffic
How Google Uses Artificial Intelligence To Predict Traffic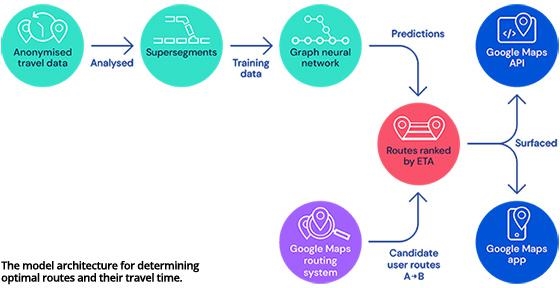 Labor Day weekend typically spurs highway and neighborhood traffic. The AAA didn't offer travel estimates this year based on the COVID-19 pandemic, but last year 43 million Americans traveled for Memorial Day Weekend, the second-highest travel volume on record since the company began tracking holiday travel volumes in 2000.
Google estimates that people use Google Maps to drive more than 700 billion miles daily in more than 220 countries and territories worldwide. The app shows the driver which the direction to travel, whether traffic along route is heavy or light, an estimated travel time, and an estimated time of arrival.
It may appear simple, but the technology behind the app is quite complex because conditions such as an accident or rockslide in a canyon can change the directions in a matter of seconds.
For those who want to know how Google Maps determines massive traffic jams and the best route to take, Google and DeepMind researchers explain how they use data and feed it into machine-learning models to predict traffic flows.
For starters, aggregate location data can be used to understand traffic conditions on roads worldwide, but while this information helps locate current traffic estimates, it doesn't account for what traffic will look like 10, 20, or even 50 minutes into the route.
Google Maps analyzes historical traffic patterns for roads to predict future traffic patterns. For example, one pattern may show that the 405 freeway in Southern California typically has vehicles traveling at a speed of 65 mph between 6 a.m. and 7 am, but at speeds of between 15 mph and 20 mph in the late afternoon.
To predict future patterns, Google's algorithms combines its database of historical traffic patterns with live traffic conditions, using machine learning to generate predictions based on both sets of data.
Recently, Google partnered with DeepMind, an Alphabet AI research lab, to improve the accuracy of our traffic prediction capabilities, measuring predictions accuracy for more than 97% of trips.
What makes this project even more interesting is that worldwide have changed dramatically since the COVID-19 pandemic began.
"We saw up to a 50% decrease in worldwide traffic when lockdowns started in early 2020, wrote Johann Lau, product manager at Google Maps. "Since then, parts of the world have reopened gradually, while others maintain restrictions. To account for this sudden change, we've recently updated our models to become more agile — automatically prioritizing historical traffic patterns from the last two to four weeks, and deprioritizing patterns from any time before that."
And Google also is preparing to add a new layer that shows where COVID-19 outbreaks are at their worst. Sourcing the data from The New York Times, Wikipedia, John Hopkins University, and Brihanmumbai Municipal, the COVID-19 map layer in Google Maps shows the lines between states in the U.S. and then highlights in color where outbreaks are worse.

As for the traffic map segment, the Google and DeepMind divided road networks into "Supersegments" consisting of multiple adjacent segments of road that share significant traffic volume," according to Deep Mind engineers.
"Currently, the Google Maps traffic prediction system consists of the following components: a route analyzer that processes terabytes of traffic information to construct Supersegments and, a novel Graph Neural Network model, which is optimized with multiple objectives and predicts the travel time for each Supersegment," Lau explains.
Two other sources of data are important to recommend the best routes: authoritative data from local governments and real-time feedback from users.
Authoritative data enables Google Maps to have knowledge of speed limits, tolls, or whether certain roads are restricted due to situations involving construction or COVID-19. And incident reports from drivers allow Google Maps to quickly show if a road or lane is closed, if there's construction nearby, or if there's a disabled vehicle or an object on the road.
I've had my own experiences with Google Maps this year and most have been positive. It's a little unnerving to trust algorithms to lead you in the correct direction around traffic accidents, even when you know the route you're on, but my experiences have turned out well and the direction got me to my destinations ahead of schedule.
Safe travels — wherever you might go this weekend.
(7)