Inside The RealReal's ambitious turnaround strategy
Logging into luxury fashion and accessories platform The RealReal when new items are added—at 10 a.m. and 7 p.m. ET—feels a bit like playing the slots. Competition over some items when they come online—a Studio 54-era Halston gown, a Chanel flap bag—is fierce. As a result, you never know when you're going to hit the right item-price-condition-size jackpot.
But unlike at a casino, the house—The RealReal—doesn't always win. In fact, since going public in 2019, the 12-year-old platform hasn't been able to turn a profit, and investors have been left wondering whether it ever can.
Although this continued with The RealReal's Q2 earnings which it announced on August 8, where it reported a net loss of $41.3 million, there are signs of hope. Gross margins improved, as did its EBITDA. "Right now this is a 'show-me' story," The RealReal president and COO Rati Sahi Levesque tells me after the earnings call. "We started tweaking the strategy and analysts are cautiously optimistic, but we'll have to wait until Q3 or Q4 to see the upside."
The company's turnaround strategy under CEO John Koryl, who took over in February, is taking shape, and the three-part plan—an ad network, a shift in its inventory, and relying more on third-party sellers—reflects both a path forward and an attempt to correct for the excesses in which The RealReal was born. It's both a blueprint for this company and a sign of what's to come for a lot of companies that followed the same route that The RealReal did.
Everyone—customers, brands, companies—wants the circular economy to work for luxury fashion. After all, in a perfect system, sharing, leasing, reusing, repairing, refurbishing, and recycling existing materials and products for as long as possible helps the environment by curbing overconsumption, lets consumers procure designer goods for less, and can turn a healthy profit for sellers and consignment platforms like The RealReal. The resale platform relies on a steady stream of luxury consignments from sellers all around the country. It then authenticates the items and puts them up for sale on its website. The commission, when an item is sold, is split between the seller and The RealReal.
But we don't have a perfect system—yet—and companies like The RealReal and its peers that are trying to create one haven't fared well. Clothing rental and resale platform Rent The Runway went public in 2022 but has yet to turn a profit. Neither has Thredup. With a large amount of debt that will come due in 2025, The RealReal has about a year to turn profitable and prove that resale can be a viable business model.
How The RealReal got into trouble
Like many companies in the 2010s, The RealReal focused on achieving scale, figuring that profit would come later. The company grew fast, opening 16 retail spaces in metro areas around the country. It also began adding more designers to its ever-growing list of brands from which people could consign their clothes, as well as entering new categories including beauty, furniture, and collectibles such as trading cards. Under former CEO and founder Julie Wainwright, The RealReal's brand recognition in the United States grew to 40%, and the company became the largest online resale marketplace in the world.
But as it scaled, the company bled money. Last year it lost $196 million despite a revenue of $603 million. The year before, when it lost $236 million with $468 million revenue, was even worse. After going public in July 2019 at a share price of $20, the company's stock is trading at $2.17.
The dismal numbers come from the fact that, although resale has become more popular, margins can be slim. Once a seller consigns an item to The RealReal—which they can do in stores and by mail—the company ensures it's not a fake, rates the condition of the item through a human authentication process, and prices it. Then it photographs the item and puts it up on the site. The entire process, which starts over when an item gets returned, is costly.
Even before a consignment takes place, persuading sellers to part with their goods can be expensive, and the company needs a constant supply. The RealReal employs experts to go into people's homes to see what they could consign. Another team at the company checks in with customers and wheedles them—by phone, text, and online—to sell more. Employees and customers are feeling the strain of expansion under the current system. A CNBC report from November mentioned already unmanageable quotas for employees, a proliferation of fakes items on the platform, and an increase in misdirected orders.
In June 2022, The RealReal's founder and CEO Julie Wainwright stepped down and gave up her board seat. To reach profitability before the looming debt crunch, the company brought in Koryl in February to replace her after a long search. In his first month, the company laid off 7% of its workforce (roughly 230 people) and closed stores in Atlanta, Austin, Chicago, and San Francisco. But to turn a profit he'll need to rethink the way The RealReal procures, ships, and sells items.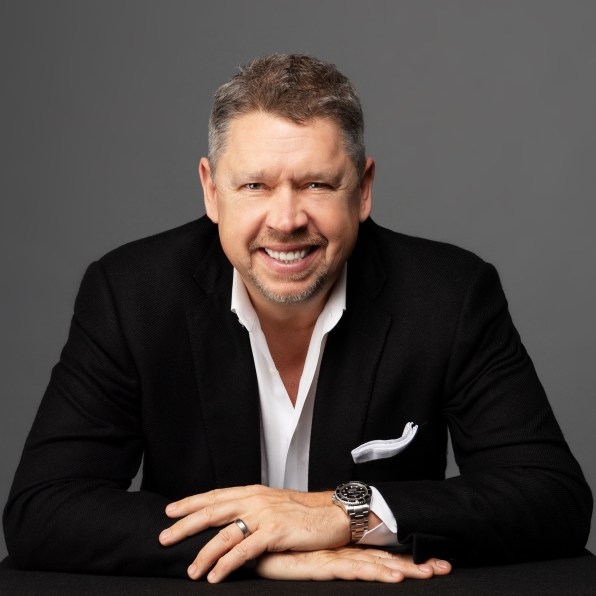 Meet Mr. Turnaround
Koryl, a tall and affable Midwesterner, brings the experience of a long career setting up digital operations for complex businesses. His earlier-career at Ebay, where he worked in the mid-2000s boom time, gave him some experience dealing with multiple sellers offering used goods online. At Neiman Marcus, he implemented an omni-channel strategy, putting merchandise online and setting up its ad business. By the time he left Neiman Marcus in 2017, the Dallas-based company showed growing online sales, but the company still strained under a debt load that came from two leveraged buyouts from different private equity groups. In his most recent role at Canadian Tire Corporation, Koryl built a marketplace for suppliers and franchisers to purchase goods wholesale online.
Neiman Marcus is how Koryl ended up in Dallas, where he still lives. (He regularly flies to The RealReal's San Francisco headquarters, stores, and fulfillment facilities around the country.) A fashion enthusiast since childhood—when we meet, he wears pristine white low-top Dior sneakers—Koryl recalls collecting Air Jordans and showing them off at school.
Now, his job is reselling those sneakers to a clamoring group of customers.
When Koryl met with analysts during The RealReal's Q2 earnings call the afternoon of August 8, he outlined his plan to get the company to profitability. The three-pronged strategy relies on starting an ad business on the platform, changing the provenance and mix of inventory on the site, and working with third-party dealers and sellers. Shares rose roughly 5.5% in after-hours trading following the call.
Supplying the demand
From a consumer perspective, the biggest issue that the company is facing is finding enough luxury goods to sell. The RealReal has legions of eager customers logging onto the site when it gets new items, and they are always looking for more. In the past, the company has taken some drastic measures behind the scenes to give customers something new.
In addition to the outreach outlined above, during the pandemic, when everyone was social distancing, the company began purchasing stock from retailers that might normally be marked down or sent to an outlet (for example, buying pieces from Saks that might otherwise have gone to Saks Off 5th). These clothes would be displayed on the site with a condition description like "pristine."
Although this replenished RealReal's supply, the process was not ideal from a selection standpoint. The company was limited to what the stores could offer, and it was constrained by how much it could hold in its warehouses in Arizona, New Jersey, and California. In The RealReal's Q2 earnings call today, Koryl expressed a desire to reduce this source of revenue—which the company calls "direct revenue"—because the company turns less of a profit on this merchandise compared to consignments.
After The RealReal collects items from sellers and authenticates them, the company stores them in warehouses until they are bought. That's unlike such peer-to-peer resale platforms as Poshmark, Depop, or Vestiaire Collective, which rely on individual sellers shipping items themselves. This means that to get more items on the platform, RealReal also needs more storage space—and storage space is expensive.
That's why Koryl has said he wants to take a page from the Poshmark book and work with third parties that hold inventory. (In January, Poshmark was acquired by the Korean internet giant Naver for $1.2 billion, at a 48% premium to the 90-day average of Poshmark's stock price.) Although Koryl did not provide many details of the plan, it's easy to see how working with third parties could solve both of the company's problems by freeing up warehouse space and unlocking more inventory.
The RealReal could, for instance, partner with a vintage watch dealer to put its wares up for sale on the site. At the same time, the dealer would still display products in their own store. The dealer gets the benefit of The RealReal's audience, while the platform elides the hassles of holding inventory.
This move would position The RealReal where the rest of the resale industry seems to be heading. When I recently interviewed Charles Gorra, CEO of rival accessories resale company Rebag, on Fast Company's Most Innovative Companies podcast, he said that his company is looking at powering resale experiences for other brands down the line. He added that in the future, companies like Chanel could put resale sections on their own sites, powered and managed by companies like Rebag. One can envision The RealReal doing the same thing and operating a resale section on a brand's own website while also advertising those same goods on The RealReal's platform. This would give brands the added advantage getting their used goods in front of more customers.
Last October, luxury shoe brand Jimmy Choo partnered with The RealReal. The partnership let Jimmy Choo clients easily consign their pre-loved luxury items through The RealReal in Jimmy Choo or RealReal stores, then The RealReal would authenticate and list them. Once sold, sellers could convert their commission into credit to use on the Jimmy Choo site. The RealReal has explored similar partnerships with Gucci and Burberry in the past.
A sensible selection
Another key to Koryl's vision is not just getting more products, but getting the product selection right. Already the company has reduced the commission for pieces selling under $100 to discourage sellers from consigning low-value items that after being evaluated, photographed, and shipped do not make money for the company.
This is a departure from a previous strategy where more mid-tier brands—Sandro, Maje, Rag & Bone—were welcomed onto the platform to expand available inventory and allow the company to scale more quickly. Key to The RealReal's success is figuring out how to price mid-range items that cost between $200 and $300, which many shoppers are looking for.
Getting the product selection right also drives Koryl's strategy behind the company's physical stores. Although The RealReal has closed several locations, it still plans on opening one to two new stores a year. It may also look to reduce the footprint of those stores: The primary purpose of having physical stores will be to get more customers to consign items. Already, it has stopped selling such ancillary items as beauty products to make space for more inventory.
Handling clothes—which can easily be damaged and that are returned more often than other categories—is also a struggle for The RealReal. That's why Koryl hopes to expand offerings in the jewelry and accessories departments, as those are less likely to be damaged and tend to retain their value over time. Unbranded jewelry makes up a large part of The RealReal's business, and is often priced higher than clothing, yielding better commissions for the company. The RealReal also doesn't let shoppers return handbags, giving them a guaranteed profit with no risk of the customer returning it.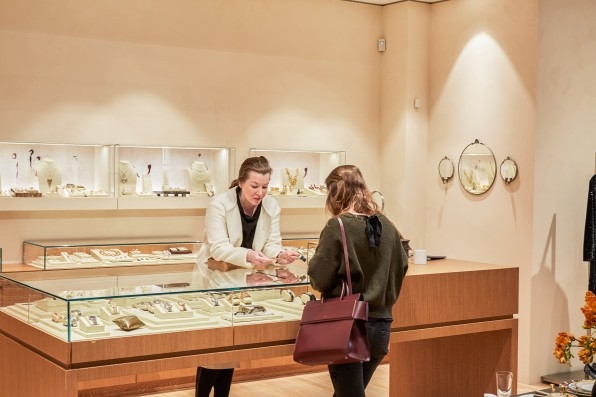 Adding ads
The RealReal, like Uber or Instacart, recently introduced advertising on its site and app, seeing the value of leveraging the audience that considers its platform a destination. Advertising is, after all, the digital world's best and most-proven business model, and given that it generally translates into high-margin revenue, this move is something of a no-brainer.
The company is banking on the fact that the demographic it reaches—women with a lot of spending power—is a valuable one. A woman in her thirties who can buy vintage Chanel can likely also afford a car that she might see advertised next to it. Some of these ads have already started appearing for some users; there are likely more to come. The RealReal could also partner with other companies to offer targeted fashion-related ads: Think Skims or Spanx providing AI-generated underwear suggestions next to a strapless or backless dress on The RealReal.
While analysts were enthusiastic about the revenue that adding advertising and working with third-party sellers could unlock, it remains to be seen how big a piece of the revenue pie they will make up. The looming debt crunch is also unresolved. On our call, Levesque says that the company plans on doing the best thing for shareholders to resolve the situation, but didn't offer a concrete solution.
The RealReal does have one thing on its side: Pent-up demand for vintage fashion shows no sign of waning. The market is there. Now The RealReal just needs to find enough supply to meet it—and a way to make money from it.
(8)