Instagram's new Shopping from Creators gives influencers access to Checkout for in-app purchases
Users will be able to buy items from brands tagged in creators' posts right in the app.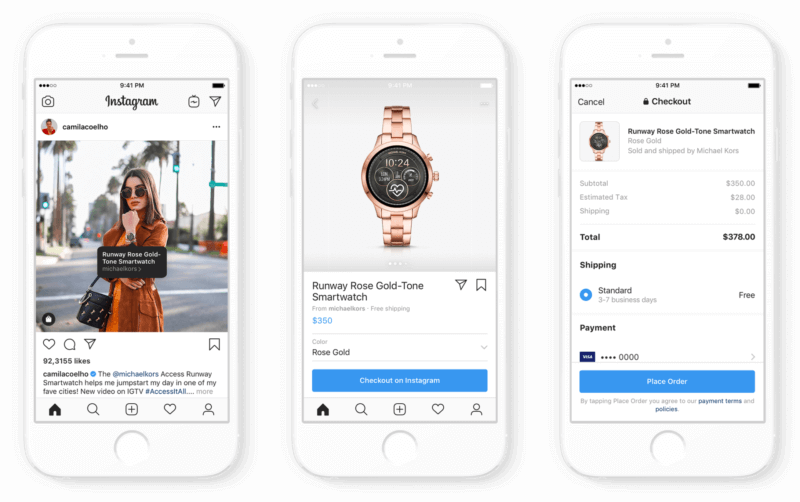 Instagram is rolling out a new Shopping from Creators feature that gives influencers the ability to tag brands they're wearing in posts that can lead to a checkout page where users can purchase tagged items right within the app. The feature will be available to a small group of individuals, fashion retailers and media brands over the coming weeks, including the Kardashian sisters, Gigi Hadid, Vogue, GQ, Hypebeast and Refinery29.
Creators will only be able to tag items from brands that are part of Instagram's Checkout beta that launched in March. Both creators and brands will receive analytics on the shoppable posts. The new feature was announced at the company's F8 developer conference Tuesday.
Why we should care
This is part of Instagram's social commerce efforts to reduce the number of steps it takes from discovering a product on the platform to purchasing. It will also add incentive for fashion brands, in particular, that want to participate in Instagram Checkout.
"The ease of transacting provided with this update will allow us to deepen our relationship with our followers and improve their shopping experience within the platform," said Huan Nguyen, a VP for men's fashion retailer Hypebeast.
Brands on the platform benefit by gaining a broader reach as their products — and Checkout pages — are more readily distributed across the app via their influencer relationships.
---
Marketing Land – Internet Marketing News, Strategies & Tips
(0)