Is it snowing earlier than usual? This weather map will tell you how annoyed you should be
By Christopher Zara
It's too early for this crap.
Or at least that's how it felt today to much of the northeastern United States, where residents were rudely greeted by a mid-November snowstorm that caught many by surprise. Not-so-cute hashtags like #SnowDay and #FirstSnow were trending on Twitter earlier amid reports that a wintry mix of ice and snow was causing travel nightmares and power outages along the I-95 corridor.
Given that it's been a warmer-than-usual fall in many areas, it's easy to understand why folks might feel not quite ready for this sudden turn of events. Also, the sad reality is that climate change has probably made us collectively less tolerant of snowstorms.
Well, if you were wondering if it really did snow too early—or if it just feels that way—wonder no more. NOAA's National Centers for Environmental Information has produced an interactive map that reveals exactly when the first snowfall typically happens in your area. Sourcing data from the historical climate record, the map shows the date by which there is a 50% chance of at least one inch of snow on the ground. Just zoom into your area and click on the dot closest to your zip code. The map is powered by Esri.
For fun (or torture), I zoomed into New York City and discovered that the earliest snowfall in Manhattan typically happens on November 18, which is three days from now. So yeah, it's officially too early for this crap.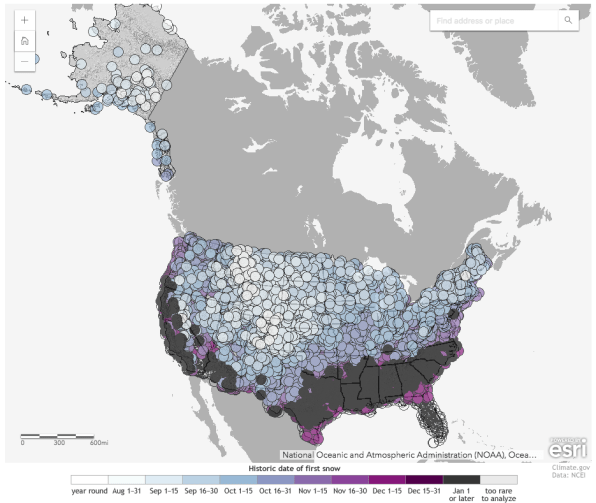 (18)