Is Your Business Making Any Of These WiFi Security Mistakes? [Infographic]
— June 20, 2018
Compared to the wired network, WiFi is an entirely different animal.
WiFi, being a wireless technology, malevolent intrusion attempts are much easier since they're possible without any physical access to a network or building. Hence, this should be one area of your business IT security where you would not want to make any mistakes.
Here, in this post, I have highlighted a few of the most common security mistakes made by corporate businesses during the deployment of wireless networks. Have a look.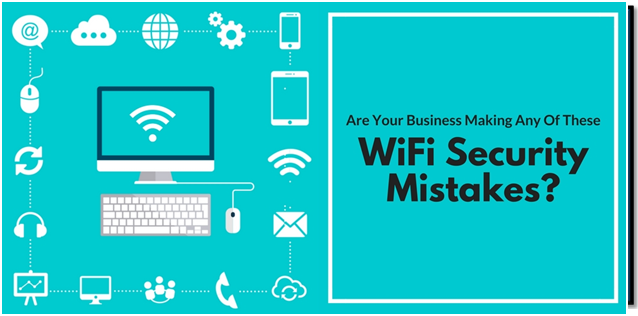 The use of PSK WiFi Security
The personal mode of WPA or WPA2 security is easier to set up than the enterprise mode requiring an 801.1X authentication.
However, you must realize that the enterprise mode is built for businesses, providing greater security and efficient network management.
When you use the WPA or WPA2 mode of security, you set a passcode that is used by all users to connect to the network. This passcode is stored in all of these devices. Thus, if one gets lost or stolen, you'd need to change the passcode on all of the APs to keep your network secure.
But if you use the enterprise mode, you will be able to create separate login credentials for each user. This can act as a form of smart card or security certificate for a much-improved security and easier network deployment.
Overreliance on antivirus software and firewalls
Many business organizations rely solely on antivirus software and network firewalls, avoiding additional investments in cybersecurity.
This "we-don't-require-extra-security" attitude often prevails until a cybercrime occurs right out of the blues. Organizations need to realize that firewalls and antivirus software aren't the answer; they need to do more.
Depending on the criticality of organization data, proper budgets and security must be implemented for additional security.
Not having a separate guest network
Most organizations and businesses will have contractors, clients, or some guests visiting their offices from time to time.
Even if this happens once in a blue moon, consider having a separate wireless access for guests. If you do not have any, someone may give them an access to your primary network, which is definitely a poor security practice.
Poor device configuration
When setting up WLAN nodes (including the likes of bridges, client adapters, access points, routers, etc.), you must evaluate your device encryption.
Having the most advanced level of configuration can provide you with better security, often at the expense of performance. But considering the dangers of data breaches and security, it may be worth all the trouble.
Many organizations don't pay much heed to device configuration until the day the unthinkable happens. Make sure you don't follow in their footsteps.
Sub-par WiFi
Although it may not seem like a security risk, sub-par WiFi can be dangerous in certain situations.
For example, if your WiFi is slow or failing for any reason whatsoever, your users may automatically find another wireless signal to connect to, like an open home router, neighboring WiFi, and likewise. If that happens, your data security is compromised for sure.
For more information on WiFi security mistakes, refer to the infographic below.

Source- Inspire WiFi
Digital & Social Articles on Business 2 Community
(4)