'Knights and Bikes' captures childhood in '80s England
Knights and Bikes is a game about friendship, adventure and a county in the southwest corner of England called Cornwall. The area is littered with sandy beaches and quaint seaside towns that attract British families looking for a cheap summer holiday. Tourism, though, is not enough to sustain the region during the winter months. Rex Crowle, an artist, animator and video game developer, knows this all too well. He grew up in Cornwall in a farming family that raised sheep. It was a "pretty hard life," he said. Enough so that he sold his own flock at age 10 and bought a Commodore Amiga 500 computer.
Character animation, meanwhile, harks back to Roobarb, a British cartoon created by Bob Godfrey in the mid-1970s. The show had a lively, stop-motion look; characters zipped and squirmed around the screen as if they had just received an electrostatic shock. Crowle redrew his characters several times to create a similar effect. The game cycles through the different versions, or poses, for similar natural look known as "line boil." You can see it in Nessa's bright orange hair bouncing around in the wind, or the puffins rocking back and forth on the shoreline.
"We wanted to make sure that the 1980s influence was more nuanced."
Knights and Bikes was originally conceived as a "Goonies RPG." It's a bright, imaginative game, but Crowle and Yu have been careful not to misrepresent the 1980s. "There's a lot of nostalgia culture out there," Crowle explained during a GDC talk, "that makes out that when the clock struck 12 on the first day of 1980, everybody got a DeLorean, changed into a neon shirt and went and looked at unicorns. It's a lot more nuanced than that. You had to have money to keep up with trends, and because it's set in an economically challenged area, we wanted to make sure that the eighties influence was more nuanced."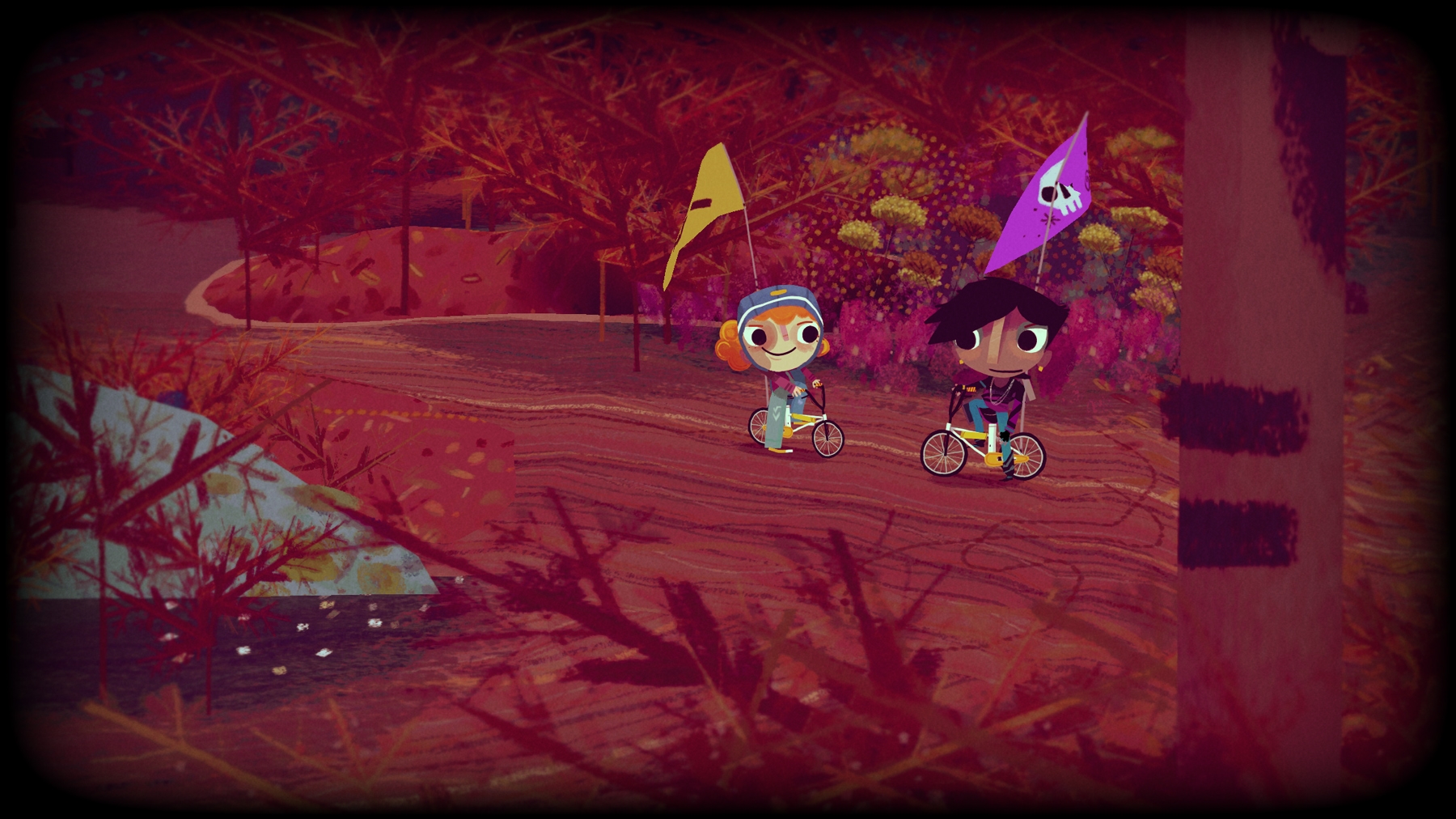 Crowle and Yu have a long history in video games. The former started his career at Lionhead, working on the Creature Isle expansion for Black and White, the original Fable, and a bunch of unreleased games including B.C. and the music-shooter Unity. "Lionhead was an incredible meeting of the most talented people I've probably ever met," he said. A bunch of Lionhead employees then formed Media Molecule, which Crowle worked with on a freelance basis. He was a production designer for the first two LittleBigPlanet games, then joined full-time to direct Tearaway and its PS4 variant, Tearaway Unfolded.
Yu, meanwhile, grew up in Anaheim, California. He joined Insomniac straight out of UCLA and worked as a level programmer on the third Ratchet & Clank game, Up Your Arsenal. After the combat-heavy sequel, Deadlocked, Yu was asked to be lead gameplay programmer on Tools of Destruction, the series' first entry on the PS3. It was a management-style role, and by the end Yu realized that he wanted to be more hands-on again. So he moved to the UK, joined Media Molecule and helped out with the original LittleBigPlanet. He later formed his own company, BitMinion, and worked for Mind Candy developer Moshi Monsters.
The pair pitched Knights and Bikes on Kickstarter in early 2016. Crowle and Yu needed money, but, like many independent creators, they also used the campaign to gauge interest in the concept. Immediately, people expressed their support on Twitter. More important, though, they backed the project, and on February 28th, 2016, the game met its crowdfunding target of £100,000 (roughly $135,000). By the end of the campaign, that figure had risen to £126,447 (roughly $171,000). "It's one thing if people just give you retweets and likes; it's another thing if they actually give you cold hard cash," Yu said.
Foam Sword has spent the past two (and a bit) years working on Knights and Bikes. In that time, it's signed a publishing deal with Double Fine, the developer behind Psychonauts, Brutal Legend and the Kickstarter-funded point-and-click adventure game Broken Age. "We had quite a lot of publishers approach us," Crowle said. "There were some that were kind of tempting, but their style of game was very different from ours and we sort of felt that if they tweeted about it on their own account, they would just get lots of abuse."
"It's one thing if people just give you retweets and likes; it's another thing if they actually give you cold hard cash."
Knights and Bikes was meant to come out in April 2017. Every month, the pair write a detailed blog post explaining the delay and their progress to Kickstarter backers. The May update, for instance, explained the progress Yu had made with online co-op and some of the adventure's boss battles. Crowle, meanwhile, detailed the state of the Scrap-Yard — one of the biggest and most complex levels — and the Penfurzy countryside. They're now working on a "second pass" of the game, which would suggest that a final version isn't too far off. At the time of this writing, however, there's still no release date.
Still, it's a game worth following. Many developers have tried to channel eighties culture and video games such as Earthbound, a classic Japanese role-playing game set in a small American town. (Hello, Crossing Souls.) Few take place in England, though, and fewer still try to capture the look and feel of childhood in Cornwall. Knights and Bikes is, first and foremost, a charming adventure that you can play with a friend, young or old. But underneath, it's also a depiction of a real-world place and decade that is rarely depicted in media.
Disclaimer: I backed this project on Kickstarter because it looked nifty.
You can see that history in Knights and Bikes, the first game by Crowle and his Foam Sword partner Anthony "Moo" Yu. The upcoming title revolves around two girls, Nessa and Demelza, who live on a Cornwall-inspired island in 1987. All hell breaks loose when the island's residents discover that their most prized relic is a fake. Tourism plummets and all of the mainlanders go home, leaving the locals to question the medieval legends that have shaped many of their traditions. Nessa and Demelza, seeking thrills and treasure, grab their bikes and set off to find the truth.
You can play the game solo or cooperatively with a friend. Pedaling on your bike or running around like a lunatic, you'll pass through Cornish staples including harbor towns, caravan sites and abandoned amusement parks. All of your powers are charmingly pedestrian; a well-timed Frisbee throw or water balloon, for instance, can dispatch enemies from a distance. As you explore the world, you'll also see the girls' imagination painted on top of the environment. A wire fence, for instance, will be supplemented with make-believe castle parapets and arrows falling helplessly beside you.
Everything in Knights and Bikes was lovingly hand-painted by Crowle. The game looks 2D, but in reality all of the assets have been arranged in a 3D world. That means the characters can still walk toward the foreground or background, slipping behind buildings or weaving in front of the bushes. The art style was inspired by Alfred Wallis, a Cornish fisherman and self-taught painter who lived from 1855 to 1942. He often ignored a structure's real size, twisting perspective to emphasize what he felt was interesting or important. Crowle has done the same, visualizing buildings from multiple angles at once.
(8)