Mario + Rabbids Kingdom Battle – The Grant Kirkhope interview
Should you ever find yourself creating a game, it's worth noting that finding the right composer is a vital part of setting the tone. It's an area in which Ubisoft has an impressive history: would Assassin's Creed Syndicate carry the same weight without Austin Wintory's epic Victorian orchestrations? Would Beyond Good & Evil have managed its balance of quirk and emotion without Christophe Heral's eclectic world pop and soaring piano score? Would Watch Dogs 2 have felt as contemporary without Hudson Mohawke's electronica?
When choosing a composer for Mario + Rabbids Kingdom Battle – a soundtrack that needed to have a Nintendo feel, but with the unorthodox air of the Rabbids – there was logically only one door to knock on. That of veteran composer Grant Kirkhope.
After an education at the Royal North College of Music, Kirkhope played in a variety of bands before joining Leicestershire-based developer Rare in 1995. Here, he composed the music that would soundtrack the early years of many who grew up during that decade – bringing his skills to a raft of Rare-developed, Nintendo published games including Goldeneye and Banjo Kazooie. When Microsoft acquired Rare in 2002, Kirkhope continued his memorable work on Xbox and Xbox 360 games such as Grabbed by the Ghoulies and the Viva Piñata series. In 2008, Kirkhope went freelance, allowing him to spread his composing wings beyond the sometimes-twee worlds of Rare – bringing his award-winning musical chops to the scores for the Civilisation series and Kingdoms of Amular.
But it was his earlier work that interested the Mario + Rabbids team. When I asked Creative Director Davide Soliani why they decided to approach Kirkhope, he talked warmly of his admiration for the music man's past work. "He composed the soundtracks for games that really defined me as a player in the N64 era – Donkey Kong 64, Goldeneye, Banjo Kazooie. Sometimes, I feel a little bit of nostalgia for that golden age of video games, and I wanted to bring back some of that magic in our game."
Get me Kirkhope!
So it was that Mario + Rabbids producer Gian Marco Zanna got in touch with Kirkhope in late 2014, telling him they thought he'd be a great fit for a secret new Rabbids-based game they were working on, and asking him to come to Paris to meet the team. "I liked the Rabbids; my kids had watched the cartoons," explains Kirkhope. "I knew they were fun characters so I thought it'd be good fun for me to do."
With contracts and non-disclosure-agreements signed, Kirkhope headed over to Ubisoft's Paris offices in early 2015 to learn more. "When I got there I was escorted through to the back of the building and through some security doors – which I thought was a bit strange for a Rabbids game – and then into a side room where Davide Soliani [Creative Director], Romain Brillaud [Audio Art Director], Isabelle Ballet [Audio Director] and I were going to discuss the music requirements."
Surprise, It's a Me!
"When Davide turned on the TV to show me the game, Mario was standing there," says Kirkhope. "I thought they'd been playing a Mario game while they were waiting for me to arrive. Then as Davide picked up the controller Mario started to move, and I said 'what's this?' He said, 'it's a Mario game, didn't anyone tell you?'"
Over the years, Kirkhope has built up a great respect for the masters of gaming music, particularly esteemed Mario composer Koji Kondo whose compositions have appeared in every Mario game since 1985's Super Mario Bros – so the idea of working on a Mario game was a little overwhelming. "At that point, the fear started to set in," explains Kirkhope. "How on Earth could I write music for Mario after Koji Kondo, the greatest video game composer ever – I just wasn't good enough! Davide said that for about an hour I sat there looking pale – now he knows why!"
This reverence for Nintendo's creators is evident in the game's attention to detail and comes through in the way the rest of the team speak about working on Mario + Rabbids. Creative Director Davide Soliani has previously talked of his trepidation when showing the initial game concept to Shigeru Miyamoto. "All of a sudden I was not a player anymore. I was a game developer speaking to Mr. Miyamoto, presenting my own game to him. It was like – oh my God! – it's a moment that defines you."
As if to underscore that passion, it turns out that Soliani had actually met Miyamoto once before. Back in 2002, when he heard the legendary Nintendo designer was staying at a hotel in his hometown of Milan, he spent 10 hours camped outside in the rain for the chance of an autograph and to present Miyamoto with a package of games developed at Ubisoft's Milan studio.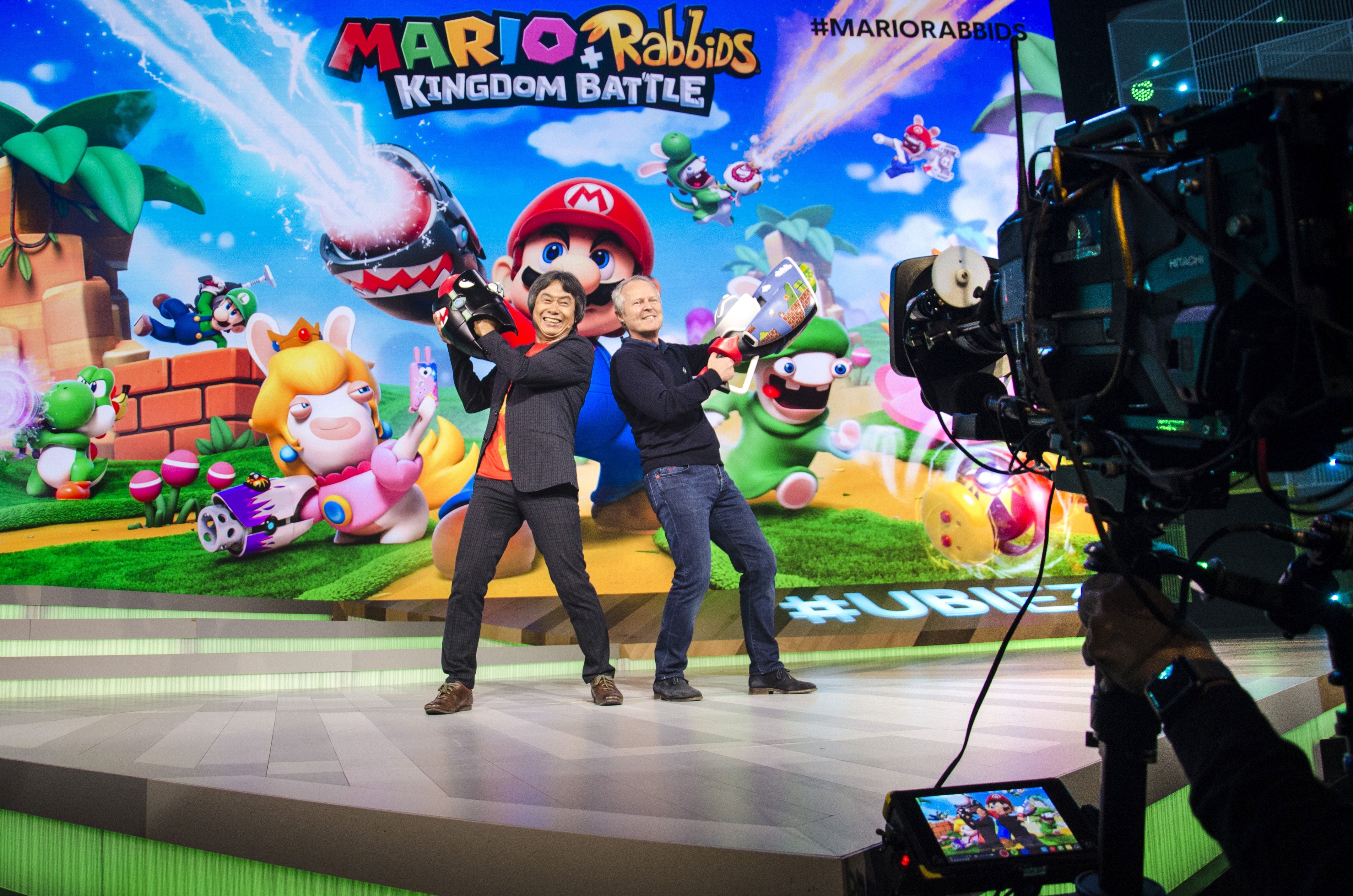 Nintendo's Shigeru Miyamoto and Ubisoft's Yves Guillemot announcing Mario + Rabbids on stage at E3 back in June.
The composing process
Fortunately, Soliani and the audio team had a clear idea of what they were looking for. "They always provided me with tons of stuff to look at and music clips to listen to, to give me a good idea of what they wanted for each piece – it was a really great relationship."
"Davide cared so much about the music and always gave me great feedback when he felt something wasn't quite as he wanted. Towards the end of the game, he would ask me for bigger and bigger pieces, and I would get worried that I'd written something too big – but he would always say no, no, no, more, more!"
Kirkhope decided to stay away from Nintendo's iconic lounge-style tunes, instead letting the collaboration to set the tone. "I knew there was no point trying to write in that Nintendo pop/jazz style as they do it so well and I'm terrible at it, so I tried to take a little bit or Mario, a little bit of the Rabbids and a little bit of me and stick it all together!"
Even though Kirkhope worked largely in a different time-zone to the rest of the team (he now lives in the city of Agora Hills, north-west of Los Angeles), the composing process was relatively straightforward. "I'd usually write around 30 secs of music and send it over to the team and wait for some feedback. This was a great way to work as I meant I didn't end up writing a whole piece and then have Davide moan (kidding!) that he didn't like it, then I'd have to start over from scratch."
"We've been in contact nearly every day for 2 years and we're now good friends. I've enjoyed every minute of it! Obviously, he's a grumpy Italian who constantly complains but I'm used to it now … "
The Nintendo factor
Talking of Italians, although Kirkhope worked on many a Nintendo-published game back in his Rare days (including Donkey Kong 64), this is the first time he's worked on a game which actually features Mario. This gave him the opportunity to work some of Koji Kondo's themes into his music.
"When I did the arrangement of Peach's Castle and included the Castle Theme from Super Mario 64 I was in tears when I was writing it, I just couldn't believe that I got to use one of my favorite Nintendo pieces. That was one of those moments that I had to pinch myself to make sure it was really happening!"
Naturally, Nintendo kept a watchful eye over Kirkhope's use of their compositions. "Whenever I was using Nintendo music, they would want to be involved to make sure that I was respectful to their original – and I wouldn't have it any other way. It was pretty scary for me to think that the sound team at Nintendo were listening closely to my music though!"
"They also had some feedback on some of the cinematic sequences when they felt that I'd maybe missed some of the emotions that Mario was expressing, but it was never very much – they were always super polite and so nice."
As the game has its own uses for classic Mario mechanics like pipes, blocks and coins, Kirkhope had the chance to orchestrate some of the related classic sound effect stings. "Miyamoto San himself asked if I could have a go at the pipe enter and exit sting, which was a huge honour for me. I had a few attempts at it and sent them over, and it's in the game!"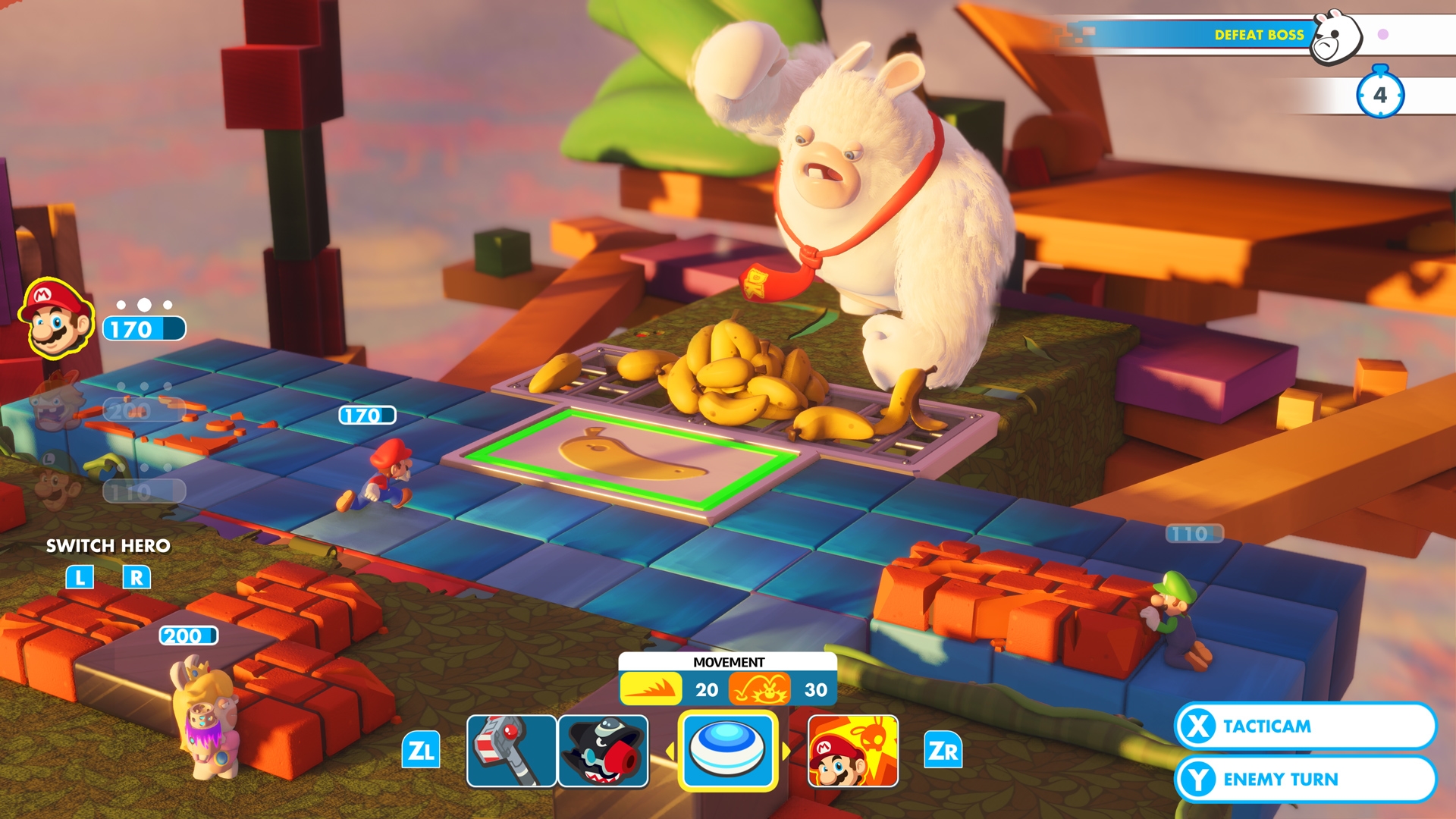 The DK rap legacy
You may have seen the recent Phantom of the Bwahpera trailer, which showcases one of the games more musical bosses. "That was fantastic fun to do," says Kirkhope. "Davide had this idea of an opera singing phantom and wanted it in three acts. He gave me the lyrics and said he wanted one song to be classical opera, one to be heavy metal and one to be rap."
"Because I had to write them without knowing who would be singing, I had to sing on the demos so as he could hear how they would sound – and let's just say that I'm not the greatest singer in the world. I'm sure Davide has all the recordings tucked away somewhere for future blackmail. In the end we settled on classical opera for the songs but it was good fun to try and do the metal and rap versions. Why is it that every time I do a game people ask me to write a rap song [Kirkhope also produced a rap for recently released Kickstarter success Yooka-Laylee] … you'd think the DK Rap would be evidence enough that I'm totally useless at it!"
The musical world
Another neat aspect of Kingdom Battle's music is the way the environments play along. For example, trumpet-like plants in the background will move as though they're playing the horn sections of the game's soundtrack. "I love that we did this!" exclaims Kirkhope. "It was a little bit of a nod back to Mario games of old that used to have things synced – for example, where baddies would do a little jump in time to the music. I would include musical motifs in the pieces that Romain Brillaud and the animators could then sync up to make elements in the environments move in time." Kirkhope explains that this type of synchronisation has become a lot trickier since the days of MIDI, when music was stored as note-by-note compositions played by the console that could include embedded animation cues, rather than being streamed wholesale from disc or memory. But it was worth the effort – as Kirkhope says, "it's these little touches that add such a lot of charm to the game."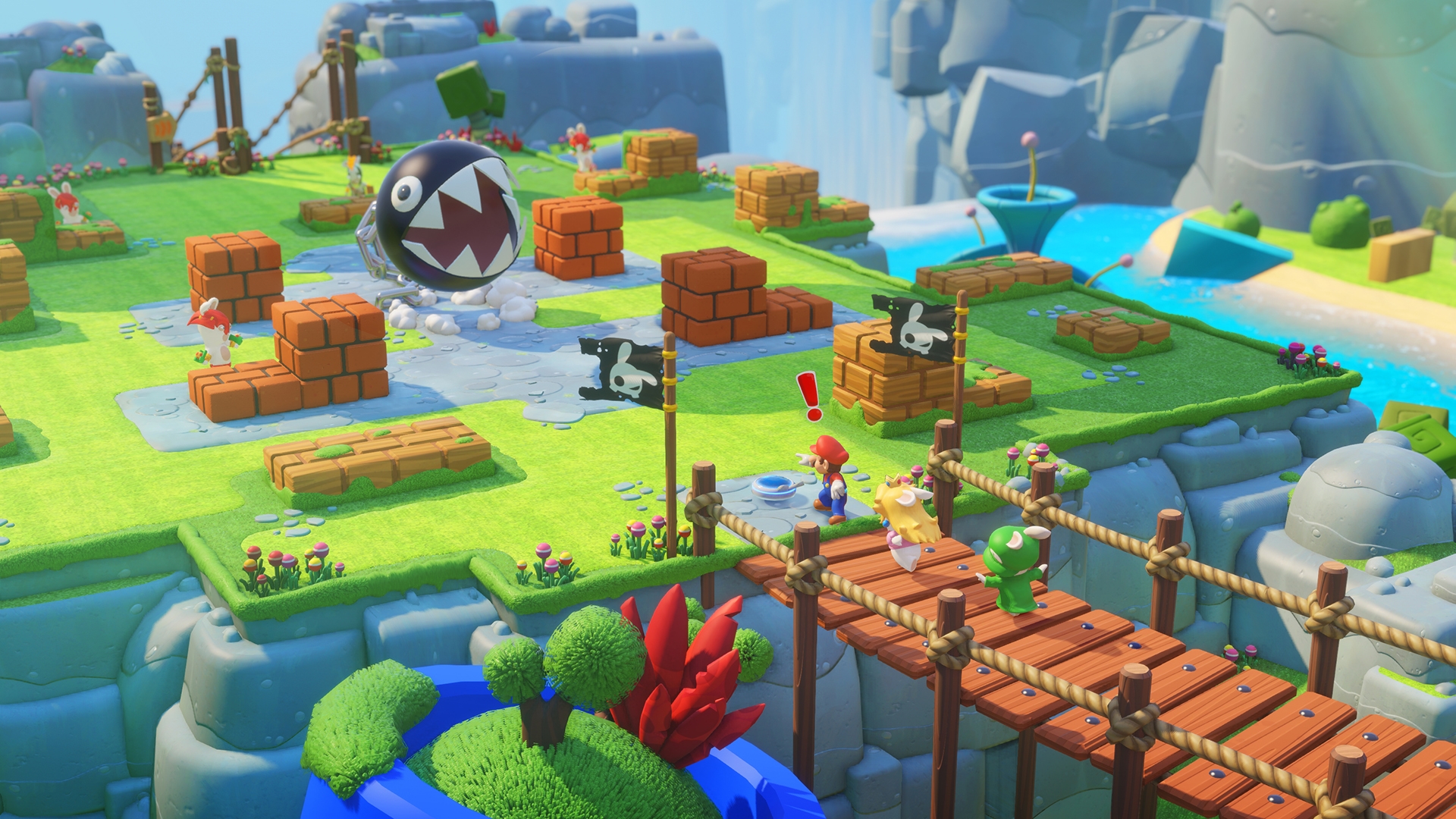 The end
Kirkhope remains a busy man. His work appears in a diverse range of games due to release this year, from hex-based strategy to mulitplayer arena combat. He's even returned to soundtrack a Pierce Brosnan project for the first time since the Goldeneye 007 game – involving himself with the film soundtrack for this year's The King's Daughter, in which the Brosnonator plays 17th century French King Louis XIV on a quest for immortality.
"I really do enjoy the variety, it keeps me on my toes. I really feel that as a media composer these days people expect you to just be able to do it all. There's always that crazy director that asks you to do something that you just haven't got a clue how to do, and after the initial panic it's great fun trying to work out how to do it."
Has this new wider range of work and the technological advances made since those early Rare days changed Kirkhope's approach to the job? "I don't think the way I work has changed at all really," he says. "I'm not really a very clever composer … I just load up an instrument and mess around with it until I hear something I like. Having access to all the amazing sound libraries out there now is really fantastic. I'd say one of the problems is that everyone expects MIDI [synthesised] pieces to sound like they're being played by real people, so it does take time to give it that human feel. I'm always trying to get better at that, and I'm never really totally happy that I get there. Also having access to live orchestra is something that I don't think I'll ever get used to, we got to use an orchestra for around 45 mins of music for Mario + Rabbids, which was just fantastic … "
You'll be able to hear the endearingly humble (and hugely talented) Grant Kirkhope's work in Mario + Rabbids Kingdom Battles when it releases exclusively for Nintendo Switch on August 29.
The post Mario + Rabbids Kingdom Battle – The Grant Kirkhope interview appeared first on UbiBlog – Ubisoft®.
(29)