MarTech East keynote: Better marketing starts with better orchestration
At MarTech East, Cesar Brea discussed how careful orchestration can lead to marketing success.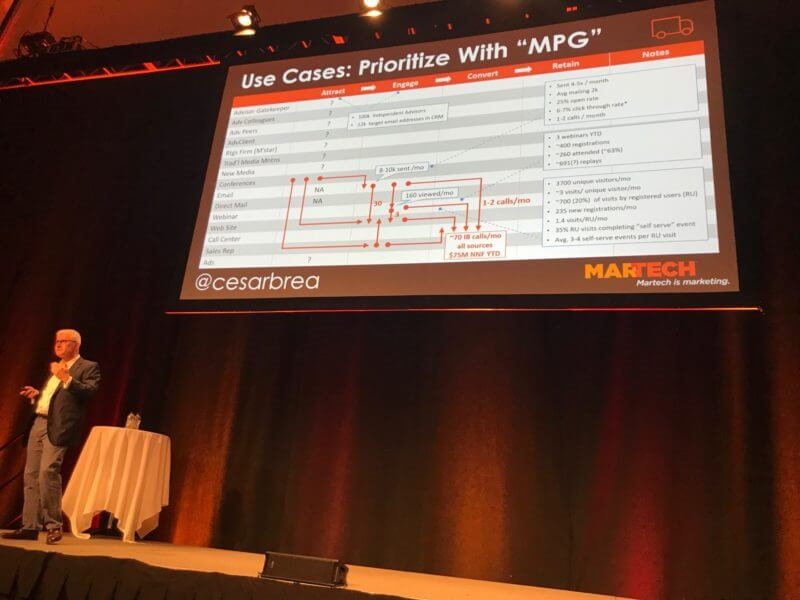 BOSTON – At MarTech East on Wednesday, Cesar Brea, partner at Bain & Company, delivered a morning keynote session on the critical role of alignment in an organization's marketing success.
The majority of marketers are hyperfocused on results with little regard to the processes and connections needed to achieve those outcomes, Brea explained. But the most successful marketing leaders focus more on the orchestration and organization of their marketing efforts than in their technical sophistication.
Whether building out a longterm marketing strategy or launching a quick-hit campaign, successful marketing requires highly-integrated processes. As Brea pointed out, marketing orchestration can be just as important as the results.
Brea outlined five key trends for successful marketing orchestration, exploring how each of these trends will evolve as the digital marketing landscape continues to grow.

Consider the use cases
As technological capabilities expand, so too do the ways in which consumers engage with brands. Brea suggests that marketers should look to marketing performance grids, or MPGs, to help identify bottlenecked processes in marketing efforts.
With the high concentrations of data and platforms available to measure every consumer touchpoint, marketers are challenged with finding ways to synthesize it all. Instead of relying on the technology's sophistication and market prevalence, we should think about how – and if – it supports our top-level marketing programs and integrates with our tech stacks.
What's the data telling us?
"If you don't have good data, you don't have much," Brea stated. Data is only as good as the marketer's ability to understand it on a holistic level – and apply those insights to active marketing efforts.
For example, Brea said, back to school location data might tell us when and how customers shop for these products seasonally. But without understanding the subtle nuances – like how the data varies by specific markets, or where it can be integrated into our marketing programs – the data is essentially useless.
As marketers, our ability to comprehend and apply these insights across different marketing silos will enable us to create more effective processes that connect the entire customer journey, Brea explained.
Analytics matter
If marketers and internal stakeholders don't understand how or why a data model functions the way it does, they likely won't trust it to inform their marketing efforts.
As the digital landscape surges on and marketers adopt more cross-functional responsibilities, the ability to interpret and communicate the value of analytics is essential, Brea said. Analytical marketers should not only be able to decipher metrics on a technical scale, but should also be able to translate that information to more digestible insights that add true value to the marketing process.
Orchestrating the execution
Just as a symphony orchestra combines the skill and expertise of various instruments, marketing execution draws on an immense range of specific and specialized skills. Marketing tactics – much like instruments – are layered strategically to achieve the desired outcome.
By synthesizing the moving parts (such as data, analytics, use cases, etc.) and ensuring the execution team is aligned on the high-level priorities, marketing processes can give way to a more effective, streamlined experience.
Developing a feedback loop
Once marketing programs undergo the execution phase, the next challenge for marketers is evaluating its real-world application – and optimizing it in real-time, Brea said. Successful marketing in the digital age requires evaluation/feedback models that can sustain testing and experimentation, even after a campaign has launched.
Without a consistent feedback model, it can be challenging to determine how past insights connect to current developments, which Brea explained, can significantly set back our marketing efforts. Theoretical models need to produce templated predictions in order for our marketing programs to function on an integrated, sustainable cycle.
---
Marketing Land – Internet Marketing News, Strategies & Tips
(16)