Microsoft Sees Higher Desktop Searches, Opportunity For Brands To Jump In
Microsoft Sees Higher Desktop Searches, Opportunity For Brands To Jump In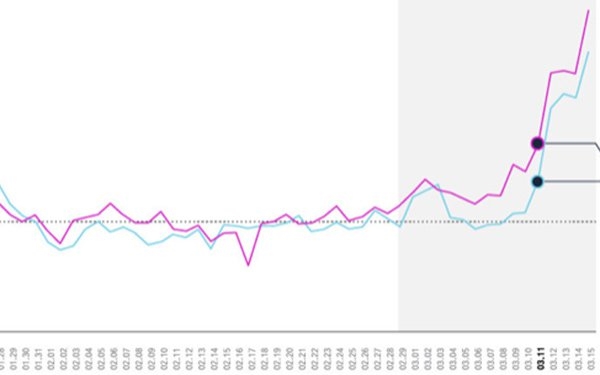 Confirming data that Microsoft Advertising shared with Search Marketing Daily last week, Rik van der Kooi, Microsoft Advertising corporate vice president, said brands must adapt to consumer behavior and that searches on desktops are on the rise.
While some believe COVID-19 gave desktop a boost, search on desktop for Microsoft has been rising since the fourth quarter in 2019, according to Merkle's Q4 2019 Digital Marketing Report.
He reminded the 800 attendees who chose to virtually tune-in to a live stream that during the last downturn in 2008, "search outperformed all other formats" and it's important for advertisers to keep up with campaigns by revising ad copy.
"Few advertisers have done it so far," he said.
Given the COVID-19 stay-at-home orders, online media consumption continues to rise. Consumers are doing more online research, search and shopping. "When companies pause their advertising and focus on awareness, that's when opportunities are ripe for the taking," he said. "Companies that recognize it, providing they can hit their CPAs and ROIs thresholds, tend to do better."
Supporting changes in the market, Microsoft Advertising created an audience segment of people who have canceled their travel plans by identifying the search for "stay-cations" and "local travel." There also have been queries around "leaving urban areas" and into the country. Keywords like "cancelable" perform much better in ad copy, emphasizing safety and social responsibility when traveling is critical.
"When lockdown situations are [done] you need to be ready," he said.
Work-from-home queries for items such as technology, furniture, hardware, services, and tools continue to rise. Searches for online grocery deliveries is up 200%. Searches for e-learning and online and delivery grocery queries are up, along with DIY, fitness and sports equipment.
Millennials are searching for brokerage firms based on lower interest rates. Credit card searches are on the rise, but van der Kooi said consumers are looking for cash, rather than reward points.
In the automotive space, the message of 0% APR isn't resonating as much as messages of unity and reassurance. He suggests setting up a landing page with video capabilities and interactive formats to complete transactions.
(7)