Need some fresh air? The best road and off-road bikes for getting outside, running errands, and even commuting to work
By Lauren Steele
These days, biking is an unsung hero for those trying to get some low-impact exercise, fresh air, and the hell away from Ubers and public transit. Fast Company reported earlier this month that biking has ballooned in cities across the world. In Bogota, car lanes have been shut down to give cyclists more space. In Philadelphia, bike traffic increased so steeply in some areas that the city temporarily closed a stretch of a major street to cars. The use of bike-share programs doubled in London, and New York saw a sharp uptick as well. Biking is becoming an increasingly accessible outlet for recreationists and commuters alike. And it just might stay that way. So if you're in the market for a two-wheeled ride or the bells and whistles that go along with it, we've rounded up our favorite multitasking bikes (and a few accessories) to help you get going.
For getting into the commuting and exercising groove (without a huge investment)
Let's face it: Most of us don't have time for a bike that can't do it all. If you, like me, enjoy going out for long afternoon rides for a low-impact workout and commuting to essential appointments via bike, then you can't beat a classic such as the Cannondale Women's Althea 4 Fitness Bike and the Cannondale Men's Quick CX 4 Fitness Bike ($550). The lightweight aluminum frames and the smooth 7-speed shifters on these bikes—along with neutral, flat handlebars that don't force you to hunch over—make for a comfortable and versatile ride, whether you're coasting down flat boulevards or pumping up hills. Oh, and it's pretty tough to beat the $550 price tag.
Cannondale Women's Althea 4 – $550
Cannondale Men's Quick CX 4 Fitness Bike – $550
For putzing around and running errands in style
If you just want a smooth ride that cruises around town and will last forever, then look no further than the Fairdale Express Singlespeed Bike ($429) and Redline RL-275 BMX 27.5? Cruiser ($700). Both of these bikes are perfect for everyday urban riding. They have tough steel frames, no complicated shifting gear or components, and large-volume tires (which make for an unfussy ride and a bike that will stay out of the repair shop). The Fairdale Express Singlespeed features mounting points on the frame and fork that make it a perfect candidate for super-commuter racks and fenders. Meanwhile, the Redline RL-275 BMX 27.5? Cruiser sports a retro BMX look with two-tone tires and a vintage paint job on the frame that lends a unique look and a whole lot of street cred.
Fairdale Express Singlespeed – $429
Redline RL-275 BMX 27.5 – $500
For logging miles and crushing hills, no sweat
There are fewer things more fun than feeling the wind whip through your hair while traveling uphill on a bike—no huffing and puffing required. E-bikes have changed the game of commuting, creating a hybrid that rests between the convenience of a moped and the sustainability of a bike. They'll run you upwards of $5,000, but the difference between being powered by your own two feet and a small motor is well worth the expense. The Santa Cruz Heckler Carbon CC R E-Bike ($7,399), a built-to-perfection model that every other bike owner will be drooling over, can access mountainous and off-road terrain with ease. Meanwhile, the Wilier Cento Ultegra E-Bike ($5,699) holds court as one of the lightest road e-bikes on the market (weighing in at a mere 26 pounds, which is on par with a traditional disc road bike), and you can easily switch the e-assist system on and off—thanks to a control button that's built right into the top tube. Arrive to work suited up, with not a bead of sweat to be seen.
Santa Cruz Heckler Carbon CC R E-Bike – $7,399
Wilier Cento Ultegra E-Bike – $5,699
For smooth rides, on or off-road
If you find yourself wanting to ride the roads all the way to where the blacktop ends, there's no better bike than the Santa Cruz Stigmata Carbon CC Ultegra Gravel Bike ($4,599) to fit your needs. It's a versatile bike that performs like a road, commuter, and off-road bike all in one, and it never looks out of place. With drop-bar handles that require a more athletic stance than a commuter or cruiser bike would—and thicker, hardier tires that can handle more than a road bike ever could—the Stigmata is a functional bike that can adapt to long workouts and off-road adventures alike.
Santa Cruz Stigmata – $4,599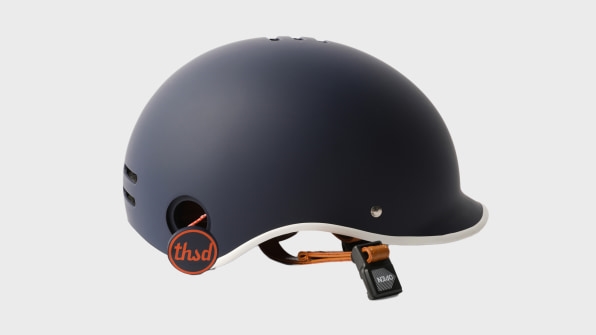 Helmets
You need to protect your noggin. Fortunately, Sweet Protection tests all of its helmets at 18 different impact points (even though U.S. safety standards only require they be tested at 4). The Sweet Protection Outrider Helmet ($90) has one of the most complex constructions out there, but the final product is a super-safe helmet with a simple, rounded design that is perfect for everyday riding. Shop women's here and men's here.
Sweet Protection Outrider Helmet – $90
Most bike helmets are ugly—and slightly awkward to wear if you're not used to them. Not the Thousand Heritage Bike Helmet ($89). This brand, which is woman-founded and has cool-kid collabs with brands such as Poketo on its résumé, makes helmets cool (finally). Until May 17, Thousand will donate $10 from each purchase of a helmet from the special edition Climate Collection to 1% for the Planet.
Thousand Heritage Bike Helmet – $89
If you're looking for an uber-light, easy-to-wear, everyday helmet, then you can't go wrong with the Smith Portal MIPS Helmet (starting at $110). The MIPS technology adds an extra layer of brain protection, thanks to its unparalleled ability to reduce rotational forces during angled collisions.
Smith Portal MIPS Helmet – $110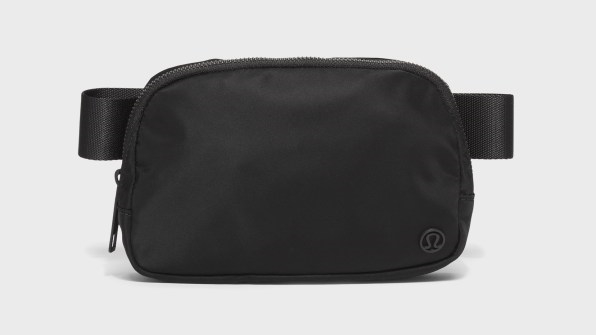 Hands-free bike bags
The Everywhere Belt Bag ($38) from Lululemon is perfect for strapping to your waist while pedaling to the grocery, the park, work, or while working out. Its compact, one-liter capacity is just the right size for a small water bottle, a snack, and—of course—your phone, keys, and wallet. If you're looking for something a little heftier (but still chic), the Rapha Bar Bag ($65) is a sleek and spacious two-liter capacity bag that can be fixed to your handlebars or frame or worn cross-body. Shop Lululemon here and Rapha here.
Lululemon Everywhere Belt Bag – $38
Rapha Bar Bag – $65
(6)