Nike Pulls Money From Amazon, Only 1.4% Of Product Views Came From Sponsored Search In 2019
Nike Pulls Money From Amazon — Only 1.4% Of Product Views Came From Sponsored Search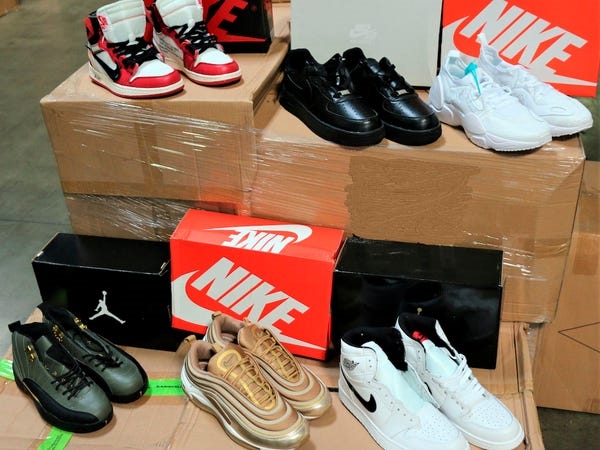 Nike plans to end a two-year relationship with Amazon. The athletic clothing manufacturer said it will stop selling its gear through the marketplace, but continue to make it available through third-party sellers.
In 2017, Nike announced a pilot program with Amazon that would give it more control over its brand and stop counterfeit sales of its products after the marketplace said it would enforce strict counterfeit policies.
Amazon has been struggling with the sale of counterfeit products across its site, although it launched several tools to detect fake goods.
Consumers might be going to Amazon to search for athletic gear from Nike, but more than half end up on the Nike website to make a purchase, according to recent data.
News broke Wednesday that Nike would pull its clothing line from Amazon. Exorbitant prices for advertising and the goods sold might be the reason.
Data from Jumpshot suggests Nike's pullback might not make much difference.
In the shoe category, just 1.4% of all Nike product views came from sponsored search this year. This is much lower than the overall category, where 9% of all shoe product views came from a sponsored listing.
In the men's shoes category, Jumpshot data notes that a mere 17% of all Nike online sales have come through Amazon in 2019. For women's shoes, Amazon drove less, at 13%. In both categories Amazon sells less than Nike.com, which drove 40% of all transactions for men's shoes and 39% of women's shoes.
Ironically, for men's and woman's shoes on Amazon, prices are significantly lower on average. The average Nike men's shoes on Nike.com cost an average of $120. On Amazon the average price is $70.54, according to Jumpshot data.
Only 10% of shoe shoppers who viewed a shoe product page on Nike.com also viewed a product page on Amazon.
For men's active wear the price difference widens. The average product in the category on Nike.com comes in at around $79, whereas on Amazon the average is $35.50.
Jumpshot data from 2018 suggests that among those who visit the Nike.com and Amazon, 55% buy on the manufacturer's site, not the marketplace. This is similar to the number of people who visit Adidas.com and Amazon.com. Some 40% buy on Adidas.com.
(12)